EMCC STUDENTS TAKE FIRST PLACE IN ENTREPRENEURSHIP AT DECA CONFERENCE
News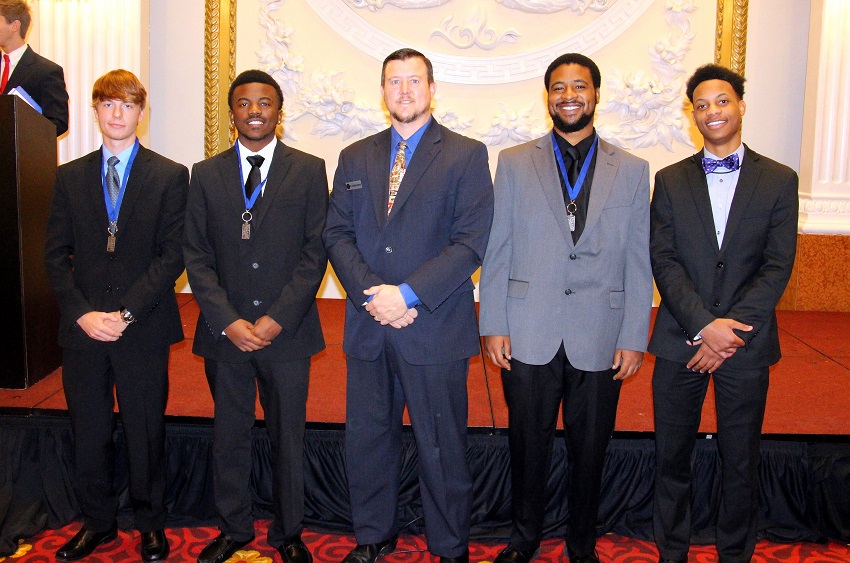 Three students in East Mississippi Community College's Business and Marketing Management Technology program earned first place in the Entrepreneurship category of a business simulation competition during the DECA ENGAGE Conference Nov. 8-10 in New York City. A fourth EMCC student was on a team that earned third place in the competition.
EMCC students Brandon Carter of West Point and William Manuel of Carthage comprised one of the teams that took first place, tying for the top spot with another team that included EMCC student Marcus Black of Starkville and a student from another college.
EMCC student Nathaniel Craft of West Point was on a team that took third place in the competition in which they vied against approximately one dozen teams.
"I am very excited because it was a good learning experience for me and I got to get my name out there by winning the competition," Black said.
The annual conference is hosted by DECA, which prepares emerging leaders and entrepreneurs for careers in marketing, finance, hospitality and management. DECA includes members from high schools and colleges around the globe.
"This is the first time that East Mississippi Community College has won first place in this competition," EMCC District Director of Marketing Communications and Recruitment Dr. Joshua Carroll said. "The students they were competing against are among the best in the nation and the fact that our students did so well is exciting for both them and for our college."
The students were presented with medals at the end of the competition and the first-place winners split a $100 cash prize. During the competition, the students were tasked with selling women's clothing apparel via simulated social media accounts. The dummy accounts estimated the amount of sales that would have been generated based upon the input by the competitors.
"You had to make at least $50,000 in sales," Black said. "My teammate and I ended up making $460,000 and we did it in 14 minutes. Our time was better than anyone else, besides the team we tied with."
Eighteen students in EMCC's Business and Marketing Technology program from the Scooba and Golden Triangle campuses attended the conference and participated in the competition.
Among other things, the students learned about how business is executed across companies and organizations in the areas of marketing, finance, entrepreneurship, hospitality and business management. Site visits to New York industries were available and conference guest speakers included entrepreneurs and industry leaders, such as Marriott International senior executive Andy Chaves, M&M Productions USA founder, president and CEO Mike Brown, and Hilton Director of Americas Communication Laura Ford, to name a few.
The Gold Sponsor for the students' trip was the Golden Triangle Regional Airport.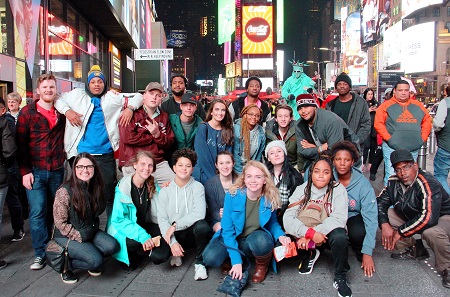 EMCC students were also able to visit some of New York City's iconic attractions, including the Statue of Liberty, the Immigration Museum on Ellis Island, the Empire State Building, Wall Street and Times Square. They also went ice skating at Wollman Rink in Central Park.
Black, who graduates in December, said the trip marked his first visit to New York City.
"It was great," Black said. "It was a lot to take in over a few days but I was happy we got to see so many historical places while we were there."
In addition to the competition winners, other EMCC Business and Marketing Management Technology students who attended the conference are: Amber A. Gifford of Starkville, Joseph Gramling of Indianola, Lillie Greenlaw of Columbus, Laurin Harper of Caledonia, Ragan Huckaby of Caledonia, Peyton Hunt of Ackerman, Morgan Jones of Columbus, Julian Nance of West Point, Londarius Naylor of Meridian, Brandon Perry of Meridian, Robert S. Rigdon of Brandon, Brittany Stegall of Columbus, Karlie Wade of Calhoun City, and Angela Whitehead of West Point. In addition to Carroll, EMCC instructors who attended are Brenda Gibson of Philadelphia, Megan Gibson of Columbus, and Jaycee Stennis of Columbus