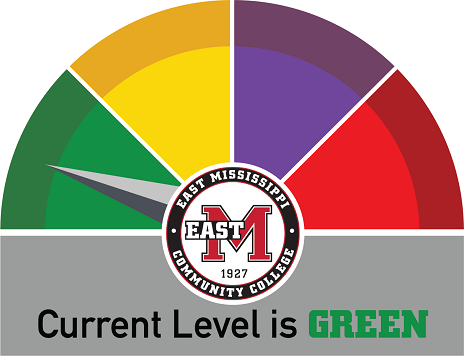 GREEN.
Green is the lowest level of emergency operation. This level encourages handwashing and proper
hygiene, as well as proper cleaning of personal work areas.
• Masks are optional but encouraged indoors and in close contact with others. (NOTE: EMCC faculty may require the continued use of masks in the classroom and staff may require masks in their workspaces.)
• Increased handwashing protocols are encouraged
• Increased cleaning of personal work areas and classroom space
• Self-evaluation of symptoms
• Required reporting of possible contacts and confirmed COVID-19 infections to Nurse Amy
Ivy at aivy@eastms.edu.
Threat levels will be reassessed weekly or when a particular incident to change in regional COVID-19 protocols warrants it.