EMCC STUDENTS EXCEL AT INTERNATIONAL DECA COMPETITION
News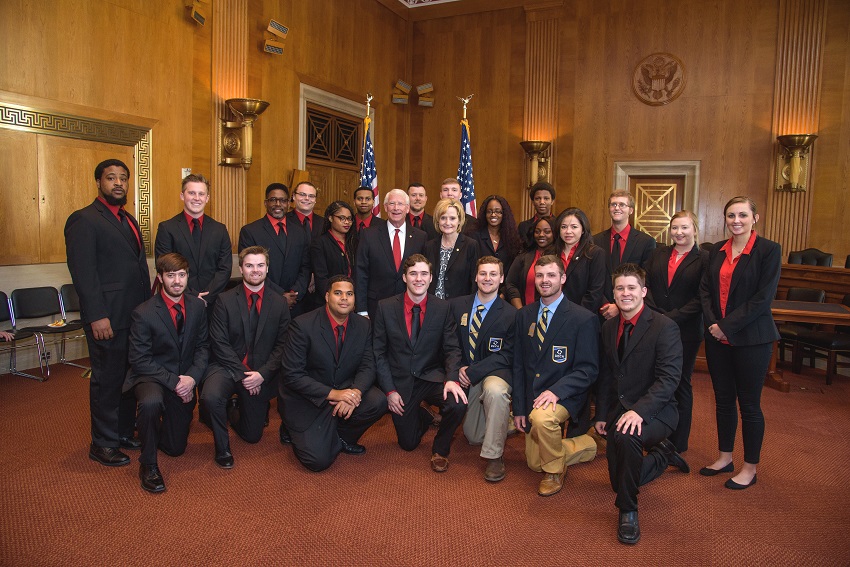 April 25, 2018
East Mississippi Community College Marketing students who competed in the 2018 Collegiate DECA International Career Development Conference walked away with numerous awards.
EMCC sent 23 students to the international competition that took place April 11-14 at the Crystal Gateway Marriott in Arlington, Va.
The students qualified to represent the state of Mississippi at the international competition by placing in the top six in their competition categories in the Mississippi Collegiate DECA Career Development Conference that took place Feb. 1 at Hinds Community College's Rankin campus. That annual conference features competitions between DECA members from colleges and universities throughout the state.
Thirty-three EMCC students qualified to compete in the international competition, but not all could attend.
Collegiate DECA is a national organization for college students preparing for a variety of career areas, with emphasis in the areas of marketing, management, merchandising and entrepreneurship. Its local chapters and state/provincial associations are a division of National DECA, Inc. Collegiate DECA, previously known as Distributive Education Clubs of America.
More than 1,450 students from colleges and universities across the U.S., Canada and South America competed in the international DECA competition, which includes timed competitive events, professional development academies and career networking. Major industry leaders serve as judges for the competitions.
"Our students did very well while facing stiff competition," EMCC Marketing instructor Dr. Joshua Carroll said. "I am really proud of what they have accomplished."
Here are the EMCC student awards, recognitions and honors garnered at the event:
Carley Hurst of Caledonia (Scooba campus); third in Management Institute
Jaycee Stennis of Columbus (Golden Triangle campus); preliminary finalist Management Institute
Passport Award: Chapter Leadership Award and Community Service Award for assisting two nonprofit organizations, Touch Ministries in Honduras and The Mission on the Hill in West Point, improve their websites and extend their reach through social media. (Scooba and Golden Triangle campuses).
Passport Award: Chapter Leadership Awards to Dalton Robinson (Scooba) and Clayton Forrester (GT), for service in leadership capacities. Robinson was elected as president of the Mississippi Collegiate DECA and Forrester was elected as vice president of the statewide organization.
Awards of Excellence: Brooke Bradford of Columbus; DeRayl'n Smith of Macon; and Jaycee Stennis of Columbus. (All of the GT campus).
Honors Awards: Kyle Bluitt of Columbus; Lillie Greenlaw of Columbus; Tiakara Malone of Columbus; Destiny Orr of Macon; Gissela Perdomo of San Pedro Sula, Honduras; William Shoup of Brandon; and Clay Wade of Calhoun City. (All are from the GT campus)
Carroll, who was appointed the Mississippi DECA Officers Advisor for the next year, said EMCC qualified for the Chapter Leadership Awards by demonstrating excellence in the following benchmark areas:
Growing EMCC's DECA membership to 100 from 20, a record number at the college.
The largest number of competition awards presented at the state level in Mississippi DECA history.
The most students from a Mississippi DECA chapter to qualify for the international competition.
"Also, this trip, we were the only DECA chapter to visit both of our U.S. senators in Washington, D.C., and all four of our U.S. representatives," Carroll said.
In fact, U.S. Sen. Roger Wicker treated the entire EMCC contingent to breakfast in the Dirksen Senate Office Building for an event also attended by newly appointed U.S. Senator Cindy Hyde-Smith.
"It was my first time meeting a politician in high standing," said EMCC student Marcus Black, who took first place in the Financial Statement Analysis category in the state DECA competition and competed in the international event. "It was really good to actually meet them in person rather than just see watch them giving speeches on television."
EMCC student Hunter Latham said competing at the state and national levels in the DECA competitions boosted his confidence.
"I competed in the Sports and Entertainment category," Latham said. "We had to co-brand a local kitchen with a major league baseball team. The marketer for Sony was our judge. It was nerve-wracking but after having experienced that I know I can go into an interview now and be fine."
Brooke Bradford took home third place in the Event Planning category, where competitors were given an hour to prepare for a major dog show.
"The case study was that the event was coming to your town and you had to plan security, food, and the whole nine yards," Bradford said. "Then you had to present it to the judges. It definitely provided me with real-life experience of being placed in that type situation. Before DECA, I would have been nervous doing something like that."
Carroll said the trip was a tremendous learning opportunity for the students and that it would have not been possible without the generosity of sponsors who helped fund the trip.
"I really can't say enough about the support from our sponsors, who are GTR Airport, Forrester and Associates Construction of Ackerman, Hi-Tech Athletic Surfaces, BankFirst, Nicholas Air," Carroll said.