EMCC STUDENTS WIN BIG AT SKILLS-USA CHAMPIONSHIPS
News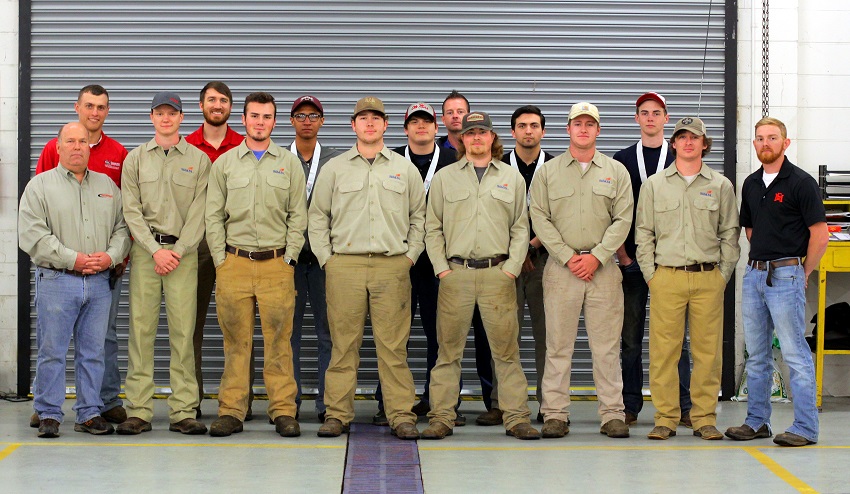 April 27, 2018
Every East Mississippi Community College student who entered the Mississippi SkillsUSA Championships in Jackson earlier this month earned either a gold, a silver or a bronze medal in the statewide competition for community and junior college students enrolled in a career technical program.
Five students in EMCC's Automotive Services Technology Program earned state championship titles and will compete in the national championships during the 54th National Leadership and Skills Conference June 25-29 in Louisville, Ky.
EMCC students from both the Welding & Fabrication Technology and Automotive Services Technology programs competed in the state event that took place April 10-11 at multiple locations near Jackson, including the Clyde Muse Center in Pearl. Harley Davidson hosted the motorcycle repair contest, with Bass Pro Shops handling the marine component and Hinds Diesel Academy overseeing the diesel competition.
Here are the EMCC students in the Automotive Services Technology Program who earned medals and the categories in which they competed:
Kyle Bluitt of Columbus, first place Job Skill Demonstration (oil change)
Cameron Hitt of Columbus, first place Automotive Service Technology
Andrew McKay of Ackerman, third place Diesel Equipment Technology
Dillion Miles of Meridian, first place Marine Service Technology
Matt Walsh of Starkville, first place Job Skill Demonstration (disc brakes)
Gray Watson of Sturgis, first place Motorcycle Service Technology
EMCC students in the Welding Services Technology Program who earned medals are:
Keegan Bearden of Belzoni; Douglas Fisher of McCool; and Matthew Talbot of Louisville, second place Welding Team Fabrication
Emerson Shinn of Montpelier, third place Welding Sculpture
Luke Crowley of Cumberland, second place CNC Milling
"We are really proud of all of our students," EMCC Welding instructor Gary Gammill said. "As far as I know, all community colleges in Mississippi have a welding program with some taught on multiple campuses. This is a big, competitive competition."
More than 6,000 students, all state contest winners, will compete in 100 different trade, technical and leadership categories for national championship titles in June.
Eupora resident Cameron Hitt is among the EMCC students who will compete in the national championships. Hitt took first place in the state completion in the category of General Automotive, in which competitors were given 15 minutes at each of multiple stations to diagnose and make repairs in areas that included transmission, air conditioning, brakes and precision measurements.
"We have great instructors at EMCC and I felt like I was prepared going into the competition," Hitt said. "I was a little nervous during the interview portion but I really wasn't surprised at the results."
McCool resident Douglas Fisher was among the three EMCC Welding students who competed in the Team Fabrication category. For the competition, the students were given four hours to construct a tailgate hitch rail to specifications spelled out on a blueprint and materials list.
"There were a lot of details in it but we were prepared for it," Fisher said. "It was a fun experience."
Last year, six Automotive Services Technology students and four Welding & Fabrication students earned the SkillsUSA state championships and advanced to the national championships, where three of the students earned gold medals and were named national champions.
In 2016, EMCC's Automotive Services Technology department was awarded a 2015 Cadillac ATS Coupe for having the student who won the gold medal in the Automotive Services Technology division in the national championships that year. The car is used as a repair training tool for students in the program.
Automotive Services Technology instructor Dale Henry said there is no secret to EMCC's success in the state and national championships.
"It's just hard work and keeping at it," Henry said.
The students benefit in that EMCC has garnered a reputation for producing top-notch employees, Henry said.
"Our students are sought after and we have a really good history of putting them to work," Henry said. "Another benefit of the competitions is that the wins are a good recruiting tool. You have high school kids competing in their divisions and it helps us when they keep hearing EMCC's name called over and over when the winners are announced."