EMCC STUDENT ONE OF TWO NAMED TVA SCHOLARS
News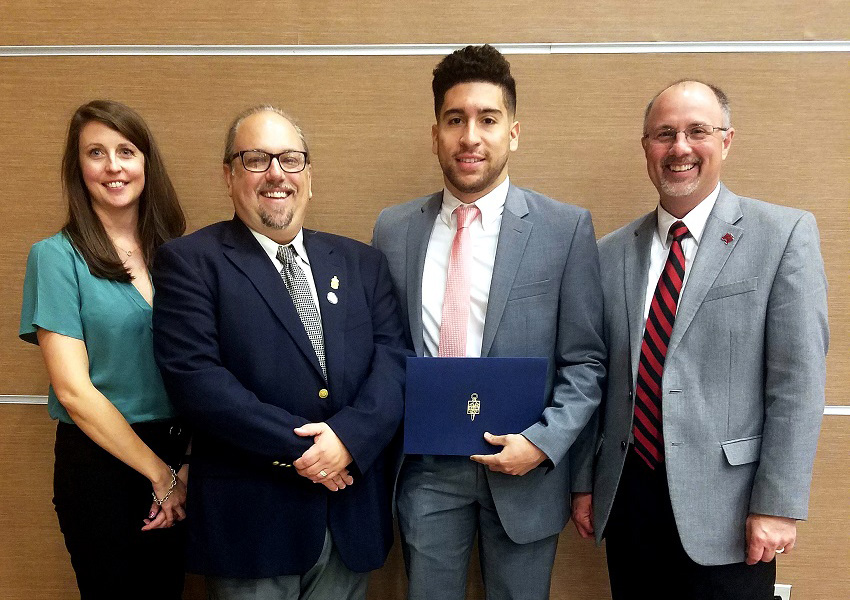 April 6, 2018
East Mississippi Community College student Gabriel Riveros is one of two students named 2018 Tennessee Valley Authority (TVA) Scholars.
Riveros received a $2,250 scholarship and was recognized during the All Mississippi Community College Academic Team luncheon March 28 on Hinds Community College's Pearl campus.
"Gabriel is an excellent student and well deserving of this award," EMCC math instructor and Phi Theta Kappa (PTK) advisor Eric Ford said.
TVA awarded the scholarships to two PTK members in Mississippi who plan to enter the fields of science, technology, engineering or math (STEM).
Riveros, a pre-engineering student who graduates from EMCC's Golden Triangle campus in May, plans to transfer to Mississippi State University to study civil engineering. He wants to earn a master's degree, and possibly a PhD, in the field.
Riveros was selected for the scholarship based on academic achievement, leadership, campus and community service, and faculty assessments, according to press release by PTK, a national honor society for community college students.
"It made me feel good that all of the hard work I put in and all the hours I spent studying paid off," said Riveros, who has maintained a 4.0 GPA while completing classes in subjects that include chemistry, physics, calculus and differential equations.
He is also taking upper-level engineering classes in statics and dynamics that are now available at EMCC.
"We are really proud of Gabriel," EMCC President Dr. Thomas Huebner said. "Our STEM instructors work hard to ensure their courses surpass the requirements needed for our students to successfully transition to a four-year institution. These are demanding classes that require dedication and commitment on the part of our students. Gabriel met that challenge head on and excelled while doing so."
Hard sciences are sort of a family tradition for Riveros. His grandfather was a professor of plant physiology botany at the University of Puerto Rico. His mother, Evelyn Villanueva, is a geologist and his father, Guillermo Riveros, is a civil engineer who works in research for the U.S. Army Corps of Engineers.
"My dad does a lot of research for the military, finding new innovative things to help protect our servicemen and women," Gabriel Riveros said. "That is really what I want to do. After Katrina hit New Orleans, my mom and dad went down there and started analyzing the damage. They were among the first people to help figure out what actually happened."
While his family is in Vicksburg, Gabriel resides in Starkville with his sister, Stephanie Riveros, who graduates from MSU this semester with a degree in biology. He said he understands why some people shy away from the STEM fields.
"It can definitely get tough," Gabriel Riveros said. "Sometimes you think twice about what you are doing and wonder if it is all worth it. Of course it is."
TVA, which supplies electricity to business customers and local power distributors throughout the Southeast, will also provide mentorship opportunities to Gabriel Riveros and the other scholarship recipient.
"We are very grateful to TVA for recognizing the academic achievements of our STEM members and providing them with mentoring that will further enrich their lives," said Dr. Monica Marlowe, executive director of the Phi Theta Kappa Foundation. "We are excited to see the impact this program will have on enabling students to pursue their careers in STEM fields."