EMCC BAND ADDS WINTER PERCUSSION
News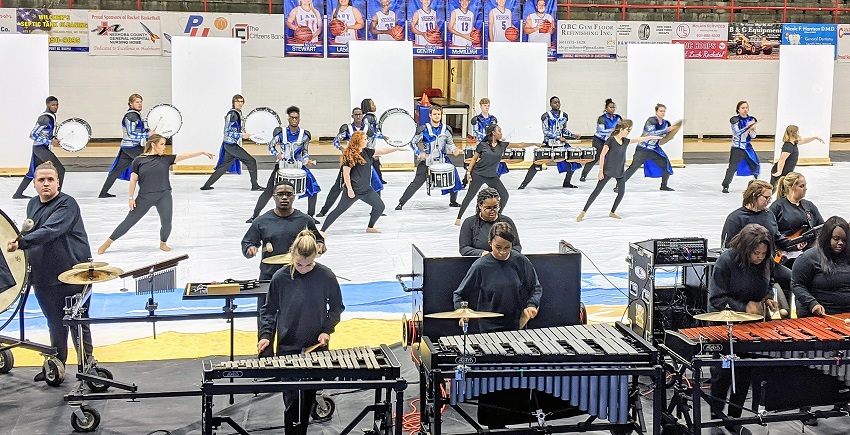 February 16, 2020
East Mississippi Community College's band has added a new wrinkle to its lineup this winter.
For what is believed to be the first time in the history of the program, EMCC's band is sporting a Winter Percussion made up of more than two dozen students from the Scooba campus.
The group participated in its first official competition Feb. 8 at Neshoba Central High School and is preparing for a second competition Feb. 22 and the Mississippi Indoor Association state competition March 27.
EMCC Director of Bands Chris King said the school has wanted to dip into the competition for a while, and that finally happened with the addition of Greg Haskins to the staff.
"This program has been in the works for around three-to-four years," King said. "We've been trying to decide the perfect time to kick it off. We decided this was the year and I couldn't be prouder. Mr. Haskins has been a wonderful addition to our staff and he's really spearheaded this masterfully."
Haskins, who joined EMCC as the Assistant Director of Bands and Percussion Director in July 2019, heads up the Winter Percussion with assistance from Katie Fulton and Bayleigh Roberts.
"They are really going to put this group on the map," King said.
The Mississippi Indoor Association is the state circuit of Winter Guard International – a governing body for visual performing arts competitions across North America that includes color guard, percussion ensembles and small marching bands.
Haskins said many EMCC Mighty Lion Band members are in similar roles with the Winter Percussion, but in a vastly different setting.
"In a typical marching band, you have percussion on the field," Haskins said. "You have what you call the field battery, which is the bass drums, the cymbals, the tenor drums, the snare drums … everybody you see marching out there.
"Then you have kids on the sidelines playing xylophones, the marimba, sometimes keyboards, bass guitars. We use all of that in an indoor setting."
Haskins said performances are generally held in regular gymnasiums.
"We roll out a vinyl tarp around 40 by 60 and we use props in the back," he said. "The props move around and create a theatrical production.
"In this case, we use dancers as well … not in the traditional sense that you see on a football field but more theatrical, more lyrical," Haskins said. "Obviously there's no horns, so the front ensemble provides all the music. We have the keyboard, the bass guitar, we have a drum set … it's almost like going to a musical except there's no scene. They're performing all the music and the drums are marching and doing drill forms and different things."
EMCC's group is performing a themed show called "The Dash" which is based from Linda Ellis' popular poem of the same name. It begins with the opening lines of Lukas Graham's "7 Years" song and is presented in roughly 4 ½ minutes.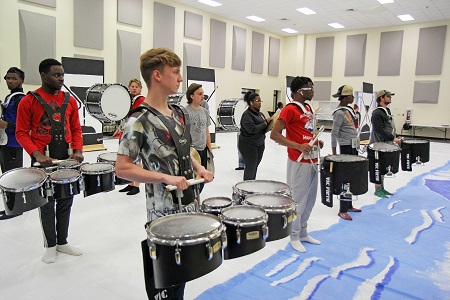 "When it starts off, you hear Lukas Graham's 'Once I was 7 years old' and we start playing music and present that visually," Haskins said. "Then we chop up that poem, being read by a professional voiceover actress through our system and it tells the story about the dash, the line between when you were born and when you die … basically, how did you live that dash?"
Although there have been other competitions in the state this winter, EMCC's first appearance was the Feb. 8 event at Neshoba Central – where they took top honors in the college division and had the second-highest score of all participating groups.
They plan to build on that performance with a competition Feb. 22 at Pearl before the state competition in March. Haskins said there were six total groups at Neshoba Central, but the competition will stiffen in Pearl and there are more than two dozen groups expected for the state meet – which will be held at the Mississippi Coliseum in Jackson.
Team scores are usually tabulated by a panel of four judges, each with a different area of critique.
"One judge may talk about music, one judge may talk about musical effect," Haskins said. "And there'll be judges who talk about nothing but visual … the overall production, how the music went along with it, how you moved on the floor, how it all intertwined. And they put all those scores together and give you a final score.
"We did really well," Haskins said. "I've had the opportunity to compare scores with other high school groups and competitions and we're probably in the top 70 percent, score-wise.
"I've been doing this for probably around eight years through high schools," he said. "There are a lot of high school groups in the area that actually go to nationals and have been doing it for a number of years and they pump a lot of money into it. We were very pleased with our first competition."
And while recognition during competitions is nice, Haskins and King agreed the program can have a much bigger effect for EMCC's entire band program.
"One of the main reasons we're doing this is for the exposure," Haskins said. "The high schools who are at the same competitions … that's a great opportunity for us. Kids who might not know about us will see us perform and say 'Hey, I want to go to East Mississippi.'"
"It could definitely be a boost for us," King said. "They're already off to a fantastic start. They've won their first competition.
"But the kids were excited not only about the results but also about the fact that they can make it better. As an educator, that makes your heart happy."