EMCC CONDUCTS INAUGURAL WHITE COAT CEREMONY FOR NURSING STUDENTS
News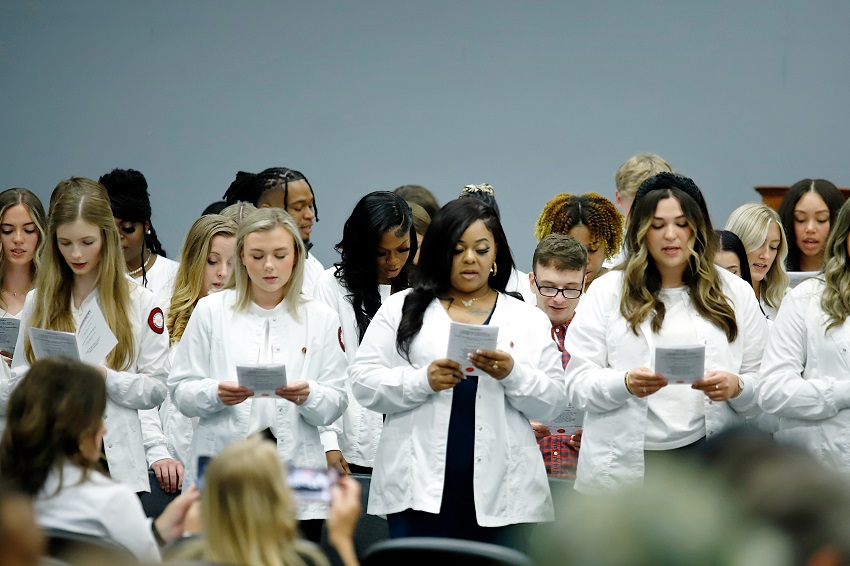 August 31, 2023
A White Coat Ceremony for students enrolled in East Mississippi Community College's Class of 2024 Associate Degree Nursing program took place the afternoon of Thursday, Aug. 31, in the Lyceum Auditorium on the college's Golden Triangle campus.
The event was the inaugural While Coat Ceremony for incoming Associate Degree Nursing students. The Gold Foundation's first White Coat Ceremony took place in 1993 at Columbia University and was initiated by Dr. Arnold P. Gold, a world-renowned pediatric neurologist, according to the Gold Foundation website.
Gold envisioned the White Coat Ceremony as a way to emphasize the importance of compassion in patient care at the start of medical training, according to the website.
About 50 Associate Degree Nursing students took part in the ceremony at EMCC.
The welcome was provided by EMCC Director of Nursing Programs/Associate Dean of Health Sciences Jamonicia Johnson.
Carrington Care Center Administrator Jeremy Cummins was the guest speaker.
EMCC Class of 2020 Associate Degree Nursing graduate Sylvia Wedel spoke to the students about her experiences as a nurse, and Orlando Abrams, father to Class of 2022 ADN graduate Kayln Abrams, spoke to parents in the audience about the importance of supporting their children while they are enrolled in the program.
Associate Degree Nursing faculty members presented the students with their white coats, which was followed by a recitation of the nursing oath. EMCC President Dr. Scott Alsobrooks provided the closing remarks.
The Class of 2024 Associate Degree Nursing students who participated in the ceremony are: Kaitlyn Bock, Emani Bostic, Jordan Brady, Karen Brown, Kenyada Bush, Armaria Clark, Teliak Davis, Sha'Diamond Dean, Takiyah Ford, MacKenzie Gunter, Lauren Hagler, Colden Hall, Madalyn Hancock, Meredith Harpole, Bethany Hasty, Shanikqua Jenkins, Briana Johnson, Jason Kislow, Mallory Lumsden, Aysha Marchbanks, Derriyana Mays, Laura McDaniel, Taylor McDaniel, Luke McKee, Hope Meakins, Jacob Miller, Jamya Mills, Jennifer Morales, Caitlin Mumford, Anihya Nesbitt, Saterra Nicholson, Claire Patterson, Terrica Randle, Alexis Sanders, Alyssa Schroeder, Alexis Sherwood, Deborah Singleton, Chelsea Smith, Jerry Spraggins, Arlexus Starks, Megan Sullivan, Jenny Thompson, Nancy Tillman, Diesha Verdell, Ikeria Washington, Destiny Wells, Taliyah Wilson, Carley Wooten, Aaliyah Young