EMCC INSTATING UTILITY LINEWORKER PROGRAM ON GOLDEN TRIANGLE CAMPUS
News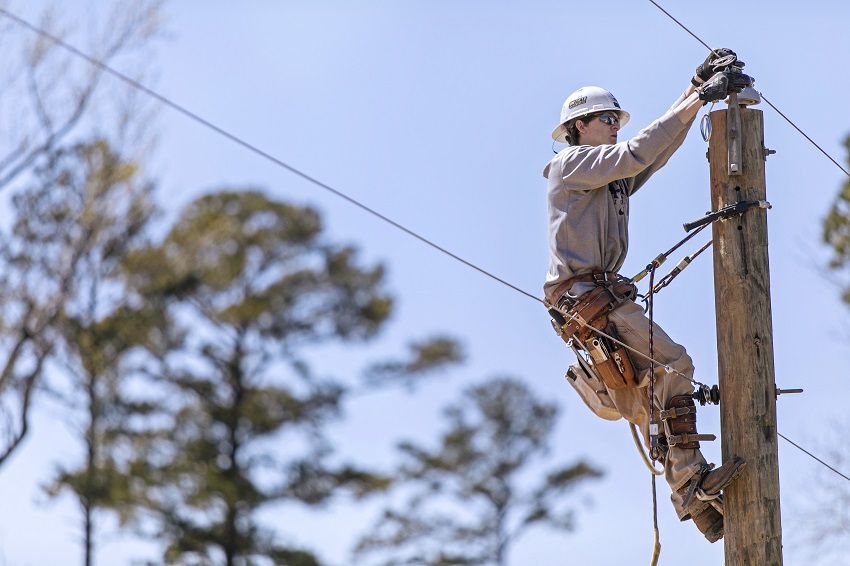 April 25, 2023
This fall, East Mississippi Community College will offer a 16-week Utility Lineworker Technology program on the college's Golden Triangle campus for the first time.
Enrollment is under way now for the program, with classes beginning in August. Graduates will receive certification in pole climbing, CPR and first aid, forklift operation and OSHA 10-hour safety training. Students also receive instruction needed to earn a Class A CDL, or commercial driver's license.
The program prepares students for entry level work at a utility company, a co-op or a contractor in the utility construction or excavation fields.
Students learn the fundamentals of electricity, AC/DC circuits, mathematics and Rural Utilities Specifications, and how to climb and frame a power pole. The program mirrors the Utility Lineworker Technology program that has been taught at the Scooba campus for years.
"The program is popular on our Scooba campus and we wanted to provide students in our northern districts access to the same learning opportunities," EMCC Dean of Instruction for the Golden Triangle Campus Dr. Michael Busby said. "There is a demand for qualified workers in the field both locally and nationwide."
While students will learn to operate a bucket truck, they will also be required to learn how to safely climb power poles. A series of eight power poles has been set up on the Golden Triangle campus adjacent to the Commercial Truck Driving program. The poles are for training purposes only and transmission wires that will be installed won't have electricity flowing through them.
Graduates employed in the field can expect to undergo on-the-job training for four to five years before they are qualified to become journeyman lineman.
Students can apply online at www.eastms.edu or contact Tenise Smith by phone at 662.243.1764 or by email at tsmith@eastms.edu. More information is available online here: http://bit.ly/2BFuKjv