EMCC'S GOLDEN TRIANGLE CAMPUS ADDING NEW PROGRAMS OF STUDY
News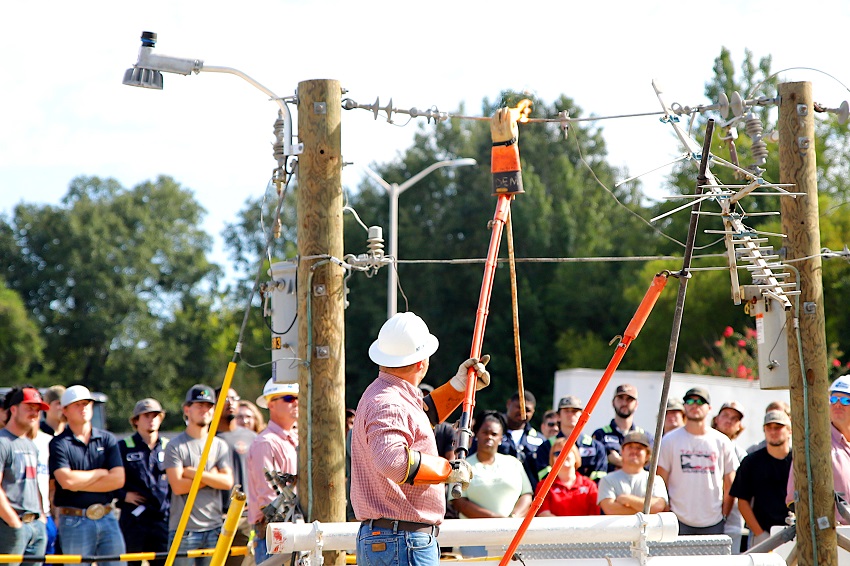 August 22, 2023
East Mississippi Community College is expanding the number of for-credit programs on the college's Golden Triangle campus in fields in which workers are needed locally.
Classes for one of the programs, Utility Lineworker Technology, began Aug. 14. Work is under way to start up three additional programs in the spring of 2024. Those programs are Heating, Ventilation and Air Conditioning (HVAC), Commercial Truck Driving, or CDL, and Construction.
"We have been working with industry leaders to identify areas where we can add new instructional programs in fields that are in demand locally," EMCC Vice President of Career Tech and Workforce Education Dr. Michael Busby said.
The Utility Lineworker program can be completed in one semester. The program mirrors the Utility Lineworker Technology program that has been taught at the Scooba campus for years.
Students learn the fundamentals of electricity, AC/DC circuits, mathematics and Rural Utilities Specifications, among other things. Graduates will receive certification in pole climbing, CPR and first aid, and OSHA 10-hour safety training. Students also receive instruction needed to earn a Class A CDL, or commercial driver's license.
"One of the great things about the Utility Lineworker program is that students who complete the course can go to work as an apprentice lineman, or they can seek employment as a truck driver since they will have an opportunity to earn their CDL," EMCC Dean of Instruction for the Scooba Campus Dr. Jairus Johnson said. "I don't know of another one-semester educational program that offers two potential career paths."
Louisville resident Robert Stoots, who is enrolled in the Lineworker program on EMCC's Scooba campus, said two factors that influenced his decision to enroll in the course were the opportunity for a second career as a truck driver and the fact that the program could be completed in a short period of time.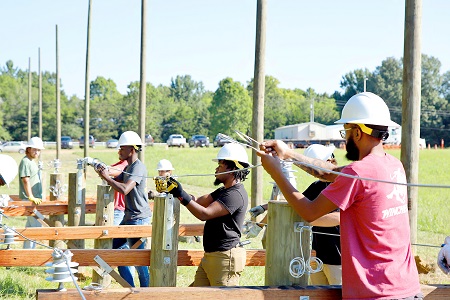 "One of the things I was looking at was the opportunity to get into the workforce a little faster," Stoots said.
AccelerateMS awarded EMCC a grant of more than $473,000 to start the Utility Lineworker program at the college's Golden Triangle campus. The funding is part of a larger $22-million investment over the last year by AccelerateMS in the state's colleges, K-12 schools and institutions of higher learning to bolster high-demand, high-wage training programs in areas such as health care, advanced manufacturing and career technical trades.
"Workforce education plays a critical role in establishing economic vitality in our communities and in our state," said AccelerateMS Deputy Director of Strategy and Programs Dr. Courtney Taylor, who formerly served as the vice president of Workforce and Economic Development at EMCC. "Providing residents with skills needed to embark on emerging and established career paths ensures their ability to support their families while sustaining industry growth."
A local demand for utility workers was the driving force behind the decision to expand the Utility Lineworker program to EMCC's Golden Triangle campus, said Johnson, who wrote the grant application submitted to AccelerateMS. EMCC works closely with industry to develop new training programs and utility companies in the Golden Triangle area reported having to recruit students from similar educational programs located out of state to fill a need for local workers. Additionally, company officials said they were sending journeymen apprentices to Alabama for training exercises since there are no training facilities in the region.
"The utility companies will be able to use the facilities for apprenticeship training when it is not in use for our Lineworker Utility program," Johnson said.
4 County Electric Power Association conducted a "hotline demonstration" Aug. 17 for students enrolled in the Lineworker programs on EMCC's Scooba and Golden Triangle campuses. 4 County Job Training and Safety Coordinator Joe Miller was among the utility company's employees conducting the demonstration at EMCC's Golden Triangle campus.
The 4 County crew showed the students the correct safety precautions to take while working on transformers and powerlines and demonstrated what can happen if mistakes are made.
"We are showing them how powerlines and electricity work and what it can do if they do it right and what it can do if they do it wrong," Miller said.
All apprentices hired by the company must first complete a lineworker program like the one offered at EMCC, Miller said, adding that having a program at EMCC's Golden Triangle campus will help fill a local demand for workers.
"There are good job prospects for students who've been through a lineworker program, especially for ones from East Mississippi Community College," Miller said. "We will look at them first."
The AccelerateMS grant funded the purchase of a bucket truck and a digger derrick, which is used in the program at the Golden Triangle campus to dig holes and set power poles in place. Additional purchases include a truck driving simulator and equipment needed for the program.
"Our students will have the latest and greatest equipment to climb poles with and the best safety equipment that money can buy," said Bill Buckner, who was hired to serve as the program instructor. He has 23 years of experience in the powerline industry.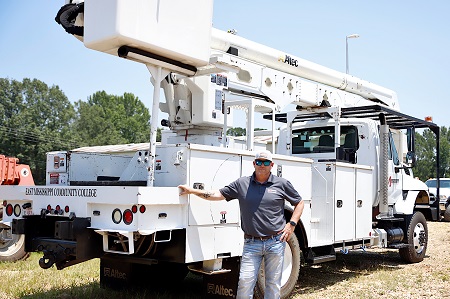 "Students will get experience on both the bucket truck and digger derrick, but we will concentrate more on safety, climbing and the daily tasks of an apprentice lineman," Buckner said. "There will always be a pole to climb somewhere that is located in a place where you can't get a truck."
A series of eight power poles has been set up on the Golden Triangle campus. The poles are for training purposes only and transmission wires that will be installed won't have electricity flowing through them.
The program prepares students for entry level work at a utility company, a co-op or a contractor in the utility construction or excavation fields.
West Point resident Kylen Dyson is taking the Lineworker program on EMCC's Golden Triangle campus. He said he was interested in the program because he knows he can find work locally, but also will have the ability to find work nationwide if he were to decide to move.
"That is a plus and it's hands-on work, which I enjoy doing," Dyson said.
The Commercial Truck Driving, or CDL, program, will be offered as a standalone course separate from the CDL component of the Lineworker Utility program. It can also be completed in a semester. Students will be taught safety, rules and regulations, driving practices, air brakes, hazardous materials and emergencies, as well as preparation for the Commercial Driving License test. EMCC also offers a non-credit Commercial Truck Driving course through the Workforce and Community Services Division, but that program is not eligible for Pell Grant funds. Students who take the new CDL course will be able to apply for Pell Grant since it is a for-credit course.
The new HVAC program is also for-credit and will be Pell Grant eligible. The program lasts a year and students who graduate will earn a certificate and be able to sit for the EPA certification exam. Course content includes safety, use of basic tools specific to the HVAC industry, the physics behind the refrigeration process, basic refrigeration components, refrigerants, oils, and the effect on the environment. Students will also complete labs that require troubleshooting and repair of HVAC systems.
The Construction program will also be a for-credit course in which students could earn an associate degree or a one-year certificate. Among other things, students will learn to pour concrete foundations, the operation of construction tools and how to frame walls, ceilings and roofs. Students will also earn a 10-hour OSHA safety certificate and will learn how to operate heavy construction machinery, such as a bulldozer, excavator and tractor.
"We are excited to be able to expand our instructional offerings," Career and Technical Education Associate Dean Patricia Corrigan said. "This will benefit not only our students but our local industry and the community at large as well."
The new offerings follow on the heels of other recent program expansions. A second Associate Degree Nursing cohort was added on EMCC's Golden Triangle campus in March, which will merge this term with an ADN cohort that began in January to form a single class of about 50 students.
"Make no mistake, EMCC will continue to meet the needs of industry and students as it relates to preparing a workforce to fill the jobs in our six-county district," EMCC Vice President of Instruction Dr. James Rush said. "Through collaboration with our industry partners and funding made available by AccelerateMS, we have been able to start these new programs. We are not done and will continue to strengthen our partnerships in each of our six-district counties, which includes Lauderdale, Kemper, Noxubee, Lowndes, Clay and Oktibbeha. We will continue to add new programs as needed when additional funding opportunities are made available."
Over the past two years, several new programs have been added to EMCC's Scooba campus, including Electrical Technology, Heavy Civil Construction, Practical Nursing, Computer Networking and a two-year associate degree option for the Welding Technology program.
For information about the CDL, Construction, HVAC or Lineworker programs, contact Tenise Smith by email at tsmith@eastms.edu or by phone at 662.243.1764.