EMCC STUDENTS EARN AWARDS IN STATEWIDE ART COMPETITION
News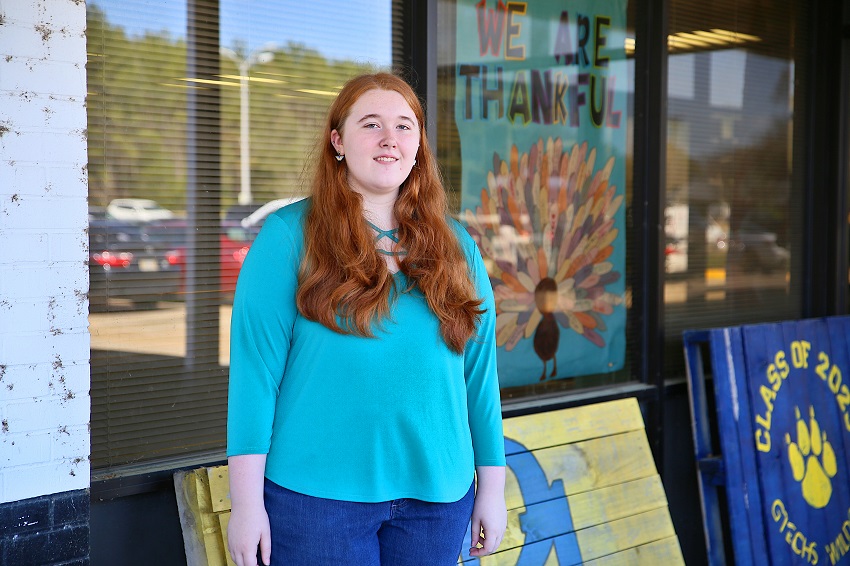 April 11, 2023
Two East Mississippi Community College students placed in the Mississippi Community College Art Instructors Association's Student Art Competition and Art Show.
Haley Hutchinson, a sophomore on EMCC's Scooba campus, took second place in the Ceramics category. Katherine Dunstan, a senior in the Golden Triangle Early College High School who is also taking college courses on EMCC's Mayhew campus, earned third place in the Drawing category.
Students from community colleges across Mississippi submitted artwork for the annual competition, which was hosted this year by Northwest Mississippi Community College in Senatobia. Each year a different college hosts the event.
Hutchinson's piece, titled "Crystalized Wood" depicts a wooden log with a metal rod in the center that supports a welding helmet.
"The welding helmet represents me," said Hutchinson, who is enrolled in EMCC's Welding Technology program. "I like medieval things and crystals and I thought the wood and crystals was medieval looking and kind of cool."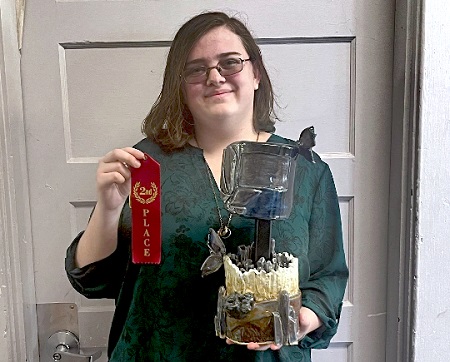 A resident of Meridian, Hutchinson graduates in May and hopes to work as a welder for Taylor Machine Works in Louisville once she graduates. Hutchinson said she will continue to pursue art as a hobby.
"I follow people who do welding art on Instagram," Hutchinson said. "That is just amazing to me. That is something I might be interested in doing."
"Haley is a talented artist and a dedicated student," said Lisa Spinks, who teaches art on EMCC's Scooba campus. "She is deserving of this recognition."
Dunstan's charcoal drawing, titled "Bags," was the result of a final in EMCC Golden Triangle campus art instructor Cynthia Buob's Drawing I class.
"It was literally just a composition of paper bags that was set up," Dunstan said. "I like graphite and pencil drawing the best. I like being able to sketch out what I do and ink over it later if I really want to do that."
Dunstan graduates in May and plans to transfer to the Mississippi University for Women to major in biology, with a minor in art.
"I am really interested in wildlife biology, which is basically the study of animals in the field," Dunstan said. "You are not working in a lab but are more so going out and working with the animals themselves. My dream job would to be a scientific illustrator, but it is really hard to get into that profession because it is so niche."
"I am really happy for Katherine," Buob said. "She is a hard worker and I look forward to what she accomplishes in the future."