EMCC'S RENYETTA JOHNSON GARNERS NACADA SCHOLARSHIP
News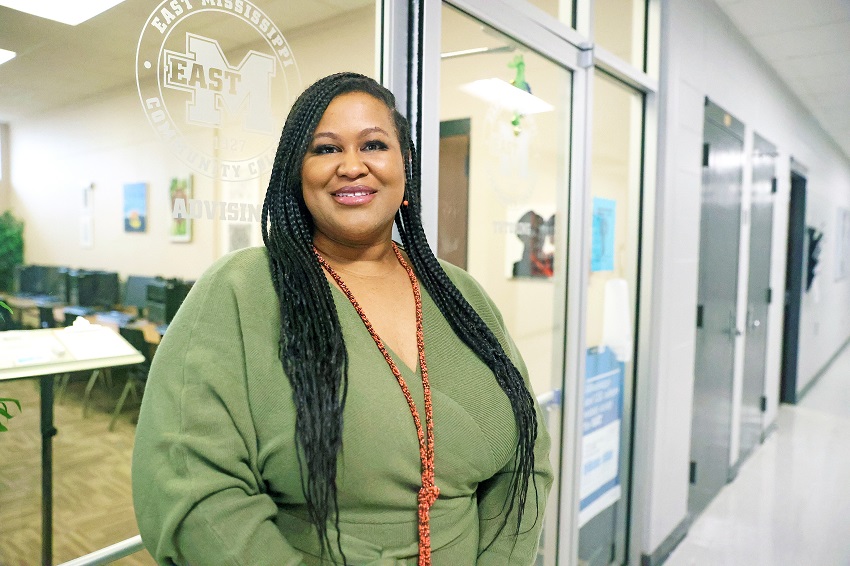 February 9, 2021
East Mississippi Community College Instructional Advisor and Accessibility Resource Services Liaison Dr. Renyetta Johnson has been awarded a NACADA scholarship to attend a regional conference where she and a colleague will conduct a presentation on the challenges they faced during the COVID-19 pandemic and lessons learned that ultimately benefitted students.
"Because of the pandemic, we had to come up with new ways to connect with students and meet them where they are," said Johnson, who works on EMCC's Scooba campus. "We developed creative ways to help students, some of whom did not have access to a computer or internet at home. We worked around the obstacles they faced to make things happen."
Johnson's presentation will take place at the Von Braun Center in Huntsville, Alabama, during the March 5-7 Region 4 Conference of NACADA: The Global Community for Academic Advising.
Johnson was awarded a Region 4 Conference Travel Scholarship in the amount of $300 to offset costs associated with attending the conference and will be recognized along with other NACADA scholarship recipients during the event.
"I am elated and supportive of Dr. Renyetta," Vice President of Enrollment Management and Student Success Dr. Nikita Ashford-Ashworth said. "The fact that she was chosen as a presenter and scholarship recipient for the NACADA Region 4 Conference is a testament to her dedication to the field of academic advising, EMCC and the students she serves."
NACADA promotes student success through excellence in academic advising in higher education. The organization is comprised of 10 regions. Johnson is a member of Region 4, which encompasses Mississippi, Alabama, Florida and Georgia, as well as Puerto Rico, the Virgin Islands and other Caribbean nations.
Johnson and her five siblings were raised in Sweet Water, Alabama, which is located about 60 miles southeast of Meridian. She attended nearby University of West Alabama, where she earned both a bachelor's degree and a master's degree in Teaching. She later completed her doctorate at the University of Southern Mississippi.
Johnson knew at an early age that she wanted to teach thanks to the influence of two teachers. One of those teachers was Johnson's mother and the other was a fifth-grade history teacher who made learning both informative and fun.
After completing her studies at UWA, Johnson accepted a position as a teacher at Northeast Middle School in Lauderdale County, where she worked for nine years.
"I was also working as an adjunct instructor at EMCC while in the K-12 setting," Johnson said. "I felt like I wanted to make a change and transition fulltime into higher education."
In July of 2015, she accepted a full-time position at EMCC, where her husband, Dr. Jairus Johnson, is dean of instruction for the Scooba campus. The couple resides in Collinsville with their children, Jaida, 8, and Jairus II, who turns 3 later this month.
Among other things, Renyetta Johnson is tasked with reaching and retaining students and helping them overcome educational barriers they may encounter. She said her role as an advisor is both challenging and rewarding and requires a willingness to develop a rapport with students, while offering them advice and encouragement.
"A big part of advising is listening and hearing them when they share their stories or experiences," Renyetta Johnson said. "I always want to make sure I am being a good steward of the resources we have available and that those resources are used in a way that is best for our students."