EMCC PARTNERS WITH OCHSNER RUSH HEALTH FOR SPORTS MEDICINE SERVICES
News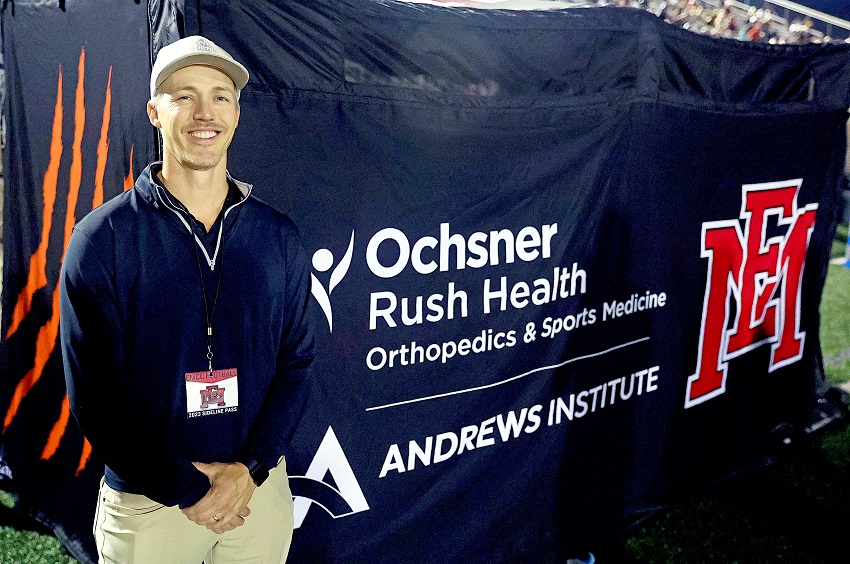 October 17, 2023
East Mississippi Community College has announced that Ochsner Rush Health is now the official sports medicine provider for the college's athletes.
Ochsner Rush is providing EMCC with two full-time athletic trainers, who are available to evaluate and treat athletes across all EMCC sports teams as needed during practices, workouts, games and competitions. In addition, an orthopedic physician, who specializes in treating injuries to bones, joints, ligaments, nerves and tendons, will be present during home and away football games and, when available, at other home sporting events.
Ochsner Rush Health is part of Ochsner Health, one of the largest healthcare systems in the region with hospital and clinic locations throughout Louisiana and Mississippi.
In 2022, Ochsner Health and internationally renowned orthopedic surgeon Dr. James Andrews announced a partnership to create Ochsner Andrews Sports Medicine Institute. Andrews brings his expertise and education platform, Andrews Medicine, to enhance and strengthen Ochsner's award-winning sports medicine program and provide best-in-class care for patients and athletes across Louisiana and Mississippi. Its Athletic Training Outreach Program is the largest in the Gulf South, boasting more than 200 certified athletic trainers who work with athletes of all ages—from middle and high schools to college and professional sports teams, including athletes in the NBA and NFL.
"We are really excited about partnering with Ochsner Rush Health," EMCC President Dr. Scott Alsobrooks said. "They have a huge sports operation, and this is a great opportunity for us to work with a world-class operation with an abundance of resources."
The Ochsner Andrews Orthopedics & Sports Medicine Institute's Athletic Training Outreach Program's athletic trainers are CPR and AED certified, providing preventative services, sports injury emergency care, therapeutic intervention and rehabilitation. EMCC athletes will receive the full breadth of athletic training support, including concussion management and injury evaluation.
"We are proud to partner with EMCC," said Dr. Lane Rush, orthopedic surgeon at Ochsner Rush Health and head team physician for East Mississippi Community College. "They have an excellent athletic program and have shown a tremendous commitment to their student athletes. This partnership is an exciting milestone for both organizations as we passionately pursue excellence in supporting this community."
"The main beneficiaries of this partnership with Ochsner will be our student athletes," EMCC Director of Athletics and Dean of Students / Scooba Campus Sharon Thompson said. "Their safety and wellbeing are our top priority, and we know they will receive top notch care provided by trained professionals."
In August of 2022, Meridian-based Rush Health Systems joined Ochsner Health to become Ochsner Rush Health, folding the seven regional hospitals into the robust Ochsner Health system.
Student athletes who suffer a sports injury will have the option of seeking care at one of the Ochsner Rush Health facilities, including Ochsner Rush Medical Center in Meridian and Ochsner Stennis Hospital in DeKalb, which is located minutes down the road from EMCC's Scooba campus.
"If we have an urgent issue or one of our athletes needs an X-ray, we can go to DeKalb for that," Alsobrooks said. "Ochsner Rush Health also has their full sports medicine operation in Meridian. Logistically, it is easier on our coaches and our trainers to get the service we need close to our campus."
In addition to football, EMCC's sports teams include baseball, men's and women's basketball, cheerleading, football, men's golf, men's and women's rodeo, men's and women's soccer and softball.
ABOUT OCHSNER RUSH HEALTH
Founded more than 100 years ago, Rush Health Systems joined Ochsner Health in 2022, making it part of the largest health system in the Gulf South. With its long legacy of medical innovation, quality care and service to others, Ochsner Rush Health is comprised of 7 hospitals and more than 30 clinics with 250 physicians and 95 advanced practice providers. For more information, please visit ochsnerrush.org and follow us on Facebook, Instagram and Twitter.
ABOUT EAST MISSISSIPPI COMMUNITY COLLEGE
East Mississippi Community College is a public community college serving six counties in East Central Mississippi, offering university-parallel programs, career-technical programs and workforce programs. EMCC is dedicated to improving the quality of life for our students, our community and our personnel through instructional opportunities, with specific focus on a healthy mind, body and spirit. For more information, visit www.eastms.edu.