DIVISION OF NURSING AND HEALTH SCIENCES EXPANDS OFFERINGS
News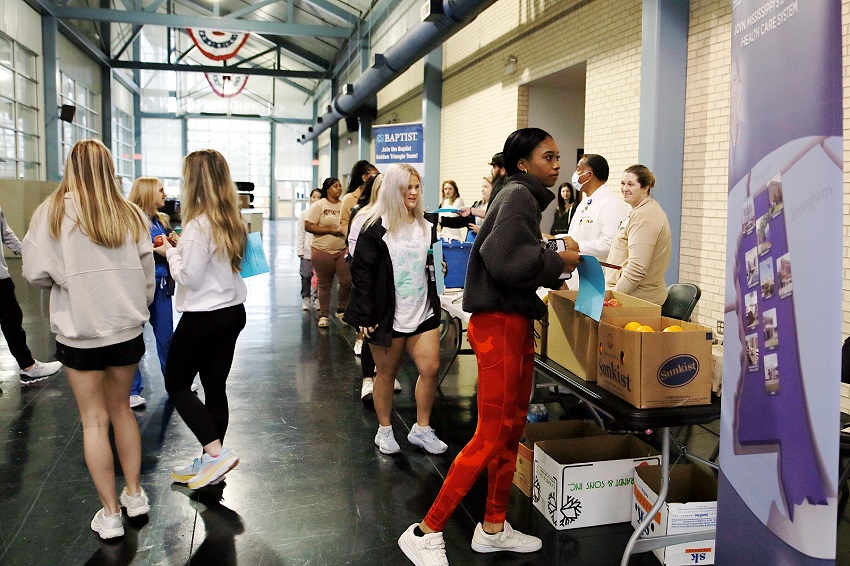 January 20, 2023
East Mississippi Community College's Division of Nursing and Health Sciences has seen major changes over the past year that include new leadership, the reinstatement of a popular program on the college's Scooba campus, and a commitment to further expand program offerings.
On June 27, Jamonicia Johnson was named director of Nursing Programs and associate dean of Health Sciences, replacing Dr. Tonsha Emerson, who retired earlier in the summer.
"One of the things we would like to do is grow our Nursing and Health Sciences programs and I am excited to be a part of that," Johnson said at the time. "I am a former student at EMCC and to be able to impact our department's growth and provide more services to our students is something I am really looking forward to doing."
Work to expand program offerings has already begun. In January of 2022, the Practical Nursing program returned to EMCC's Scooba campus after a 19-year hiatus. Members of that inaugural class graduated this past December.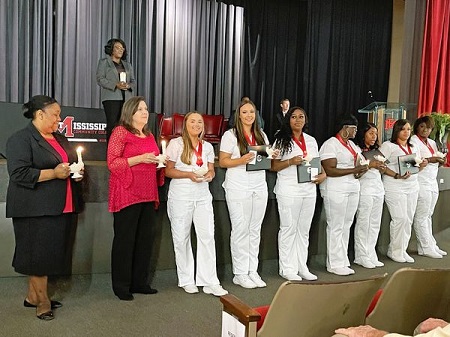 When administrators with EMCC's Division of Nursing and Health Sciences conducted a needs assessment for the program, they received affirmation from the John C. Stennis Memorial Hospital in DeKalb and the Noxubee Medical Complex in Macon, as well as from Kemper County High School and the John C. Stennis Vocational Complex. They also received a letter of support from the Mississippi LPN Association expressing the need for LPNs in that area, as well as in the state.
In August, the public was invited to an open house to get a closer look at the program, which is housed in Hawkins Hall and boasts its own dedicated classroom space, instructors' offices and a lab that meets state accreditation requirements. Two instructors, Linda Farmer and Chiquita Jones, were hired to teach the course.
As early as 2012, medical journals began reporting a growing demand for additional nurses to treat an aging baby boomer population with increased medical needs to include, in some cases, around-the clock medical care. According to the U.S. Bureau of Labor Statistics, more than 65,000 additional LPNs will be needed in the U.S. by 2029.
Predictions for an increased demand across health-related professions prompted officials at EMCC to explore future options to increase the number of health-related offerings at the college.
"The Division of Nursing and Health Sciences is something we are looking at district-wide to see where we can add more capacity and new programs," EMCC President Dr. Scott Alsobrooks said.
This past summer, programs with the Division of Workforce and Community Services in the former Center for Manufacturing and Technology Excellence building on EMCC's Golden Triangle campus were moved to The Communiversity at EMCC.
The old CMTE building, along with space in the Douglas Building, will house Division of Nursing and Health Sciences programs and offices, which includes Practical Nursing, Associate Degree Nursing, Surgical Technology and Emergency Medical Technician programs of study, as well as an LPN to RN transition option for licensed practical nurses looking to continue their education.
Johnson has worked at EMCC since 2006, serving first as an adjunct Practical Nursing clinical instructor and later as a fulltime Practical Nursing instructor. She earned a certificate in Practical Nursing from EMCC in 2002. She was later awarded an Associate of Science Degree in Nursing and a Bachelor of Science Degree in Nursing from Mississippi University for Women. In 2022, she completed a Master of Science Degree in Nursing from the University of South Alabama, with a concentration in Clinical Nurse Leader.
Johnson oversees the Associate Degree Nursing and Practical Nursing programs and serves as dean of the Surgical Technology and Emergency Medical Technician programs.