STUDENTS IN MISSISSIPPI CODING ACADEMIES' HUB AT THE COMMUNIVERSITY GRADUATE
News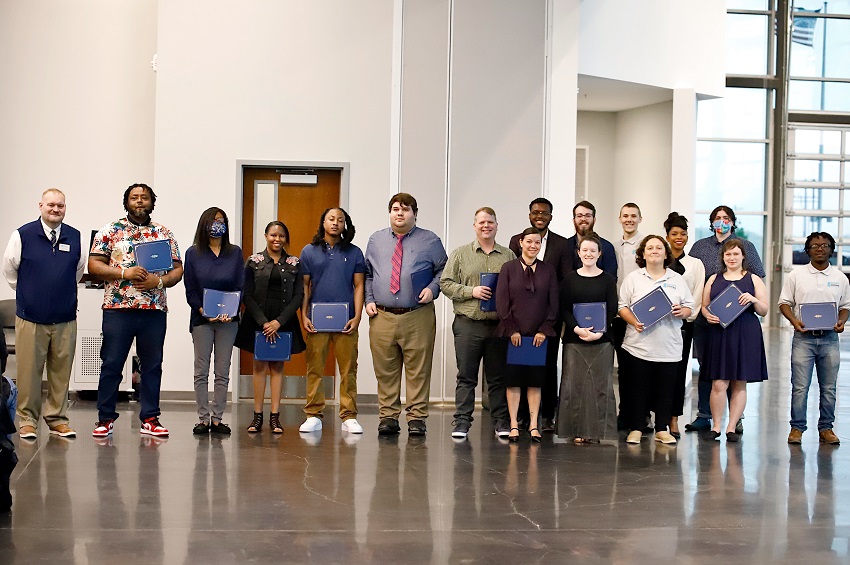 July 14, 2022
A commencement ceremony for graduates of the Mississippi Coding Academies took place the afternoon of Friday, July 14, at The Communiversity at East Mississippi Community College, which serves as the location for the MCA's Golden Triangle hub.
Graduates of the 11-month program are certified as full-stack junior coders with the ability to manage both the areas of websites users interact with and the underlying digital structures. Mississippi has accepted the Mississippi Coding Academies certificate in lieu of an associate degree for those hiring into the IT field in the state.
EMCC President Dr. Scott Alsobrooks was the keynote speaker for the event. He spoke to the graduates about opportunities available locally for those looking to segue directly into work and about available programs of study at The Communiversity in areas such as Computer Networking, Computer Programming, Cybersecurity and Database Administration for those who wish to earn an associate degree.
"We have all sorts of high-tech programs here at The Communiversity," Alsobrooks said. "The Coding Academy is just one. We can get people educated and we can get them good jobs here in the Golden Triangle. We want our graduates to stay here, to earn a good living here and to build a home here."
Mississippi Coding Academies is a nonprofit 501(c)3 agency funded through private donations that provides tuition-free classes to students. In addition to The Communiversity, the organization has campuses in Jackson and Biloxi and also offers remote classes.
Jessika Hayes, MCA's Golden Triangle senior instructor, is a 2019 graduate of the program. She congratulated the graduates and spoke to attendees about the skillsets the students had to develop in order to successfully complete the program.
"Coding is one of those things where you have to really have patience and pay attention to detail," Hayes said. "You also need to have a creative mind to be able to solve problems and work together as a team."
Mississippi Coding Academies Executive Director Bob Buseck provided the closing remarks. Buseck, who previously served as the chief information officer for the Mississippi Emergency Management Agency, is an IT and communications professional who served in the U.S. Army and in various roles as a civilian.
He was stationed overseas during tours in Iraq and Afghanistan and later worked outside of his home state of Mississippi for years.
"I never planned on coming back to Mississippi," Buseck said. "I can tell you though that there is no better place to raise a family than right here in Mississippi. Unbeknownst to a lot of Mississippians, there are lots of opportunity for growth in the technology sector right here in this state."
Mississippi Coding Academies Golden Triangle junior instructor Blake Wyatt presented the graduates with their certificates. The students were among the second cohort of Mississippi Coding Academies students to graduate from The Communiversity location.
The 2023 graduates are: Blake Armstrong, Kennedy Bowles, Roderick Chamberlain, Elizabeth Chandler, Russell Gunnell, Matthew Harris, Savannah Luker, Morgan Meyers, Rachel Olivieri, Emily Rogers, Joseph Rutherford, Chance Tanksley, Christopher Ward, and Elizabeth Wiggins.
The next Mississippi Coding Academies class at The Communiversity starts Aug. 14. Information about the program is available here: https://bit.ly/35o4agC
Information about EMCC's career technical programs, including the college's four information technology tracks, is available here: http://bit.ly/2qgOhUR