EMCC PROMOTES BUSBY TO VP OF CAREER TECH AND WORKFORCE EDUCATION
News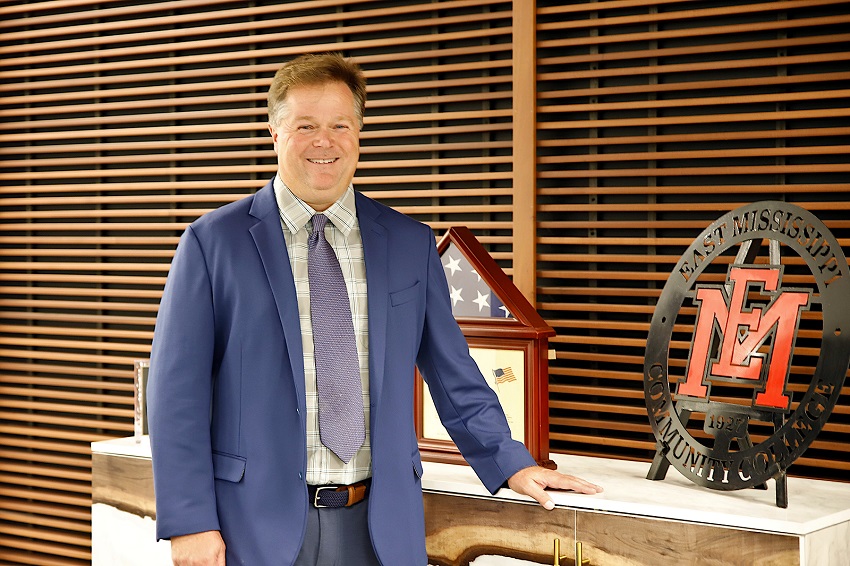 August 18, 2023
East Mississippi Community College has promoted Dr. Michael Busby to the position of vice president of Career Technical and Workforce Education.
Busby has worked for EMCC since 2016, when he was hired as an associate dean of instruction for the Career Technical Education division before assuming the role of dean of instruction for the college's Golden Triangle campus in 2021.
In his new position, Busby will oversee career technical programs at the college's Golden Triangle campus, at the Lion Hills Center, and at The Communiversity, where he will serve as executive director. He will also manage the Adult Education division, as well as the Workforce division, which includes short-term training and Workforce Innovation and Opportunity Act programs.
Busby replaces Dr. David Campbell, the former executive director of The Communiversity, who left to pursue other opportunities.
"We are grateful to David for the outstanding job he did and wish him well in his new endeavors," EMCC President Dr. Scott Alsobrooks said. "We are also pleased to have someone of Michael's caliber to lead the efforts of our career technical and workforce programs, which play an integral role in serving our students, industries and economic development agencies."
EMCC offers more than 50 career technical education programs of study. Busby's office is located at The Communiversity, a $42 million facility that opened in 2019 that is dedicated to training students for careers in advanced manufacturing, such as Mechatronics Technology, Industrial Maintenance and Systems Based Automation, to name a few.
"We need to do a better job of educating our students and their parents about the exciting opportunities available today in career technical fields," Busby said. "We want to encourage those students seeking a four-year degree to do so, but there are many people who may not realize that there are educational paths in career technical programs that can lead to jobs that meet or exceed the pay for many disciplines that require a four-year degree. One of the things I want to do is to ensure that members of our community are aware of the many career technical educational paths available to them at EMCC."
Busby, who is two weeks into the new position, said he is looking forward to meeting with stakeholders to ensure that career technical and workforce training offered at EMCC campuses and at The Communiversity are meeting the needs of area industry and businesses.
"Working closely with representatives from local businesses and industries, chambers of commerce, and the Golden Triangle Development LINK is crucial to ensuring we are meeting the needs of area employers while providing our students with training in fields that are in-demand locally," Busby said. "My goal is to strengthen current partnerships while creating new opportunities to grow programs on our campuses and at The Communiversity that will benefit employers and the students we train who are looking to enter the workforce."
Busby is a local product who was born and raised in West Point. He was on the tennis team at Itawamba Community College before transferring to Mississippi State University where he earned a bachelor's degree in Business. He went on to earn both a master's degree in Education and a doctorate in Instructional Systems and Workforce Development from MSU.
Busby resides in West Point with his wife, Melanie Busby, who is a former high school mathematics instructor and counselor. The couple has a daughter, Macey.