MARILYN FORD NAMED EMCC'S HUMANITIES TEACHER OF THE YEAR
News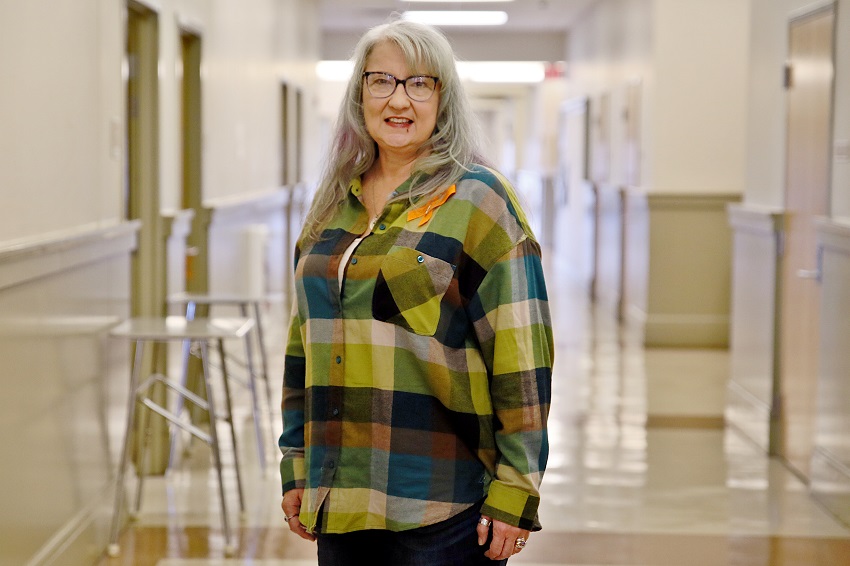 January 12, 2023
East Mississippi Community College instructor Marilyn Ford has been named the college's 2023 Humanities Teacher of the Year.
Each year the Mississippi Humanities Council presents Humanities Teacher of the Year awards to humanities faculty at each of the state's colleges and universities. Ford and the other recipients will be recognized this year during an Awards Gala that will take place March 24 in Jackson.
"I am both honored and humbled to have been selected for this award," Ford said. "It is a great privilege for me to work alongside a great group of instructors like those we have here at EMCC and in the state of Mississippi."
As part of her award, Ford will receive $400. She has been invited to present a lecture, which will take place March 7 at 1:30 p.m. in room 607 of the student union on EMCC's Golden Triangle campus.
Ford's presentation, "My Hideous Progeny: The isolation in Frankenstein and during the Pandemic" is free and open to the public.
"'My hideous progeny' is how Mary Shelley described her novel, 'Frankenstein,'" Ford said. "In my presentation, I will follow the theme of isolation in 'Frankenstein' and then go into the social isolation we all experienced during the quarantine and the COVID 19 pandemic. I'm trying to convey the message that literature teaches us so many things that are applicable to our daily lives, like having to cope with the effects of isolation."
EMCC Dean of Instruction for the Golden Triangle campus, Dr. Michael Busby, said Ford deserves the award.
"Marilyn is a gifted instructor who is dedicated to her students," Busby said. "She is well liked by both her peers and her students. We are fortunate to have her at EMCC and I am pleased to see her efforts recognized."
Ford, who works on the Golden Triangle campus, is entering her 26th year at EMCC, where she teaches English Comp I & II, Intermediate English, and Creative Writing I & II, with occasional instruction in British Literature and World Literature when there is a demand.
"When we are studying 'Beowulf' or 'Canterbury Tales' students will often ask, 'Why do we have to study this old stuff?' It is because basic human nature doesn't change, which is one of my basic tenants when teaching literature. You can still identify with a character from a story that is 1,000 years old. Good fiction, what we might consider the classical canon of literature, will make us question ourselves and see ourselves in pieces of work. I think that is an important message we are starting to lose because people don't read as much as they once did."
A West Point native, Ford earned a bachelor's degree in English at MUW and a master's degree from Mississippi State University in English, with a concentration in British Literature. In 1984, she joined the U.S. Marines Reserves while still enrolled at MUW. After earning her first degree, she and her family were stationed in Okinawa, Japan, where she served as a message carrier and administrative clerk at III MEF Headquarters in Okinawa, Japan.
In October 2017, Ford's service to her country was recognized by Driven 2 Honor program founder and NASCAR Camping World Truck Series driver Jennifer Jo Cobb at Talladega Superspeedway during Fred's 250, a playoff elimination race.
Her service in the classroom has earned Ford accolades as well. In 2019, she was named a 2018-19 Educator of the Year by the Columbus Lowndes Chamber of Commerce. She is a former president of the EMCC Faculty Association.
As president emeritus of the Mississippi Faculty Association for Community Colleges, Ford sits on that agency's executive board as an advocate for faculty and other non-administrative employees who provide instructional support.
She is also the lead editor of the English Department's reference guide for English Composition classes and compiles and publishes "Syzygy," EMCC's annual magazine celebrating the arts, which earned first place in 2017 and in 2018 in the Mississippi Community College Creative Writing Association's annual workshop and contest.
Ford resides in Columbus with her husband, Eric Ford, who is a biology instructor at EMCC. The couple enjoy traveling and are frequent visitors to Colorado where Marilyn Ford's daughter and son-in-law, Brandi and Waid Durr, reside with their child, Axel.