EMCC PRESENTS ALUMNUS OF THE YEAR AND DISTINGUISHED SERVICE AWARDS
News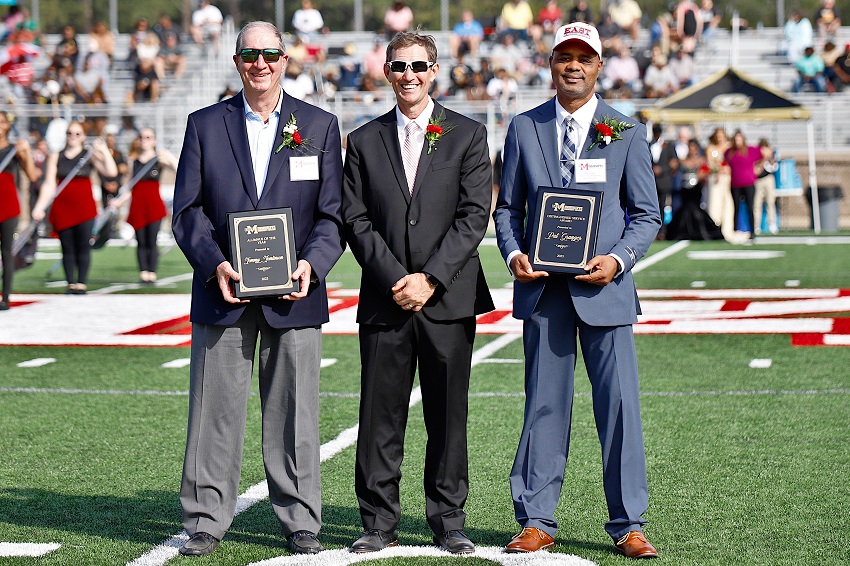 October 22, 2023
An East Mississippi Community College alumnus and a longtime college benefactor were honored during the college's 2023 Homecoming activities on the Scooba campus.
Starkville native Tommy Tomlinson was named the 2023 Alumnus of the Year. James "Pat" Granger was presented with the 2023 Distinguished Service Award.
Tomlinson and Granger were recognized Oct. 21 at an alumni reception in the F.R. Young Student Union and again later that day on Sullivan-Windham Field during halftime of EMCC's Homecoming football game, in which the Lions defeated Northeast Mississippi Community College 38 to 31.
ALUMNUS OF THE YEAR
Tomlinson had never set foot on the campus of what was then East Mississippi Junior College's Scooba campus until the fall of 1971 when he arrived to play for the Lions' baseball team, which was led by coach Gerald Poole.
"The first couple of weeks were an adjustment, but after getting to know my teammates and other students a little better, it was great," he said.
Tomlinson, who played basketball and baseball for Starkville High School, dropped basketball during his senior year to concentrate on baseball.
"I needed to play baseball somewhere with a scholarship, which is how I wound up playing at EMJC," said Tomlinson, who was a pitcher for the Lions.
After graduating from EMJC in 1973, he enrolled at Mississippi State University, where he earned a Bachelor of Science in Banking and Finance. Tomlinson would later complete programs of study at commercial lending schools at the University of Oklahoma and Vanderbilt University, as well as the Mississippi School of Banking at the University of Mississippi, and the Graduate School of Banking at Louisiana State University.
The day after he graduated from MSU, Tomlinson went to work at Merchants and Farmers Bank in Meridian, where he was employed for about eight years. It was in Meridian that he met his wife of 47 years, Melita.
"We were married a year later," he said. "I knew I had found the right one."
In 1983, Tomlinson accepted a position in his hometown of Starkville with National Bank of Commerce, which was later renamed Cadence Bank. He worked there for 28 years, serving as regional president, before joining Renasant Bank.
When Renasant Bank entered the Starkville market for the first time in 2011, Tomlinson was able to do something that most bankers don't get a chance to do: build a bank from the ground up with employees that are hand-picked.
"I was very fortunate to be able to get some really good folks, which made a huge difference in our success in building a community bank in Starkville," Tomlinson said.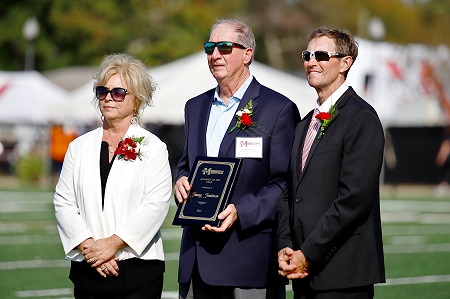 He has served in various roles at Renasant, including that of president of Mississippi region and chief retail officer for all Renasant banks, with locations in five states. His title today is that of director of strategic partnerships and executive vice president.
Tomlinson is also active in the community and has served twice as chairman of the Greater Starkville Development Partnership, where he is still a member of the board. He is a past president of the Starkville Rotary Club, a past chairman of the CREATE Foundation, a past president of the Starkville Chamber of Commerce, and a past board member of the Daily Journal in Tupelo.
Renasant Bank has served for several years as the presenting sponsor for the EMCC Development Foundation's Wild Game Social and Auction and the EMCC-Old Waverly Golf Classic, two annual fundraisers that benefit EMCC academics and athletic programs.
"I am blessed in that what I chose as a profession has given me plenty of opportunities to give back to the community," Tomlinson said.
"Tommy and Renasant Bank have been great supporters of EMCC and we are very appreciative of all they have done," EMCC President Dr. Scott Alsobrooks said.
Tomlinson and his wife Melita have three daughters. Their oldest daughter, Dr. Kristen Fyke, is married to Rob Fyke, and they have three children, Henry, Noelle, and Mack. Their middle daughter, Laura Armstrong, is married to Dr. Clay Armstrong, and they have two children, Luke and Caroline. Their youngest daughter, Heather Skaggs, is married to Rev. Trey Skaggs, and they have three children, Jones, Will, and Anna Joy.
"I spend a lot of time now at baseball, soccer, and football games, as well as band concerts and dance recitals with my grandchildren," Tomlinson said.
DISTINGUISHED SERVICE AWARD
Granger is in his third term and 12th year as the District 1 representative for the Kemper County Board of Supervisors. The district encompasses his hometown of Scooba, where he grew up and now resides.
The job is demanding. Supervisors manage the budget for all county departments, develop a four-year road plan, attend various meetings, approve the claims docket, sign off on payroll and any number of other sundry things that crop up.
"It's a full plate," Granger said. "Supervisors are responsible for everything that goes on in the county. At the end of the day, the buck stops with us. Your phone is going to ring all day, every day, and on the weekends."
Granger attended school with many of those he represents. Others are relatives or life-long friends.
"God blessed me with the ability to serve people I already know," he said. "It makes it even more special when you are helping your neighbors, your family and your church members."
The supervisor position is just one of the hats Granger wears. He is also a bus driver for the Kemper County School District and pastors two churches on alternating weekends: Bodka Valley Baptist Church in Scooba and Mt. Pleasant Baptist Church in York, Alabama.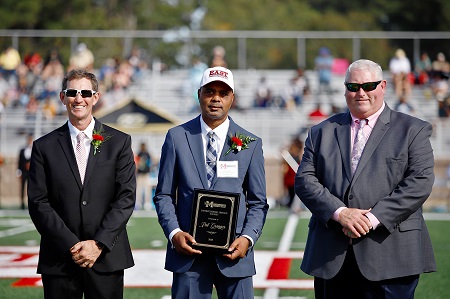 Granger said his priority as a bus driver is to ensure the safety of the children. As a pastor, he is concerned about his congregations' spiritual wellbeing. As a supervisor, he works with his fellow board members to try to improve the lives of Kemper County residents.
"Those are things I love," Granger said. "That's a calling. When it is a calling, you are up and ready to do the things you need to do. That's where my energy comes from. I thank the Lord that I found my calling, and that's to be a servant."
EMCC is an important part of the community he serves, Granger said. Students and visitors to the college's athletic events spend money at the convenience stores and at the Dollar General in Scooba, as do the college's employees.
"EMCC is the leading employee in the county, which helps out not only Scooba but Kemper County as well," he said. "The college has been a real blessing to our community."
In return, the Kemper County Board of Supervisors support the college as well, such as paving roads that connect the campus with the Town of Scooba. The supervisors provided needed dirt work for construction of a new locker room for the baseball team and helped with construction of a new dormitory that opened in 2021 that was christened Kemper Hall in honor of the supervisors.
"Pat and the Kemper County Board of Supervisors have helped with a lot of projects that have benefited EMCC and we are very grateful for their continued support," EMCC President Dr. Scott Alsobrooks said.
Granger, who is a past president of the board of supervisors, credits his fellow supervisors for their ongoing support of EMCC and other parts of the county.
"We have a wonderful board and we work together to uplift Kemper County," he said. "We have five people with different ideas and different thought processes, but we are able to put it all together and realize that it isn't about our separate districts. It is about what is best for the whole county.'
When he has free time, Granger likes to attend EMCC and Kemper County High School sporting events. He is married to Marilyn Granger, a nurse with Noxubee County Dialysis Center. The couple has a son, James Granger, Jr., who is enrolled at EMCC and is a guard with the college's basketball team, and a daughter, Jasmine Granger. Pat Granger also has a daughter, Lamonica Little.