PUBLIC INVITED TO FREE HALLOWEEN EVENTS AT EMCC CAMPUSES
News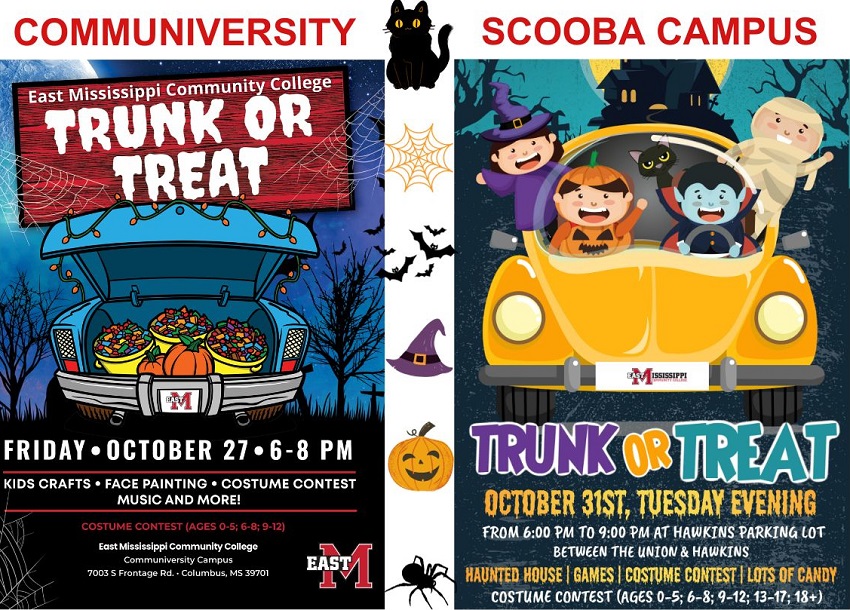 October 2, 2023
Looking for some spooky, good, family Halloween festivities? East Mississippi Community College is inviting community members to take part in free Halloween-themed events on the college's Scooba campus and at The Communiversity at EMCC.
First up is an inaugural Trunk or Treat that will take place Friday, Oct. 27, from 6 p.m. to 8 p.m. in the front parking lot of The Communiversity, EMCC's facility dedicated to training students for careers in advanced manufacturing. The Communiversity is located at 8731 S. Frontage Road in Mayhew, east of the college's Golden Triangle campus.
Hosted by the office of Golden Triangle campus Dean of Students LeAnn Alexander, the event will feature a costume contest, candy, facepainting, music and more. EMCC student organizations, along with faculty and staff from various departments, will host games and activities for attendees.
"We are excited to welcome our community out to one of our beautiful campus sites," Alexander said. "This inaugural Trunk or Treat event aims to showcase EMCC in a fun and creative way while also creating new family traditions."
The second annual Halloween Haunted House and Trunk or Treat returns to our Scooba campus on Tuesday, Oct. 31, from 6 p.m. to 9 p.m. in the gravel parking lot located between the F.R. Young Student Union and Hawkins Hall.
EMCC clubs, organizations and athletic teams will be sponsoring activities for the event that is being coordinated through the office of Scooba campus Associate Dean of Students LaPari Morant. A haunted house, games, costume contest and free candy are included in the itinerary.
"Our Trunk or Treat is more than just a Halloween celebration; it's an opportunity for us to strengthen the bonds of our community," Morant said. "We believe in creating a safe and inclusive space for families to come together, share laughter and create lasting memories. It's about fostering a sense of togetherness that extends beyond our campus."