EMCC HALVING TUITION COSTS FOR SUMMER TERMS
News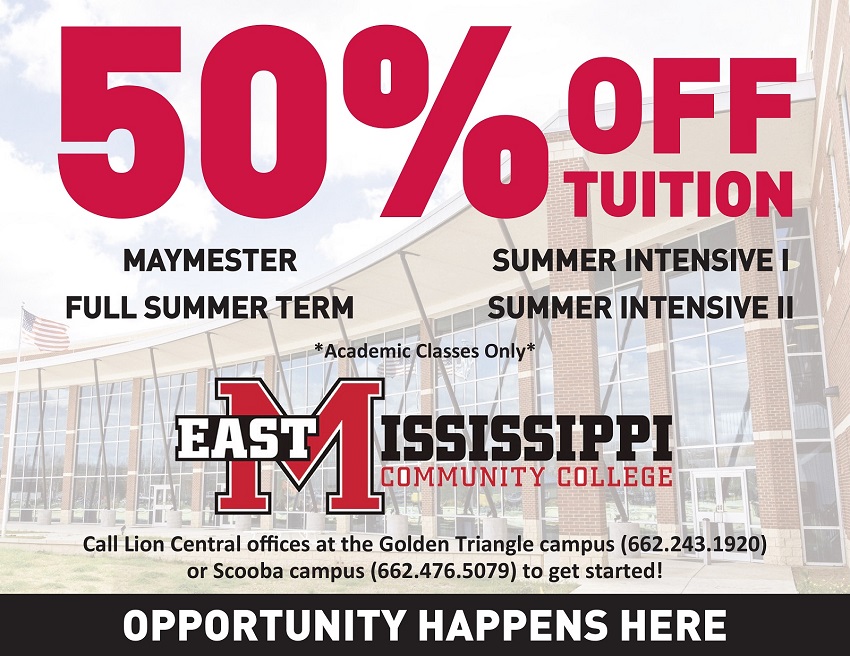 April 14, 2023
East Mississippi Community College is waiving half the tuition costs to in-state students for face-to-face and online classes during the 2023 Maymester, Full Summer, Summer Intensive I and Summer Intensive II terms.
Reduced tuition costs will apply to for-credit academic classes. Students will be required to pay for course fees and textbooks.
EMCC's executive leadership approved the initiative in late February.
"This effort would not be possible without the strong support of our Mississippi legislators, lieutenant governor and governor, coupled with the support of EMCC's county boards of supervisors," Alsobrooks said. "We wanted to do something to help defray costs for our students and to help them achieve their educational goals. We felt this was a great way to achieve that while providing students an opportunity to take advantage of the many summer classes we will have available."
Students will sign up for summer classes the way they normally would, but they will only be charged half the price of tuition during the Maymester, Full Summer and Intensive I and II terms.
Maymester online classes begin May 8, while on-campus classes begin May 12. Online Full-Term and online June Term classes begin May 30. Full Summer and Intensive I classes begin June 5. Summer Intensive II classes begin July 5.
Class schedules for Maymester, Full Summer, Summer Intensive I, and Summer Intensive II terms for EMCC's campuses are posted to the EMCC website at www.eastms.edu. Click on "Class Schedules" under the Student Services tab for a list of classes.
Current students are encouraged to register online, contact their advisors listed in their LEO accounts, or email advising@eastms.edu. New and transfer students can visit our online Admissions page at www.eastms.edu/admissions where they will find information about the application process. They can email advising@eastms.edu to schedule an appointment or schedule an appointment online by clicking on the "Advising Services" tab on the EMCC website.
Students can also call Lion Central on the Golden Triangle campus at 662.243.1920 or Lion Central on the Scooba campus at 662.476.5079 to get started.
This summer will mark the third consecutive year that EMCC has reduced tuition to students taking summer classes. Last year, the college offered $500 in tuition assistance to qualified students who enrolled in a minimum of six credit hours. For the Summer 2021 semester, EMCC offered free tuition and waived up to $500 in costs for course fees, textbooks, on-campus housing and meal plans to students taking for-credit classes, thanks to funding provided through federal Higher Education Emergency Relief Funds.
"What we discovered the past two summers was that the tuition breaks made a meaningful difference to many of our students and we wanted to continue that through some sort of assistance this summer," Alsobrooks said. "An added benefit to our students is they can pick up additional classes and complete their studies sooner than they would have otherwise."