GTECHS SENIORS AWARDED SCHOLARSHIPS, RECOGNIZED PRIOR TO GRADUATION
News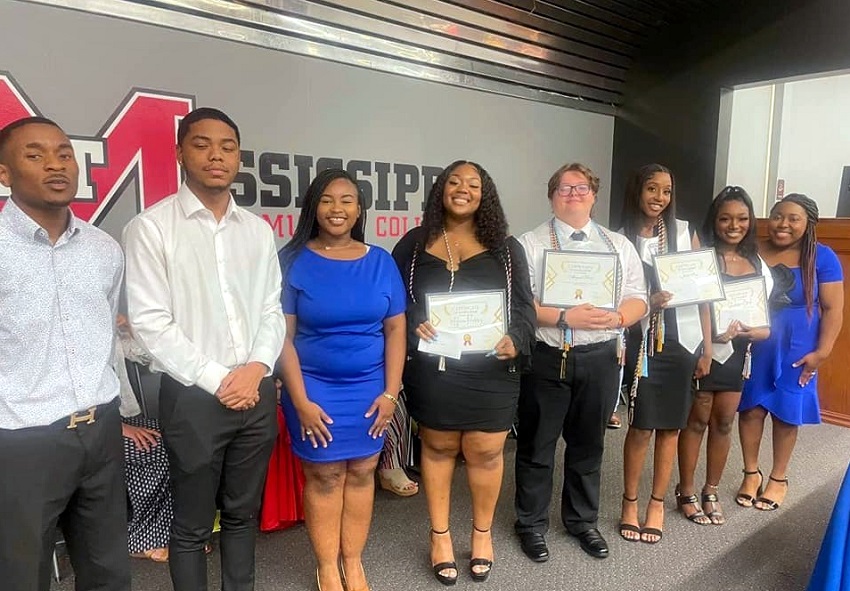 May 27, 2023
Golden Triangle Early College High School seniors were honored the night of Thursday, May 18, during Senior Night in the Lyceum Auditorium on East Mississippi Community College's Golden Triangle campus.
The students were recognized for their academic achievements and outstanding attributes and contributions to the high school. The seniors received certificates, honor cords and stoles they wore during the GTECHS Class of 2023 graduation ceremony that took place Saturday, May 20, in the Lyceum Auditorium.
"It's always hard to tell a senior class goodbye, but it makes it a little easier when you see that their hard work over their four years of high school has really paid off," GTECHS Principal Jill Savely said. "This class is leaving with over $1 million in scholarship money and the skills to be successful wherever they land. We're so proud of them."
Graduating seniors Lydia Frisby and Michael Evans provided the student address.
"When this whole thing started, we were all stepping into a new environment where we were not familiar with much of anything to do with GTECHS," Evans said. "As time passed, many of us have built strong, inseparable friendships that truly shows the family-like environment GTECHS created."
Two $500 scholarships were presented by a group of GTECHS alumni from the Class of 2021, who used their own money to fund the scholarships. Known as the "Great Five," the alumni are Kelsey Bolden, Tera Dora, Kawn Dixon II, Quentin Jamison, and Danny Crawford.
Dora, a Noxubee County resident who has finished her bachelor's degree and will be attending Auburn University this fall to work on her master's degree, said she and her fellow GTECHS classmates decided to establish the scholarships after seeing social media encouraging school alumni to support a graduate through the "Adopt a Senior" program.
"We felt like we needed to do something for GTECHS students because we didn't have that opportunity since we did not attend a normal high school," Dora said. "We felt someone had to do it. My time at GTECHS is what makes me want to give back. I really enjoyed my time there and the teachers and staff make you want to come to school every day."
One requirement of the "Great Five" scholarships is recipients must have plans to continue their education at EMCC or at another institution after graduating from GTECHS. The two Class of 2023 graduates presented with the $500 scholarships are Alycia Harris and Shalarria Crook.
The Great Five also presented $100 scholarships to graduates Jada Ivy and Abigail Petty with funds donated by EMCC Board of Trustees member Hazel Johnson. GTECHS Class of 2022 alumni Jordan Gillespie also created a $500 Legacy Scholarship, which he presented Alycia Harris during Senior Night.
Three students -- Dedrick Bryant, Micah Ming and Tyler Staten – were presented $500 ACE Scholarships, which was established in 2021 by longtime GTECHS supporter Bo Diermann. Numerous other scholarships from businesses, four-year institutions, agencies and organizations were also presented to the graduates.
Here are the recipients of the Class of 2023 awards:
Senior Superlatives
Senior Class Favorites: Faith Franklin and Todd Ellis
Most Likely to be President: Na'Kerricka Ewing
Cutest Couple: Lydia Frisby and John Tompkins
Class Clown: Todd Ellis
Best Dressed: Macie Enas
Most Intellectual: Lillian Dejean
Mr. and Miss GTECHS: Todd Ellis and Na'Kerricka Ewing
STAR Student: John Tompkins
Eagle Scout: Draco Andol
WorkKeys: Draco Andol, Victoria Cooper, Katherine Dunstan, Na'Kerricka Ewing, Lydia Frisby, Noah Garrett, Alycia Harris, Shakayla Hughes, Micah Ming, Mahogany Perry, Eboni Sherrod, Tyler Staten, Ethan Graves, Kaylee Bauer, Gracie Belyeu, Dedrick Bryant, Shalarria Crook, Sean Driskell, Faith Franklin, Rebecca Fulgham, Paola Garcia Lemus, Madison Harris, Alayna Ivy, Chloe Richardson, Trinity Robertson, Kamri Robinson, Kevon Scales, Leah Shaw, John Tompkins, Charlie Williams, Smith Wooten, Todd Ellis, Macie Enas, McKari McKenney, Jada Ivy, Taylor Johnson, Abigail Petty, Conner Price, Ruth Tate
Beta Club: Kaylee Bauer, Lillian Dejean, Macie Enas, Faith Franklin, Lydia Frisby, Paola Garcia Lemus, McKari McKinney, Madison Harris, Alayna Ivy, Jada Ivy, Taylor Johnson, Abigail Petty, Chloe Richardson, Kamri Robinson, Kevon Scales, Ethan Graves, Ruth Tate, John Tompkins, Smith Wooten
National Honor Society: Lillian Dejean, Macie Enas, Faith Franklin, Ethan Graves, Jada Ivy, Paola Garcia Lemus, McKari McKinney, Abigail Petty, Kamri Robinson, Kevon Scales, Ruth Tate
Mu Alpha Theta: Alayna Ivy, Smith Wooten, Kamri Robinson, Shalarria Crook, Lillian Dejean, Sean Driskell, Gracie Belyeu, Todd Ellis, John Tompkins, Taylor Johnson, Michael Evans, Kevon Scales, Na'Kerricka Ewing, McKari McKinney, Lydia Frisby, Rebecca Fulgham, Paola Garcia Lemus, Kaylee Bauer, Noah Garrett, Macie Enas, Ruth Tate, Jada Ivy, Micah Ming, Tori Cooper, Conner Price, Trinity Robertson, Chloe Richardson, Madison Harris, Leah Shaw, Abigail Petty, Ethan Graves, Faith Franklin
EMCC 2023 Graduates: Kaylee Bauer, Gracie Belyeu, Dedrick Bryant, Victoria Cooper, Shalarria Crook, Sean Driskell, Todd Ellis, Macie Enas, Michael Evans, Na'Kerricka Ewing, Faith Franklin, Lydia Frisby, Rebecca Fulgham, Paola Garcia Lemus, Noah Garrett, McKari McKinney, Alycia Harris, Madison Harris, Shakayla Hughes, Alayna Ivy, Jada Ivy, Taylor Johnson, Micah Ming, Mabel Oswalt, Mahogany Perry, Abigail Petty, Conner Price, Chloe Richardson, Trinity Robertson, Kamri Robinson, Kevon Scales, Leah Shaw, Tyler Staten, Ruth Tate, John Tompkins
Honor Graduates: Kaylee Bauer, Dedrick Bryant, Victoria Cooper, Shalarria Crook, Lillian Dejean, Sean Driskell, Todd Ellis, Macie Enas, Michael Evans, Na'Kerricka Ewing, Faith Franklin, Lydia Frisby, Paola Garcia Lemus, Noah Garrett, Ethan Graves, Madison Harris, Aziya Hill, Alayna Ivy, Jada Ivy, Taylor Johnson, McKari McKinney, Micah Ming, Abigail Petty, Conner Price, Chloe Richardson, Trinity Robertson, Kamri Robinson, Kevon Scales, Leah Shaw, Eboni Sherrod, Ruth Tate, John Tompkins, Smith Wooten
Legacy Award: Kaylee Bauer, Dedrick Bryant, Aziya Hill, Kevon Scales, John Tompkins