GTECHS CONDUCTS CLASS OF 2023 GRADUATION CEREMONY
News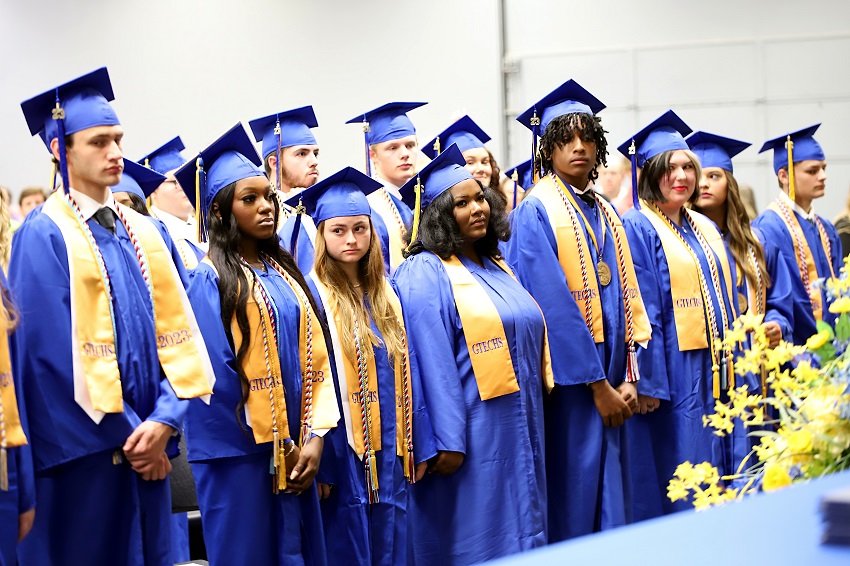 May 20, 2023
A commencement ceremony for graduates of the Golden Triangle Early College High School took place Saturday, May 20, in the Lyceum Auditorium on East Mississippi Community College's Golden Triangle campus.
Thirty-six of the 45 GTECHS graduates -- 80 percent – were also awarded an associate degree or career technical certificate by East Mississippi Community College during one of the college's graduation ceremonies earlier in May.
Graduate Na'Kerricka Ewing, who provided the welcome, said the journey from freshman to graduate was not always easy.
"We fulfilled, accomplished, conquered, executed and survived," Ewing said. "I am so proud of us all. We have had our fair share of trials and tribulations, whether it was when COVID happened, or it was the reality that we had to work a little harder, or whether it was just life in general. Despite those obstacles, we all made it here today."
McKari McKinny gave the student address.
"I hope these moments at GTECHS are cherished," McKinny said. "One day we will look back and appreciate the risk we took to be here. We left behind a traditional high school experience but personally I would choose this over it all any day."
GTECHS alumna Alexis Turner was the guest speaker. Turner, who graduated in 2019 from GTECHS with an associate degree, also earned a Bachelor of Science degree in mathematics from Mississippi University for Women, with a minor in Management Information Systems. She will graduate in December with a master's degree in education. She is employed with Partnership Middle School in Starkville, where she teaches 7th grade math.
Turner spoke about overcoming adversity.
"You have endured some rainy days, but instead of giving up, you persevered and kept pushing on," Turner said. "Whether you enter the workforce or continue your education, it is essential that you hold on to both perseverance and endurance. Use those as guidance to get you through any obstacles."
GTECHS Principal Jill Savely provided the certification of the Class of 2023 and GTECHS staff bestowed the diplomas.
Here is a list of the GTECHS Class of 2023: Draco Andol, Kaylee Bauer, Gracie Belyeu, Dedrick Bryant, Mi'Asia Clopton, Victoria Cooper, Shalarria Crook, Lillian Dejean, Sean Driskill, Katherine Dunstan, Todd Ellis, Macie Enas, Michael Enas, Michael Evans, NaKerricka Ewing, Faith Franklin, Lydia Frisby, Rebecca Fulgham, Noah Garrett, Ethan Graves, Alycia Harris, Zhaquerriah Harris, Madison Harris, Aziya Hill, Shakayla Hughes, Alayna Ivy, Jada Ivy, Taylor Johnson, Paola Lemus, McKari McKinney, Micah Ming, Mabel Oswalt, Mahogany Perry, Conner Price, Chloe Richardson, Trinity Robertson, Kamri Robinson, Kevon Scales, Leah Shaw, Eboni Sherrod, Tyler Staten, Ruth Tate, John Tompkins, Charlie Williams, Grady Wooten