EMCC CONDUCTS GRADUATION CEREMONIES FOR CLASS OF 2023
News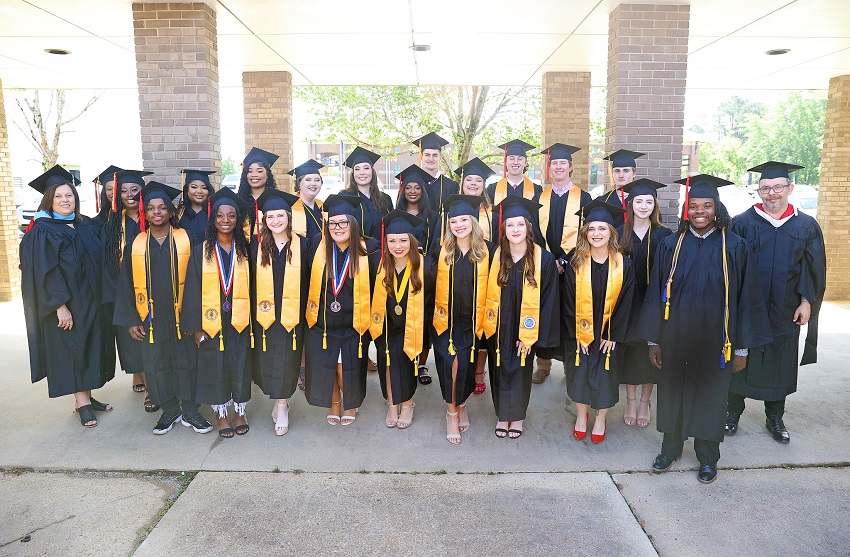 May 15, 2023
East Mississippi Community College held spring 2023 commencement ceremonies Friday, May 12, and Saturday, May 13, at the college's Golden Triangle and Scooba campuses.
Two commencement ceremonies took place in the Lyceum Auditorium on the Golden Triangle campus May 12, with a 10 a.m. ceremony for students in career technical programs and a 2 p.m. ceremony for academic graduates. The Scooba ceremony included graduates from both academic and career technical programs and took place May 13 in the Keyes T. Currie Coliseum.
Students who completed programs of study at EMCC's Lion Hills Center and The Communiversity were also among the graduates, as were seniors from the Golden Triangle Early College High School who had completed their college studies.
EMCC President Dr. Alsobrooks congratulated the students for completing their studies at EMCC and encouraged them to set new goals.
Here is a list of the Class of 2023 students who applied for graduation broken down by the counties and cities in which they reside:
MISSISSIPPI
Alcorn County
Corinth: William Allen Crawford
Attala County
Ethel: John Butler
Kosciusko: Anthony Heard Medine, Olivia Mechelle Carter, Jaterrica Jalisha Williams
Sallis: Hayden Rogers
Bolivar County
Calhoun County
Calhoun City: Harrison Chase Nanney, Payton Chandler
Pittsboro: Jacob Bradley Harrison
Vardaman: Matthew Cade Clark, Tyler Chase Edmondson
Carroll County
Carrollton: James Pacey Whitt
Chickasaw County
Houlka: John Alan Belcher
Houston: Aaliyah Browne, Janessa Bingham, Jasper Hayes McMullen
Okolona: Tiffany Shawnee Dearing
Woodland: Thomas Edgar Griffin III
Choctaw County
Ackerman: Alex Brandon McDaniel, Alexis Nicole Sanders, Alphonso Vashon Lilley, Destiny Faith Rutledge, Jabria Ashanti Esters, Jacob Cade Miller, Jimmye Peyton Hammons, Kaylee Lynn Wilkerson, Laci Ann Fondren, Trenton McGee, Wes Logan Cagle, Jenna Bellew
French Camp: Marnae Lasarah Beyonce Miller
Weir: Brezeona Mosley, Scottlan McNutt
Clarke County
Quitman: Shaela Roberts, Tyler Lee Cooper
Stonewall: Chloe Godwin
Clay County
Cedarbluff: Christopher Douglas Allen Jennings, Debra Ann Keenum, Garrett Edwards, Jerri Paige Winfield, Jessica Marie Hodge, Rebecca Fulgham, Taylor Avant
Pheba: Dashon Jones, Donte Smith, Jo'Nesha Nabors, Laura Elena Tamez, Trae Jusean Griffin
West Point: Alex Harper, Alexis Pruden, Aliyah Pittman, Amberely Shavonna Thomas, Anthony Wright, Ashley Nicole Deanes, Bettina Golden, Brianne Jelisa Wofford, Chelsea Foy, Conner Price, Daliyah Cooperwood, Davion Charles Mayfield, Destinee Arianna Jones, Essence Tillman, Garrett Clay Hendricks, Gloria Poe, Gracelyn Camille Vickers, Jada Ivy, Jairon Keyevon Cunningham, Jamicheal Henderson, Jayden Bradley Henderson, John Howard, Jordan Thompson, Kaleb Cook, Kametra Gandy, Kaylee Bauer, Kendrick Poole, Kimlong Heng, La'Tayja Geraldina Sykes, Layla Markay Temple, Lidia Portera, Macie Enas, Mackenzie Gunter, Manuel Garcia, McKari Hall, Mitchell Allen Poole, Monique Carr, Nakerricka Ewing, Nechitty Henderson, Obryan Shemar Ewings-Brandy, Paityn Fulgham, Paola Garcia, Peyton King, Rhiannon Herring, Shakandis Monique Spraggins, Sharinidia Terees Dinkins, Shelisa Shardae Doss, Sierra Evat Jones, Sunni Rae Milican, Sydney Pierce, Takiyah Desiree Ford, Tanner Fowler, Tia Edwards, Tierra Shadae' Ja'Quan Bush, Timeka Gibson, Toniá Monét Randle, Trinity Robertson, Tyler Anthony Staten, Xavier Alfonzo Moody, Ashlyn Davis, Auja Phillips
Covington County
DeSoto County
Hernando: Abbye Elise Gunter, Emily Reese Coats
Olive Branch: Brandon Lawrence, Ethan Davidson, Jakob Heiges, William Braxton Miller
Forrest County
Hattiesburg: Darrian Princeton King, Zoe Renee Nelson, Jasmine Grabrielle Bivona
Petal: Korbon Yawn, Micah Thomas McGowan, Ki'arah Byrd
Greene County
Mclain: Ivan Joel Hernandez
Grenada County
Hancock County
Kiln: Logan Joseph Fernandez
Waveland: Seth Russo
Harrison County
Biloxi: Raymond Kenyatta Lias, Jr., Tajah Peterson, Nicholas Oliver
Gulfport: William Lee Baggett, Tommie Johnson, Austin Garrison
Long Beach: Hailey Leanne Allen
Hinds County
Bolton: Presley Price
Clinton: Amiyah Tanise Evans, Jeremy Mack, Jr.
Jackson: Malachi Newell, Lakecia Blackmon
Terry: Gentry Scott Davis
Holmes County
Lexington: Brittany Lloyd
Humphreys County
Jackson County
Gautier: Amber Natasha Glidewell
Moss Point: Jadden Tremaine Matthews, Claire Lorraine Hartsfield-Alford, Jordan Seales
Ocean Springs: Celeste Mae Study, Minley Brumley
Pascagoula: Trace Howell
Jasper County
Jones County
Laurel: Juliana Gomez, Lon'darrious Deonte McRunnels
Kemper County
Dekalb: Angelique Gracie Dailey, Brekaylah Grace, Michele Wood, Alyssa Marie Gully, Andrewnetta Adams, Cash Austin Wilson, Dalton McFarland, Illyana McClendon, Jadasha Lashay Harrison, Jordan Gully, Kix Wilson, Landon Bryant Dickson, Precious Gordon, Samuel Carter Shelton, Tasharra Johnson
Porterville: Josie Kate Dial, Sanchez Marrion lee, Trentan David Hopson
Preston: Brody Ross Barefield, Tiauna Sudberry
Scooba: Aariea Shanquez Quaeshaya Jenkins, Ashawna Grace, Heather Railyne Herman, Jada Marshall, Sr., Jaron McBride, Kamyra Brown, Kennedi Jimison, Sarah Martin
Lamar County
Sumrall: Dalton Gregory Daniel
Lauderdale County
Bailey: William Withers
Collinsville: Alayna Lee Mixon, Brooks Swayze Buchanan, Coby Scott Holmes, Joslyn Alana Broome-Tucker, Tanner Blake Parker, Tanner Joseph Brown
Lauderdale: Kaitlyn Leigh Stubbs
Marion: Jackson Bryan
Meridian: Alixus Hearn, Caleb Powe, Cali Holloman, Elda Watkins, Eli Massey, Haley Brooke Hutchinson, Jacob Partridge, Jaylon Lamar Jackson, Jerremy Stephen Moore, Kanitra Thompson, Lacedric Morton, Madalyn Rea Cozart, Melissa Herndon Davis, Mikayla Maurine Vanderpool, Raychel Smith, Sanchez Stribling, Tracee Gaddis, Trinity Nash, Zahrya Harrison, James Lagendijk
Leake County
Carthage: Jaymee Johnson, Johan Mendez-Magos, Jondavid Brooks Moore, Mason Walter Atkinson
Lee County
Nettleton: Shaunda Harper
Saltillo: Ian Austin Dillon
Leflore County
Greenwood: Kobe Allen Chambers, Mary Lindsay Mims, Taylor Giesbrecht, Arvid Woodard, Jr., Darius Devontae Donley, Robert Seth Hollis
Lowndes County
Artesia: Jasimine Rogers, Jeremiah Rashad Crawford, Kenya Christiona Prince Peoples, Takara Givens
Caledonia: Abby Romig, Ainsley Brooke Hunter, Amanda Mae Allen, Amber Paige Ballard, Ana Kate King, Andrew Harrell, Ashley Weaver, Ashlynne Hollis, Braden Fox Bowen, Brantly Dahlem, Bryant McCool, Chloe Richardson, Christina Celeste Vasquez, David Lane Flye, Ella Bowen, Erin Marie Robertson, Ethan Black, Evan Alexander Riggs, Halley Burchfield, Halley Alexis Burchfield, John Curtis Dodson, Jonathon Rylee Hamilton, Kaylie Hickman, Kinslee Fullerton, Kordelia Jorian Bergstrom, Lydia Frisby, Matthew Daniel Dalton, Matthew Byrd, Micah Ming, Robert Schultz, Sarah Cox, Simas Johnson, Simas Johnson, Victoria Cooper, William Rugen Hedgpeth, Nariyah Deonna McDonald
Columbus: Lauren Hendrix, Abigail Petty, Aiden Stanley, Airrey Williams, Alexus Claybone, Allison Rebecca Corbett, Alonzo Petty, Andrew Hamilton Vaughan, Angelia Sanders, Aniyah Stewart, Anthony Tyler Frierson, Armaria Cè'rae Clark, Ashleigh Bailey, Aubreya Harris, Barry Milling, Bradley Alan Cook, Brandon Jones, Brayden Cole, Brianna Lynese Henry, Britney Spruill, Brittany Hairston, Caleb Justin Schumacher, Cameron Munn, Carley Rae Martin, Chris Gable, Christian Faithe Richards, Christopher Alderson, Collier Carlisle Hardy, Connor Davis, Cordell Henson, Curtez Guyton, Czarya L'Aviani Lee-Bigbee, Dalton Lynn Caston, Dalton Ross Chunn, Danyjhia Williams, Darian Coley, David Franklin Via, Davin George Goulde, De'Asia Renee Hodges, Destiny Antwanette Richardson, Diana Melissa Maya, D'Nashia Tyteanna Wilson, Draden Matthew Meggs, Eboni Sherrod, Elizabeth Fraser Yates, Erik Young, Erik Bonner, Ethan Alexander Hebert, Ethan Josiah Conner, Evan Blake Jones, Ferlando Sherrod Carpenter Jr, Gabriel Carpenter, Gavin Marlow Holloman, George Christopher Childress, Gracie Belyeu, Hallie Kathryn Brewer, Hannah Elizabeth Davina Elliott, Heather Rutherford, Jabria Ramona Snell, Jackson Ross Smith, Jacob Parker, Jada Humphries, Jalen Sykes, Jamario Deandre Macon, Jamerious Ja'mond Tallie, James Doughty, James Dejean, Janea Humphries, Jasper Poag, Jaylon Isaiah Calmes, Jeremy Rufus Harris, John Austin Dotson, John David Hardy, John Matthew Dickson, John Tompkins, Jonathan Whittington, Julia Blackwell, Julious Dooley, Justin Lashon Hampton, Kalyn J'nae Abrams, Kameryn Yvonne Lang, Kamri Robinson, Katelyn Elizabeth Pounders, Katherine Wansley, Kaylor Collins, Keesha Yvonne Lang, Kelton Cox, Kenny Marquez Bush-Thomas, Keyaria Latrice Minor, Keyonna Shamya McCoy, Kristen Roby, Kristina Rene Smith, Olivia Galloway, L.C. Clemons, Lacovia De'jae Ward, Ladarius Deshawn Williams, Lakiesha Minor, Lauren Ashley Floyd, Lauren Elizabeth Graham, Lavaris Devonte' Harris, Layne Jourdan, Lesliee Gaston-Chapman, Libby McMurphey, Lori Cox, Luke Hennings, MacI Ruth Coleman, Madilyn Burns, Mahogany Perry, Matthew Joesph Yearby, Maxim Kemp, Meagan Elizabeth Via, Michael Malone Desmond, Michael Trenton Robinson, Nehkiva Jones, Noah Garrett, Nolan Anthony Tatham, Olivia Burrell, Owen Sullivan, Pamela Ann Rice-Harris, Pamela Williams, Rachel Lee McMillan, Rebecca Box, Riley Scott Law, R'monta Monte Harris, Samantha Renee Dean, Shakayla Hughes, Stephanie Lynn Madison, Steven Cattledge Jr., Summer Destiny Harris, Tabitha Palmer, Takia Destyni Brandon, Ta'nyah Raizene Strong, Taylor Brooks, Todd Ellis, Tonia Epps, Tranane Shaylisha Person, Travis Mondale Barker, Tre'monnie Amir Smith, Trent Lenard Ivy, Tylesha Moore, Tyrone Davis Blevins, Valencia Va'shae Taylor, Victoria Brown, Wendy McGuire Tribble, Whitney Anne Ford, Zachary Aaron Butler, Zacoria Williams, Zarreya Dixon, Zion Johnson, Zyon Cunningham, Byronn Edwards, Heather Nicole Forrester, Jada Nicole Brock, Jeffery Kane Stanford, Miracle Coleman
Crawford: Alycia Harris, Chondra Parks, Isley Jaymond Randle, Justin Maynard, Kayla Bell, Makayla Latara Bell, Quankeria Halbert, Ray Short, Taquantis Dante Koger, Tommy Cornelius Walters
Steens: Adrianne James Fondren, Alyssa Alexandria Beaty, Elizabeth Fretz, Glenda DeWarren Cortez, Jennifer June Tomlinson, Justin Ming, Laine Austin Chappell, Lindsey Rose Younger, Marrissa Ann Reed-Wood, Matthew Phillips, Michael Blayne Glenn, Mysty Brackin, Samantha Marie Lee, Sarah Nicole Clark, Tanner Craig, Tymarius Jackson
Madison County
Camden: Zaniyah Nyree Brown
Flora: Alissa Burgess, Matthew Marascalco
Madison: Carsen Trisler, Harper Anderson Blake, Mollie Carson Hall
Marshall County
Byhalia: Kevin D'Wayne Henry
Holly Springs: Anna Lauren Bain
Monroe County
Aberdeen: Brandy Quinshata Doss, Jerlicia Neely, Jordan Middleton, Robert Eugene Coghlan III, Valerie Denise Sykes
Amory: Isaac Brady Shurden, Savannah Kay Margret Mitchell
Hamilton: Wyatt Phillips, Laderrick Despenza, Mandalyn Black, William Seth Holley
Prairie: Kinishua Raishun Pierce, Miquisha Rogers, Kenny Drake Jr, Tianshea Ravionne McMillian, Fenesia Tanyareka Randle, Miller Conn
Smithville: Tucker Hood
Montgomery County
Stewart: Jacob Collum, Richard Ricardo
Neshoba County
Philadelphia: Aayanna Chrislynn Coleman, Amanda Chee, Andris Jaron Simmons, Arayvon Mone' Stribling, Austin Hearn, Brenton Froberg, Cameron Matthew Goss, Celina Jewel Sistrunk, Glennis Raquel Brackett, Jatarian Hudson, Jayanna Allison Coleman, Joshua Thomas Allen, Kadarius Calloway, Mason Elizabeth Daniels, Mason Lee McCann, Monica Evette Broaden, Shania Moore, William Craig Martin, Zoie Lee Grant, Mary Margaret Hall
Union: Jasmine Phillips, Shania Moore
Newton County
Decatur: Brannon Creek Smith, Delisa Cooke
Noxubee County
Brooksville: Aniyah Henley, Bryana Geeter, Chanclinique Terrah Hairston, Faith Franklin, Jadakiss Williams, Jalen Brooks, Justin Mast, Matthew Cooper, Peyton Leigh Dawkins, Quiana Latasha Jackson, Shamik Katrise Jackson, Sierra Santiana Brooks, Zacaree I'yanna Rupert
Macon: Adamary Chora Guzman, Alayna Ivy, Aleisha Young, Anna Morgan King, Ashley Brewer, Austin Clark, Brayla Shanea Rupert, Breanna Renee Rupert, Bryanna Nicole Gillespie, Charlie Cotton, Jr., Chelsea Idree Goodwin, Dantavious Stewart, Dedrick Bryant, Dewitt Stevenson Jr., Genesis Ivory, Hailey Grace Simpson, Johnathan Mickens, Johnny Earl Prince Jr, Kevon Scales, Lakendrick Taquan Lewis, Laniya Lewis, Lataidrianna Larshay Bardley, Martayshus Jenkins, Monterius Smith, Nathaniel Carroll, Nicole Verdell, Raheem Gillespie, Samantha Raegan Knight, Santerria Dooley, Sha'diamin Deja'nae Wilkerson, Shalarria Crook, Sommerfayth D'K'Janae , Brandon, Tamia Deshuta Walker, Taylor Johnson, Verderius Smith, Yalaysia Harris, Zachary Holcombe Ferrell, Zachary Tate, Zhaquerriah Harris
Shuqualak: Bailey Elizabeth Jones, Cleve Coleman, Molly Coleman, Nona Grace Coleman
Oktibbeha County
Maben: Amber Gates, Coy Butler, Jessica Michele Hooks, Latonya Nicole Robinson, Leah Watson,
Queneisha Shante Morton, Rachel Scruggs, Tracy Ladon Brownlee
Starkville: Aaliyah Robinson, Aaron Newell, Ahmir Ato Taylor, Albert James Plair, Aliecia Hubbard, Amariyon Kishaun Howard, Andi Brabham, Andrea Patreace Peeples, Andrew Curtis Kirkland, Arlexus Shardae Starks, Ashlea Nicole Howell, Ashley Mae Sharp, Ashton Wilson, Ayshana Monae Johnson, Bailey Powell, Barzinia Keion Smith, Bella Page, Bernesha Tennie Pope, Bradley Robert Marler, Caden Luke, Caralee Paige Smith, Charles Matthew Greene, Christopher Cliburn, Christopher Robert Duclos, Chyanh Charleka Hornburger, Coby Coleman, Crishad Monde Oneal, Deandre Jaleel Pearson, Deona'te Wilbert Jethroe, Gabriel William George, Genise D Woods, George Jones, Gregory Stephens, Jr., Haley Fye, Hannah Pickle, Holly Burkis, Isaac Paul Boden, Isabella Rose Latham, Jackson Lloyd Ellis, Jacob Isaiah Reese, Jacob Reed Crittenden, Jada Sinclairé Odneal, Jakhiya Blair, Jakob Wilson, Jakyeia Anderson, James Benjamin Durr, James Wall IV, James Miller, James Kanton Miller, James Lagendijk, Jamori Evans, Janet Marie Jackson, Jenna Dare Sullivan, John Wolf, Johntavia Toliver, Jonathan Bowen Forrester, Jondia Shanice Weatherspoon, Jonena Laura Cane, Jordan Alexander Butler, Jordan Therrell, Joshua Graham Boone, Justin Bynum, Justin Sanders, Kaitlyn Paige Bock, Katylan Fulgham, Kayla Oats, Keyshawn Lawrence, Kila Hall, Lanny Chase Collum, Latham Thomas Blake, Lauren Hope Bock, Lawson Brock Sumner, Layla Renot, Layla Chandler, Leah Shaw, Leander George Stelioes-Wills, Mabel Oswalt, Madison Harris, Malachi Minor, Malaysia Moore, Marcus Walrath, Martez Tyshun Harris, Mary Alice McClain, Mason Smith, Matthew Gage Villavaso, Mattie Peeples, Maxwell Hodges Brooks, Meagan Watkins, Michael Elijah Evans, Morgan Anderson Jenkins, Nathaniel Henry Crosby, Paul Perez, Phillip Perkins, Quaylen Nance, Quintal Shamar Jackson, Robert Auston Thomas, Robert Huck Graham lll, Ronnie Randle, Ruth Tate, Ryan Wright, Samuel Joseph Matthews, Sarah Banes, Sarah Makenzie Walker, Sean Padgett, Sean Driskill, Stacy Robinson, Stella Jordan Andrews, Sukkima Suell, T'Angela Doss, Taylor Clark, Tevontae Bond, Tia Rechell Akins, Trenecia Ramsey, Trevor Head, Triquivion Roberson, I, Tyler Austin Pearson, Vanessa Marie Evans, Warren Douglas Smith, Wendy Nicole Nixon-Walters, William Edward Fairchild, Erik Bernard Rogers, Lauren Scott, Takaria Muhammad
Sturgis: Deundra Dominique Yarbrough, Devyn Jones, Dillon Ballard, James McClelland, Leah Noelle Foster
Pearl River County
Picayune: Andrew Baker, Carson Braeden Conner Heath Weston Brunson, Hunter Rian Brunson
Poplarville: Gavin Lee
Pike County
Summit: Hannah Kristine Bass
Pontotoc County:
Ecru: Seth Neil Coghlan
Pontotoc: Piper Gapp
Rankin County
Brandon: Billie Brown, Caleb Dixon, Courtney Suzanne Coulter, Gabrielle Michelle Collier, Garrett Pittman, Jackson Coleman, Logan Lovvorn, Maggie Grace Leach, Austin Bradley Miley, Zachary Stephenson, Stevens Lamonte King
Florence: Nicole Christine Cline
Pearl: Bradley Baston, Cade Chism
Pelahatchie: Benjamin Patrick Carter, Byron Brock Tullos
Scott County
Simpson County
Mendenhall: Landon Cole White
Smith County
Taylorsville: Arterrious Miller
Stone County
Wiggins: Josten Asreal James
Sunflower County
Indianola: Maggie Claire Montesi
Moorhead: Charles Williams
Tate County
Senatobia: Carl Robinson, LaJoshua Kendell Jackson
Tippah County
Blue Mountain: Collin Paul, John Micah Johnston
Union County
New Albany: Conner Samuel Coleman, Abby Brooke Deaton, Carson Robert Gault, Jackson Hilton Cook
Warren County
Vicksburg: Bradley Collins, Laurence Lee Sullivan Jr, Michael Kyle Dupree, Spencer Elwart, Valeria Freeman
Washington County
Greenville: Lakerdra Ledlow, Lauren Elizabeth Shelley, Clifton Joseph Courtney, IV, Devin McCray, Shurn Washington Jr
Wayne County
Waynesboro: Cameron Colette Boone
Webster County
Eupora: Garrison Kane Cresap
Mantee: Bobby Brownlee, Jr., Landon Bryant Davis, Laura Hoffman, Meagan Desemar, Thomas Scott Smith, Wesley Silver
Mathiston: Andrew Jacob Shumate, Caleb Burdine, Elizabeth Grace Massey, Landen Hunter Bell, Matthew David Fulgham, Preston Payne, Summer Elinburg,
Winston County
Louisville: Brianna Roulston, Bryce Woodruff, I, Caitlin Marie Perry, Camden Hoening, Cameron White, Cindy Nora Johnson, Cleveland Wade Reed, Darrion Watson, Ethan Howard, Evan Willis, Flor Espino, Hayden Lee Hoening, Jerlisa Williams Hall, Lana Raye Boatner, Lance Sanders, Madison Alise Lawson, Michael Cody Hall, Nicholas Stewart, Nick Stewart, Ramsey Elizabeth Roberts, Reggie Vandell Roberson, Sr, Robert Ward, Ronald Gibson, Roper Tye Stoots, Stephanie Rena Graham, Taylor Higginbotham, Trejon Joel Coburn, Valerie Reed, Vidashunn Ty'kel Yarbrough, William Rogers
Noxapater: Lane Bailey, Love Lynn Sanders
Yazoo County
Benton: Lauren Ivy Sowell
Yazoo City: Anna Fearon Yerger, Anna Kate Griffin
OUT OF STATE
Alabama: Tia Adriene Blake, Timothy Lee Clevenger, Laken Ansley Firth, Scott Fondren, Jordan Taylor Butler, Jeleisa Sherrod, Melvin Cole Sellers, William Ethan Vice, Arin Grey Franks, Colten Wrenn, Benjamin Flowers, Kalee Rose Lindsey, Colton Allen, Wyatt Allen, Debra Denise Blackmon, Shondolyn Latham, Peter Parrish, Joseph Tyler Rayfield, Jon Hayden Hancock, Zachary Luke Whitlock, Kason Dashawn Boston, Kaci Leigh Watkins, Jasmine Thompson, Colten Wrenn, Kaylyn Colvin, Rodney Groce, Jr.
Arkansas: Meri George, Allie Marie Stevens
Florida: Marc Alexander Britt, Edward Trapp Menotti, Lauren Grace Morales, William Andrew Clark
Georgia: Morgan Massa, Yessenia Latorre, Jacqueline J Clark, Joseph Raymond Minter
Illinois: Sadie Williams
Kentucky: Sidney Addison Argo, Robert Avery
Louisiana: Ethan Charles Medlin, Magen Caro
Michigan: Jacob Alexander Foley, Kabbash Richard
North Carolina: William Buturff
New Jersey: Doyle Rowan
Oklahoma: Melinda Sunday
Pennsylvania: Breanna Grieves, Melanie Prosser
South Carolina: Alyssa Marie Sandifer, Elijah Jawan Davis
Tennessee: Reggie Neely, Kyuanna McGuirt, Tyler Brooks, Kaden Franklin, Tyrese Donovan Cox,
Texas: Cheyanne Helt, Aneth Paulina Alvarez, Blake Butler
Virginia: Kaeli Ann Keller, Seth Nathaniel Williams