'OUTSTANDING' STUDENTS HONORED AT AWARDS DAY ON GOLDEN TRIANGLE CAMPUS
News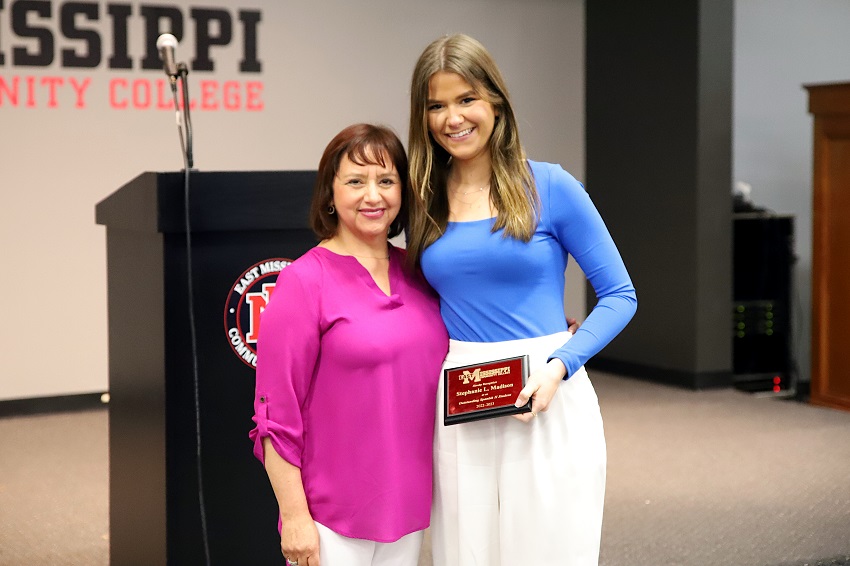 April 27, 2023
East Mississippi Community College instructors in academic, career-technical, Workforce and Community Services, and Nursing and Health Sciences programs of study on our Golden Triangle campus, The Communiversity and the Lion Hills Center recognized their outstanding students from the past year during the annual Awards Day program that took place April 27 in the Lyceum Auditorium on the Golden Triangle campus. Awards Day for students on the Scooba campus took place April 26.
EMCC President Dr. Scott Alsobrooks provided the welcome and closing remarks. Vice President of Operations Dr. Paul Miller gave the invocation.
Here is a list of those who received "Outstanding Student" awards and the areas for which they were recognized during the event at the Golden Triangle campus:
Christopher Alderson, Database Administration
Hailey Allen, Business Technology
Dillon Ballard, Computer Networking
Connor Baulch, Mechatronics
Emma Berry, Chemistry
Tyra Blevins, Associate Degree Nursing
Isaac Boden, Choir
Ella Bowen, Art - Syzygy – Drawing
Hallie Kate Brewer, Marketing Management Technology – Online
Courtney Paige Burton, Cosmetology
Gabriel Carpenter, Industrial Maintenance
Mallory Chunn, Statistics
Robert Coghlan, Drafting And Design
Sarah Cox, Music Appreciation
Jairon Cunningham, Electrical
Katherine Dunstan, Art - Syzygy – Design
Jackson Ellis, Network Security Technology
Macie Enas, Public Speaking I
Jacob Foley, Electrical
Faith Franklin, Western Civilization
Katylan Fulgham, Choir
Madelynne Goodson, General Psychology
Thomas Griffin, Machining
McKari Hall, Principles of Accounting II
Christy Harbour, Practical Nursing
Lucy Jennings, English Composition II
Nicole Johnson, English Composition 1
James Lagendijk, Welding
Matthew Mackey, College Algebra
Sarah MacKey, Art Appreciation
Stephanie L. Madison, Spanish II
Bradley Marler, Landscape Management Technology
Barry L. Milling, Systems Based Automation
Brezeona Mosley, Baking and Pastry
Jocie Loryn Nesom, Introduction to Sociology
Tranane S. Person, Barbering
Katelyn Pounders, American Literature / World Literature
Immanuel Powers, Principles of Accounting I
Matthew Richards, Calculus
Reggie Roberson, Automotive
Wesley Silver, Golf/Recreational Turf Management
Donte Smith, Automotive
Thomas Smith, Diesel
Lillian Steadman, Anatomy and Physiology / World Civilizations
Victoria Stewart, Marketing Management Technology - GT Campus
Tiffany Stoker, Surgical Technology
John Tompkins, Computer Programming Technology
Jordan Townsel, Culinary Arts
Carsen Trisler, Welding
Ryan Ward, Marriage & Family
Jada Tanneil Williams, Cosmetology
John Wolf, Syzygy -- Creative Nonfiction Award
AJ Woodard, Systems Based Automation
Brody Wright, American History
Lindsey Younger, General Microbiology
ADDITIONAL ORGANIZATIONAL AWARDS AND RECOGNITIONS
Student ambassadors: Landon Bock, Kaitlyn Bock, Hannah Carper, Tyson Coleman, Kiersen Easley, Kaitlyn Freeman, Anna Heflin, Trace Helms, Kaylie Hickman, Reese Jackson, Tucker Loper, Madison McCarter, McKenzie Middleton, Makayla Nichols, Lauren Pannell, Fallon Parker, Carley Peterson, Sydney Pierce, Aliyah Pittman, Madilynne Goodson, Abigail Staten, Parker Thomas
Phi Theta Kappa: PTK vice president Seth Givens received a pin for a speech he gave during the Mississippi/Louisiana Regional Awards Gala 2023 that helped secure the designation of PTK Vice President of the Mississippi/Louisiana region for the Golden Triangle campus chapter of PTK, Beta Iota Zeta. New spring 2023 PTK members to date were also recognized. They are: Gracie Anderson, Patrick Artigues, Gabriel Atchley, Mason Atkinson, Madison Barlow, Kayla Bell, Gabrielle Benson, Jordan Brady, Mylasha Brown, Hannah Burkis, Maggie Burnett, Hannah Carper, Tyson Coleman, Isaac Collins, Kiana Cooperwood, Dawson Cox, David Crawley, Anh Dao, Kiersen Easley, Carson Elliott, Katelyn Fore, Jonathan Forrester, Mary Gant, Terriyah Gardner, Bert Gerhart, Madelynne Goodson, Zephaniah Gore, Andrea Goss, Lauren Graham, Landon Haas, Lakenzia Ham, Cayden Harding, Lavarius Harris, William Havens, Anna Heflin, Morgan Hilfiker, Charles Jackson, Reese Jackson, Nicole Johnson, Aniyah Jordan, Jayden Latham, Matthew Mackey, Calvin Malone, Justin Mast, Elizabythe McBeth, Mallory McCrory, Gracie McDill, Libby McMurphey, Audrey McReynolds, Kelby Miller, Deisy Moreno, Akalaka Okeke, Ja'Khelveyona Oliver, Fallon Parker, Bryce Pate, Shruti Patel, Keylan Payne, Mattie Peeples, Abigale Robertson, Addison Robertson, Samantha Rude Strange, Haidi Salihaj, Joseph Shane, Matthew Short, Charles Shurlds, Anna Sibley, Lauren Sowell, Lillian Steadman, Victoria Stewart, Ella Sylvest, Gabriel Talley, Serenity Taylor, Jordan Townsel, Myah Varner, Addison Vickers, Cayce Walker, Sutton Walters, Ryan Ward, Nathan Watkins, Allee Weathers, Lucy West, Holly Whitfield, Brianna Wilkerson, Ella Windle, Matthew Yearby
Student Government Association 2023 officers: Yataevia Gillespie, president; Sydney Pierce, vice president; Kaitlyn Bock, treasurer; McKenzie Middleton, secretary; Tucker Loper, reporter
NOTE: Not all those students recognized were able to attend the Awards Day ceremony.