EMCC EMPLOYEES ADVOCATE FOR MISSISSIPPI COMMUNITY COLLEGES IN FELLOWS PROGRAM
News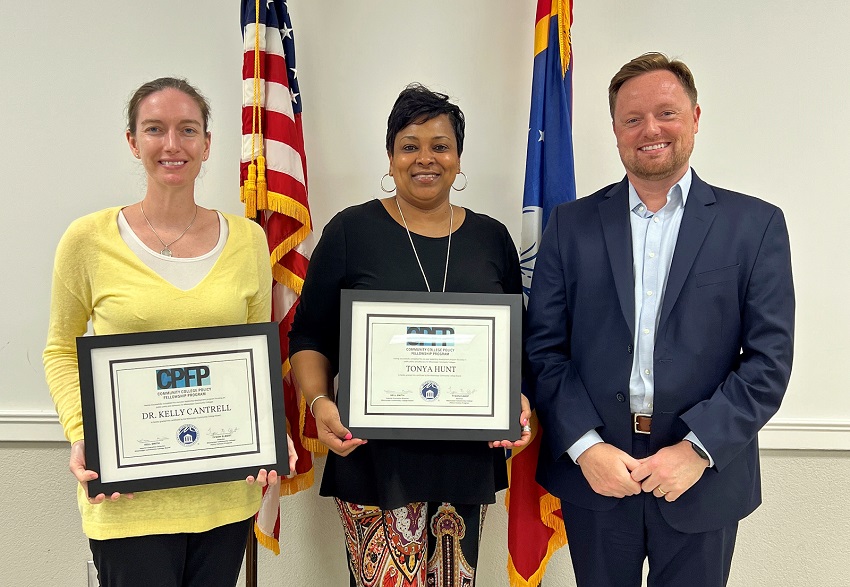 June 7, 2023
Dr. Kelly Cantrell and Tonya Hunt, both employees of East Mississippi Community College, recently completed their participation in the Mississippi Community College Policy Fellows Program (CPFP). The two were nominated to represent EMCC in the 2022-2023 cohort of the CPFP. They were joined by participants from other colleges across the state.
Cantrell and Hunt were presented with certificates for completing the program during the final meeting of the CPFP in May.
Cantrell, who works on EMCC's Golden Triangle campus, is a history instructor, Phi Theta Kappa advisor and Honors Program director. She also serves as the chair of the Social Science and Business division on the Golden Triangle campus.
"I am grateful for the opportunity to work alongside my peers throughout the state to advocate on behalf of Mississippi's community colleges," Cantrell said.
Hunt is the director of accounting and works on the college's Scooba campus.
The CPFP program has existed in Mississippi since 2012 and has more than 120 alumni. The program is sponsored by the Mississippi Community College Board in partnership with Washington, D.C. based AdvocacyBuild, LLC.
The fellows participated in monthly meetings and focused on leadership, networking, policy and advocacy. The fellows visited the Mississippi State Capitol and met with state officials on behalf of Mississippi's community colleges. The capstone learning event was a four-day experience in Washington, D.C., where the fellows met with Mississippi's U.S. Congressional representatives and senators, their staff members and other national education policy leaders.
While in the nation's capital, the CPFP participants advocated for the inclusion of capacity building grants for two-year colleges and for funding to create centers of agricultural excellence to be included in the Farm Bill. They also spoke to legislators about an issue broached by CPFP members the previous year to expand Pell Grant eligibility for short-term programs at private nonprofit and public institutions for select programs of study.
"It is important that our congressional leaders hear from those who work within community colleges in the state so they can make informed policy decisions," Hunt said. "This program serves a vital function, and I am pleased that I was able to take part in that."