EMCC CONDUCTS ANNUAL CONVOCATION FOR FACULTY AND STAFF
News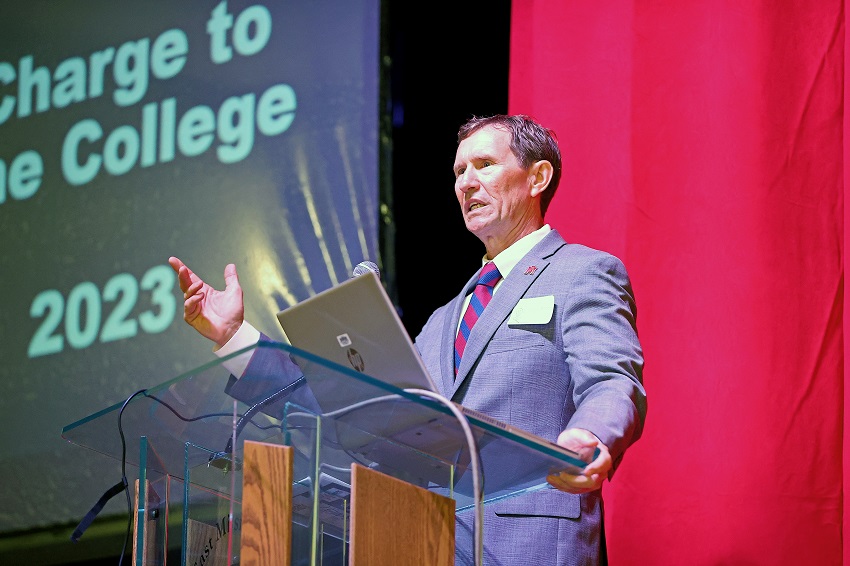 August 8, 2023
East Mississippi Community College's 2023 Convocation took place Aug. 8 in Stennis Auditorium on the college's Scooba campus.
The annual event, a professional development and fellowship opportunity for faculty and staff at the school, takes place each fall prior to the start of classes. EMCC President Dr. Scott Alsobrooks presented the charge to the college, which was followed by recognition of employees for years of service.
Mississippi Community College Board Assistant Director for Research and Effectiveness Dr. Angela Payne was the keynote speaker. Convocation attendees also participated in breakout sessions on various topics.
The following EMCC employees were presented with service awards. Here is a list of the service award recipients broken down by the number of years they have worked at EMCC:
45 YEARS: Timmy Billups
30 YEARS: Dudley Shurlds
20 YEARS: Holly Beneke, Gary Campbell, Theresa Harpole, Jeff Harrell, Tara Hurt, Jill McTaggart, Atlas Mumphard, Sharon Thompson, Rodney Woodards
15 YEARS: Gina Cotton, Laura Guthrie, Shelley Hebert, Lilia Kelly, Mary Ann Latham, David Rosinski, Buddy Stephens, George Taylor
10 YEARS: Steven Bontrager, Tshurah Dismuke, Mike Duke, Ben Harris, Johnny Latham, Christine Montgomery, Janet Mullen, Lillie Thornton, Kyle Younger
5 YEARS: Paul Bolton, Cathy Castleberry, Khristina Edmonds, Charline Grace, Jamonicia Johnson, Horacio Leal, David Lewis, Arianna Love, Howard Manley, Stanley Nowell, Shane Richards, Ashley Richardson, Renea Rogers, Christy Steadman, Darby Unruh, Christina Vernon, Lane Yarbrough
EMCC employees hired during the last 12 months were also recognized during the event. Here is the list of new employees, with their titles, broken down by campus.
SCOOBA CAMPUS
Brandi Atkinson, Accounts Payable/Purchasing Clerk
Janet Boyd, Admin Assistant to the Dean of Instruction
Princess Dawkins, LPN Instructor
Raphael Leonard, Assistant Football Coach
Armani Linton, Assistant Football Coach
Eli McCarty, Skilled Maintenance
Carla McDade, Student Success Math Tutor
Brenda McGaha, ABE Instructor
Patricia Patterson, Student Accounts Receivable Clerk
Quynndarious Pettus, CDL Instructor
Terrance Pope, Assistant Football Coach
Markeia Porter, Asst. Women's Basketball Coach
Christopher Rash, Head Soccer Coach
Antranika Ruffin, Library Assistant
Eric Sinclair, Grounds Maintenance
Julia Thornton, Librarian
Christina Vernon, Executive Administrative Assistant to the President
GOLDEN TRIANGLE CAMPUS
LeAnn Alexander, Dean of Students
Jameica Arnold, LPN Instructor
Bill Buckner, Lineman Instructor
Lloyd Dixon, Director of Financial Aid
Kim Dooley, Enrollment Management Generalist
Wesley Frost, Director of Surgical Technology
Natasha Hill, Health Sciences Office Manager
Tia Johnson, Associate Degree Nursing Instructor
Jennifer McCullough, Associate Degree Nursing Instructor
Pete Peterson, Skilled Maintenance/AC
Leigh Rice - Enrollment Management Generalist
Tiwana Robinson, GTECHS Counselor
Justin Smith, Automotive Technology Lab Assistant
Kayla Stevenson, Associate Degree Nursing Instructor
Brian Tesch, Sociology Instructor
Latrice Triplett, Career STEP Navigator
Paige Upchurch, GED Chief Examiner/Drop-out Recovery
Eljenette West, Associate Degree Nursing Instructor
LION HILLS
Colin Draving, Assistant Golf Pro
THE COMMUNIVERSITY
Kendle McKinstry, Night Clerical Support/Receptionist
Sarah Oswalt, FlexFactor Project Manager
Anna Thompson, Communiversity Engagement and Communication