EMCC TO CONSTRUCT CAREER TECHNICAL FACILITY ON SCOOBA CAMPUS
News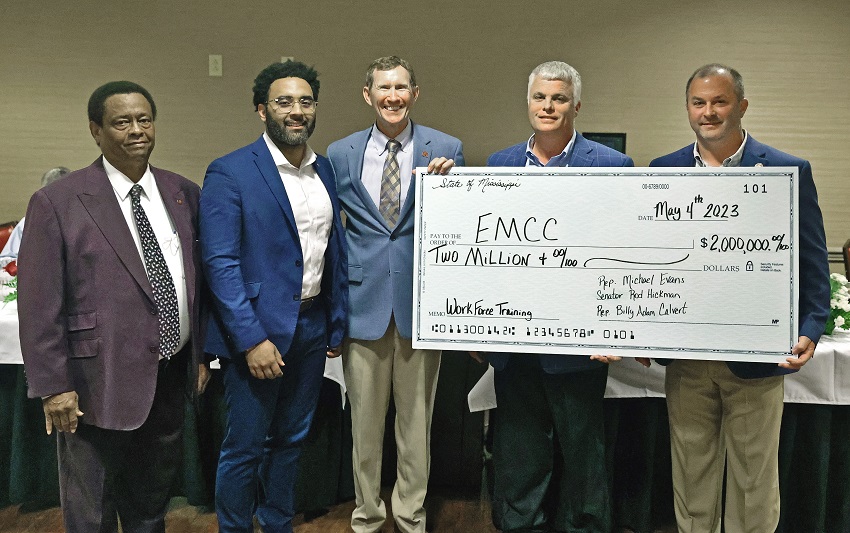 May 5, 2023
Plans for construction of a new career technical building on East Mississippi Community College's Scooba campus received a boost by members of the Mississippi Legislature and Gov. Tate Reeves, who approved $2 million for the project during the 2023 regular session.
The funds will be used to offset the estimated $6-million cost for the facility that will be located west of Sullivan-Windham Field, across from the college's rodeo-training complex. District 45 Mississippi House Rep. Michael Ted Evans presented EMCC President Dr. Scott Alsobrooks with a $2-million ceremonial check for the funds on the evening of Thursday, May 4, during a Kemper County Economic Development Authority banquet.
Other Mississippi legislators present for the check presentation were former Sen. Sampson Jackson, Sen. Rod Hickman and Rep. Billy Adam Calvert.
Evans, who sits on the House Ways and Means Committee, sought state funds for the facility that will allow for expansion of EMCC's career technical and workforce programs on the Scooba campus and free up space for additional health care studies.
Evans said having a facility dedicated to training workers in career technical fields at EMCC's Scooba campus will strengthen efforts to attract new industries to Kemper County and adjoining counties.
"A company is not going to come to Kemper County unless there is a place set up to train employees and get good quality workers," Evans said. "Once this building is completed, we are going to be able to go out and say, 'Hey, we've got a spot of land we would like you to build on and we can actually train your employees at EMCC in Scooba.' I think that is going to go a long way in our economic development efforts in Kemper County and in surrounding counties."
In addition to the $2 million in state funds, EMCC also applied for and received a $3 million grant from the U.S. Economic Development Administration for the project and was awarded $1 million in additional federal dollars through the Appalachian Regional Commission.
Alsobrooks said the new facility will benefit students, local residents and area businesses.
"We are grateful to Representative Evans, our Mississippi legislators and Gov. Reeves for approval of these funds for this project, as well as for the support from the ARC and the Economic Development Administration," Alsobrooks said. "This facility will allow us to provide additional training in well-paying fields that are in demand locally, while serving as a conduit for skilled workers. This will give us needed space to provide customized training to existing industries looking to expand or to new industries interested in locating to the area."
Hopes are to have the building ready for use by early 2025. Preliminary plans call for a 28,000-square-foot building with traditional classrooms, instructors' offices and high-bay classes to accommodate industrial training equipment. In addition to parking, outside space will be dedicated for instruction in the Heavy Civil Equipment and the Utility Lineworker Technology programs.
Career Technical programs in Hawkins Hall, such as Welding Technology and Electrical Technology, will relocate to the new building, as will noncredit workforce classes. Discussions are under way to determine what additional career technical programs will be offered at the new facility. Some courses taught at The Communiversity at EMCC, such as Industrial Maintenance, may be offered as well at the new building in Scooba.
EMCC Vice President of Operations Dr. Paul Miller said construction of the new facility will free up space in Hawkins Hall to expand Division of Nursing and Health Sciences programs. The Practical Nursing, Funeral Service Technology and Ophthalmic Technology programs of study will remain in Hawkins Hall.
"Sometime in early 2025 after the career technical programs have moved to the new building, we will look at how best to renovate Hawkins Hall to accommodate new Nursing and Health Sciences programs," Miller said.
Funds for the project will be handled by the Mississippi Bureau of Building, Grounds and Real Property Management, which will disburse payments and oversee construction. In May, EMCC officials will attend a presentation before the state agency by architectural and engineering firms interested in vying for the project. Once the firm selected provides design documents, the construction component will be put out to bid.
"Once we get our bids, we will know what the cost will be and if we are staying within the $6 million dollars we've been allocated or if we are going to have to pony up a few dollars to meet the budget and move forward with the project," Miller said.