EMCC'S AUTOMOTIVE DEPARTMENT REVS UP ELECTRIC VEHICLE TRAINING
News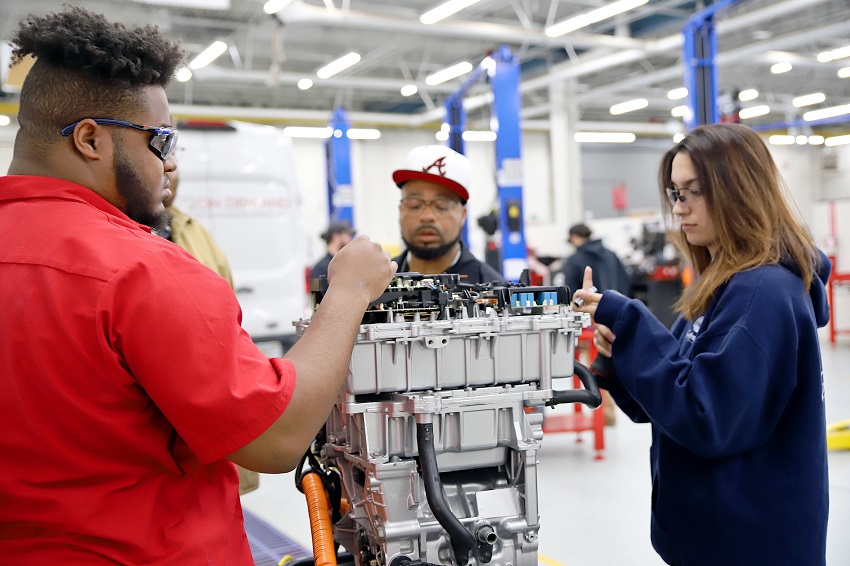 May 4, 2023
About 20 students and instructors with East Mississippi Community College's Automotive Technology/Diesel Mechanics department participated in a day-long training exercise on electric vehicles (EVs) Wednesday, May 3, taught by Florida-based AVI, an accredited ASE training provider headquartered out of Fort Myers, Florida.
"S&P Global Mobility forecasts electric vehicle sales in the United States could reach 40 percent of total passenger car sales by 2030, and more optimistic projections foresee electric vehicle sales surpassing 50 percent by 2030," according to a "Beyond the Numbers" article on the U.S. Bureau of Labor Statistics' website.
The expected acceleration in demand for electric vehicles (EVs) is expected to fuel a need for more technicians trained to work on them, EMCC Automotive Technology/Diesel Mechanics department head Dale Henry said.
"We are trying to get ahead of that curve and make sure that our students are going to at least have a fundamental understanding of what an EV is, how it operates and more importantly how to safely service it," Henry said.
Students in the Automotive Technology program are trained to repair both gasoline powered automobiles and hybrids, the latter of which utilizes some of the same technology found in EVs.
Henry said he would like to expand training to include repairs to fully electric vehicles. To that end, he is considering purchasing an Electric Vehicle Assembly trainer, which is a mockup of an EV system that simulates testing of the various components. The system is available through AVI, or Automotive Video Innovations, which also offers online automotive training modules nationwide, as well as mobile workshops like the one that visited EMCC.
"That was part of the reason we had them here, to not only to get the technical training but to get our hands on the trainer before we purchase it," Henry said.
AVI Director of Training Tom Rayk headed up Wednesday's exercise, which included components on safety, electricity fundamentals and testing procedures, wiring schematics, electrical vehicle configurations and components, regenerative braking, EV cooling systems, scan tool diagnostics and more.
Rayk said his company offers training to colleges, vocational schools, fleets with in-house mechanics and large service chains.
"We do a lot of work with schools because we know they are the future of our whole industry," Rayk said.
Columbus Nissan also loaned EMCC a 2023 ARIYA, an all-electric crossover SUV, for the day to be used in the training exercise.
"They have been a good partner with us and the EV they loaned us is perfect for what we are doing today," Henry said.
EMCC Automotive Technology students Donte Smith of Pheba and Izzy Latham of Starkville said they both prefer working on gasoline and diesel engines but appreciate the opportunity to learn about repairs to EVs.
"I didn't like EVs at first, but I am starting to appreciate them more," Smith said. "They are cleaner and more efficient to operate. Change is going to happen regardless of how I feel, so I might as well learn to work on EVs and get ahead of the game."
Latham agreed.
"The EV side of it isn't my favorite but I know that it is going to become prominent, and it is something I would like to be skilled enough to work with if I need to," she said.
Rayk said automotive technicians without training in EV repairs will find it more difficult to find work once the infrastructure for EVs is in place.
"There are a lot of things like the charging networks that need to happen, but when that comes, we will be ready if schools take the bull by the horns like EMCC has and start training students on EVs," Rayk said. "It's coming and we have to be ready."
Learn more about EMCC's Automotive Technology program here: https://bit.ly/3unh4mG