ASSISTANT GOLF PRO HIRED FOR EMCC'S LION HILLS CENTER & GOLF COURSE
News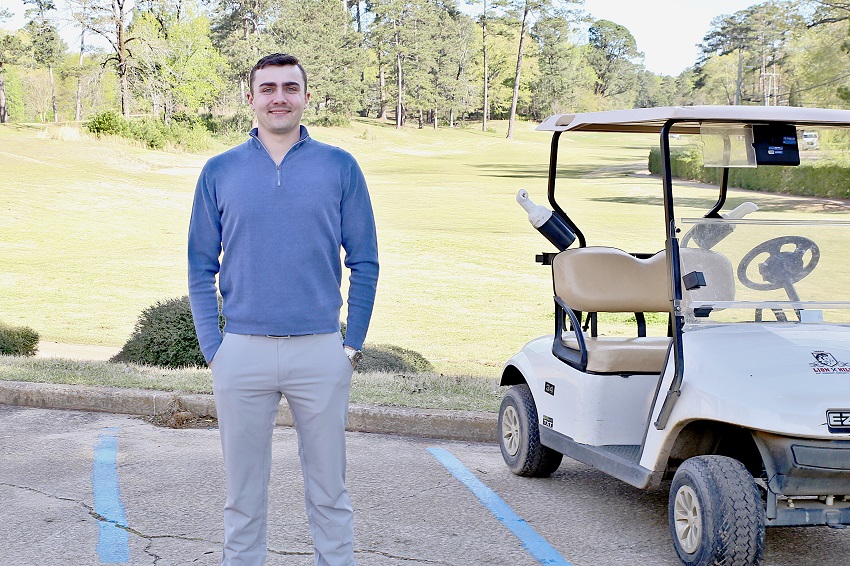 April 7, 2023
Colin Draving has been hired to serve in the role of assistant golf professional at East Mississippi Community College's Lion Hills Center & Golf Course, where he will provide private lessons and assist in day-to-day management of the pro shop.
"We are excited that Colin is joining us," EMCC Director of Golf Operations Will Arnett said. "Colin is really interested in providing golf lessons and establishing relationships with our members. He also recognizes the importance of exposing youths to the sport of golf through summer camps, individual lessons and involvement at the high school level."
Draving will work closely with Lion Hills Head Golf Professional Ashton Maddaloni, who doubles as the head coach of EMCC's golf team, which was reinstated in 2021 after a three-year hiatus.
"Colin is committed to improving the level of service to our members and to the community at large and I am looking forward to seeing those efforts come to fruition," Maddaloni said.
Draving is a 2020 graduate of Mississippi State University's PGA Golf Management Program who played for three years on the Guyer High School golf team in Denton, Texas before choosing to pursue a career in the field. He was exposed to the sport of golf at an early age.
"My dad and grandfather both played golf," Draving said. "I was around 3 to 4 years old when my dad began taking me to the local golf course. I participated in some of the kids' camps during summer and really enjoyed it. Later, I bounced around between sports but always came back to golf."
By his senior year in high school, Draving knew he wanted to work in golf management. Draving said there are only a handful of universities that offer a pro golf management program sanctioned by PGA of America, one of the world's largest sports organizations that is comprised of PGA professionals. Draving chose MSU, which offered a pro golf management program that met the PGA of America requirements.
"Students in the program earn a Bachelor of Business Administration, with an emphasis on the PGA's curriculum for all of the necessary classes you need to learn to run a golf course and a golf facility," Draving said.
To graduate, students must pass a PGA Playing Ability Test and complete a minimum of 16 months at three PGA approved golf facilities. Draving completed his internships at Squire Creek Country Club in Choudrant, Louisiana, Peninsula Golf and Racquet Club in Gulf Shores, Alabama, and Capital City Club in Brookhaven, Georgia.
He also served as the special events coordinator for the Golf Management Program's student board and volunteered on that body's Tournament Committee. Members of the board help coordinate and staff special events and tournaments at the MSU Golf Course.
Draving said his exposure to different golf courses helped him to see what worked well at those facilities and that he hopes he can help initiate similar initiatives at Lion Hills.
"One of the things that Ashton and I spoke about was adding new events at Lion Hills," he said. "We would like increase member involvement by providing more lessons, more community engagement and more events."
For more information about a golf membership at the Lion Hills Center or to schedule a golf lesson, email Draving at cdraving@eastms.edu or call 662.329.6747. Pro Shop summer hours are Monday through Sunday from 7 a.m. to 6 p.m.