VOLUNTEER WORK BIG PART OF EMCC ALUMNUS' LIFE
News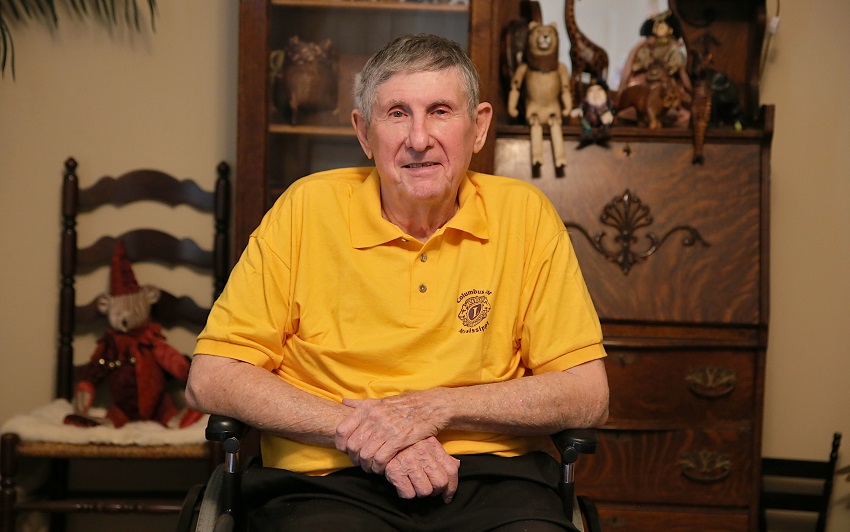 January 5, 2023
After he retired, East Mississippi Community College alumnus Joe Howle spent a lot of time as a volunteer designing homes for the Columbus-Lowndes Habitat for Humanity, where he was a former member of the board.
When relief workers with the Mennonite Disaster Service arrived in Columbus to help repair homes damaged in February 2019 by an EF3 tornado, Howle offered to help.
"I wound up doing some design work for them," Howle said of the agency that recruits and organizes volunteers to repair and rebuild homes impacted by disasters in the U.S. and Canada.
During that time, Howle became friends with Jerry Klassen, a disaster response coordinator with the Mennonite Disaster Service.
"I told him if they needed design help when they were rebuilding a home to give me a call, and he would," Howle said. "They would call me from different parts of the country wanting to know if I could do a house plan for them. I have my own Auto Cad system at my home, and I would design the plans and we would email back and forth until it was complete."
He designed homes on the coast that would withstand hurricane force winds and even offered to design two homes in South Korea.
"I enjoyed that because they use metric measurements over there and we were back and forth with metric and the standard measurements we use over here," Howle said.
During his time with Habitat for Humanity, Howle did a lot of work designing homes for people with handicaps.
"I would meet with the handicap person to see what exactly what was needed and I would design the house to fit that person," Howle said. "For those in wheelchairs, you must make sure they can get around the homes with no problems. You have to make sure there are roll-in showers, and the bathrooms have to be bigger. There are a lot of small things you never think about that must be changed, like different height cabinets."
The needs of handicapped people are something Howle knows about. He has been confined to a wheelchair since 1963 when he fell from the water tower on the Scooba campus of what was then East Mississippi Junior College at the age of 19. Howle and another person were painting over graffiti on the tower and putting up new "EMJC" letters when the accident happened.
"I was coming down from the water tower one afternoon, slipped and fell and broke my back," he said.
The old water tower was demolished Oct. 30, 2020.
Howle, who played baritone saxophone, trumpet and French horn, was attending EMJC on a band scholarship and was a sophomore at the college when the accident occurred. After he was released from the hospital, Howle studied drafting at a rehabilitation center in Hot Springs, Arkansas, that provided training and career preparation programs for people with disabilities.
He worked at Columbus Marble Works designing novelty automobile license plates before accepting a drafting job at Columbus Air Force Base's 14th Civil Engineering Division, starting out as a draftsman and working his way up to a supervisor's position.
In 1996, Howle was named the command's Outstanding Federal Employees with Disabilities award winner.
"I really enjoyed it," Howle said of his time at the base.
He has since retired and resides in Columbus with his wife, Judy. Among other things, the couple enjoy traveling together. Howle, who is 79, has had an active life.
"I even built a log house and did a lot of work on it myself," he said. "I have done a little bit of everything since I was hurt. I didn't let my injury slow me down."