ALUMINUM DYNAMICS TO HOST HIRING EVENT
News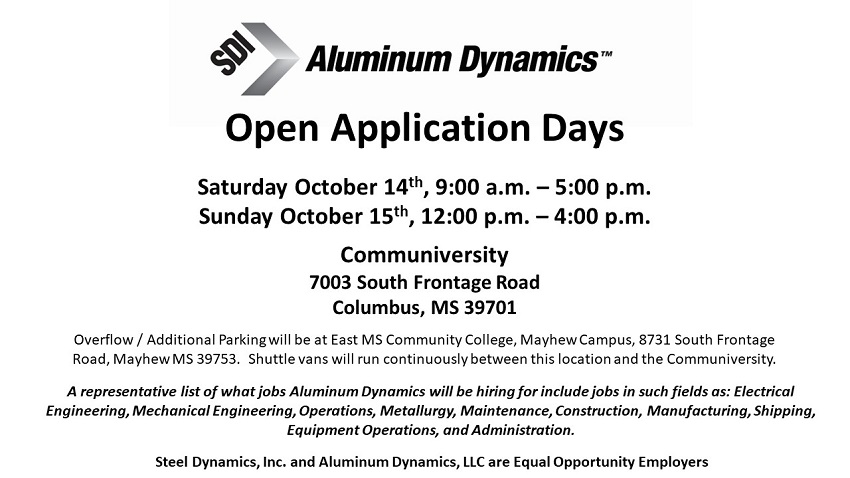 September 21, 2023
Steel Dynamics / Aluminum Dynamics press release
Aluminum Dynamics will conduct open Application Days Saturday, Oct. 14, from 9 a.m. to 5 p.m. and Sunday, Oct. 15, from noon to 4 p.m. at The Communiversity at East Mississippi Community College to fill various positions at the company's $2.5 billion aluminum mill under construction in Lowndes County.
Steel Dynamics, Inc. Senior Vice President of Special Projects Glenn Pushis said plans are to eventually hire up to 750 employees for the mill which is slated to begin operations in the summer of 2025.
"We really want to get our operations folks onboard early," Pushis said. "We use our team members to help build the facility and install the equipment. Therefore, they know more about the equipment and how it works when we begin commercial production."
Aluminum Dynamics will be hiring to fill various positions, including those in the fields of electrical engineering, mechanical engineering, operations, metallurgy, maintenance, construction, manufacturing, shipping, equipment operations and administration. All applicants will be considered, so it does not matter which of the two Application Days they attend.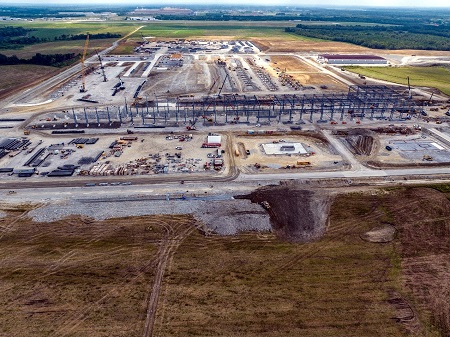 While some of the technical jobs, such as engineering and maintenance, require a four-year degree or equivalent experience, Pushis said many with a high school degree or GED will be considered for other jobs that include production work.
Aluminum Dynamics, LLC is a Steel Dynamics, Inc. joint venture. Steel Dynamics is a metal manufacturing company with locations in the U.S. and Mexico that has seven other steel/metal making facilities besides the one in Lowndes County, which is located near the Golden Triangle Regional Airport.
Aluminum Dynamics has a group of 50-plus employees at the Columbus location who will be instructing new hires.
"They are the core group that will impart our company culture and teach our new hires how to safely make aluminum," Pushis said.
Pushis said investment in the aluminum mill by Steel Dynamics allows will allow the company to grow along with its customers by supporting their sustainable metal needs. A significant number of the company's existing carbon steel customers also consume, or process aluminum flat rolled products for automotive, food packaging, construction and other applications, he said.
Once the plant is staffed, the company will continue to work with the local area colleges such as EMCC on programs geared to metal manufacturing related work. The Communiversity at EMCC is located at 7003 South Frontage Road in Mayhew, Mississippi.