EMCC ADULT EDUCATION STUDENTS GRADUATE
News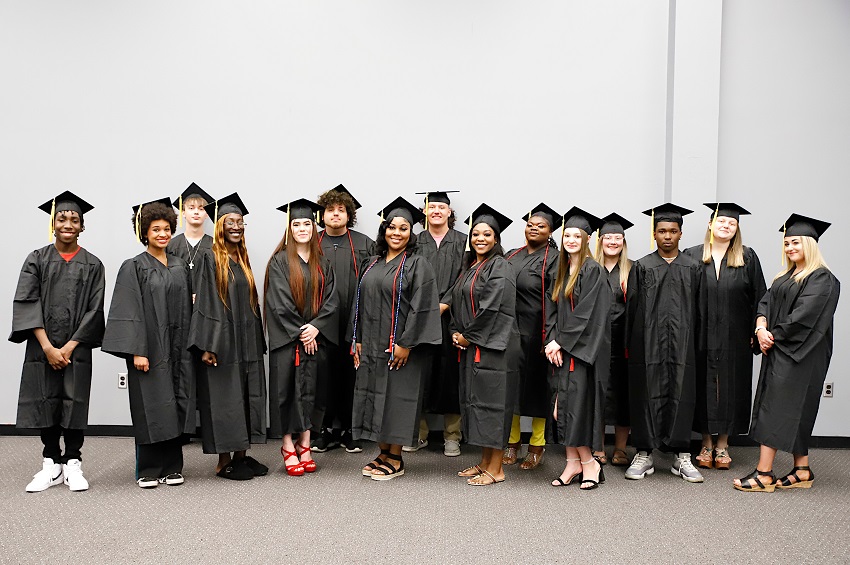 May 25, 2023
Twenty-one students enrolled in East Mississippi Community College's Adult Education Launch Pad recently earned their high school equivalency diplomas, with 15 of the students participating in a graduation ceremony that took place May 25 in the Lyceum Auditorium on the college's Golden Triangle campus.
Members of the Adult Education Launch Pad hosted a reception and lunch for the graduates prior to the graduation ceremony.
The guest speaker was Angela Turner-Ford, who represents District 16 in the Mississippi State Senate. She is a former prosecuting attorney for the City of West Point. Turner-Ford congratulated the graduates and encouraged them to work to obtain any new goals they may set for themselves.
"We should enjoy our successes, and at the same time we know that we have to apply ourselves because the workforce, the landscape, is different than it was 20 or 30 years ago," Turner-Ford said.
Some members of the graduating class addressed the audience. Among them was Jabriel Dora, who thanked the staff at the Adult Education Launch Pad for their dedication and commitment to their students. Dora said preparing for the high school equivalency test was not an easy task.
"When I first started this journey a lot of people, including myself, had doubts," Dora said. "I thought, 'I'm too old and a bit rusty,' but I made a promise to myself that I would not give up. There were long nights of studying, crying, working and complaining, but I knew I had to continue to push myself."
Adult Education Director Tshurah Dismuke said she was amazed at the tenacity and perseverance of the students.
"My challenge to you graduates is to continue showing up, growing and to always give back," Dismuke said. "Completing your high school equivalency diploma is not the end. It is a new beginning."
EMCC Executive Director of The Communiversity and Workforce Development Dr. David Campbell presided over the confirmation of the graduates. Attendees of the graduation included EMCC Board of Trustees member and City of Columbus Mayor Keith Gaskin.
Adult Education students who participated in the graduation ceremony are Michaela Barham, Dalton Bingham (Webster County), Jason Bowen (Clay), Taylor Brock (Lowndes), Jabriel Dora (Lowndes), Brianna Edwards (Clay), Emmaleigh Fulgham (Oktibbeha), Camren Ingram (Oktibbeha), Cameron Jamison (Clay), Isabella Kendall (Lowndes), Glynis Lambeth (Monroe), Jalen Poss (Lowndes), Shantoyia Tate (Noxubee), Madison Velazquez (Webster), and Beyonka Wordlaw. Graduates who were unable to attend the commencement ceremony were Lakera Bush, Damarcus Cotton, William Slade Hardy, Sidney Rickert, Joseph Wilson and Rebecca Wilson.