2ND CHANCE MS DONATION TO FUND EMCC ADULT EDUCATION OUTREACH EFFORT
News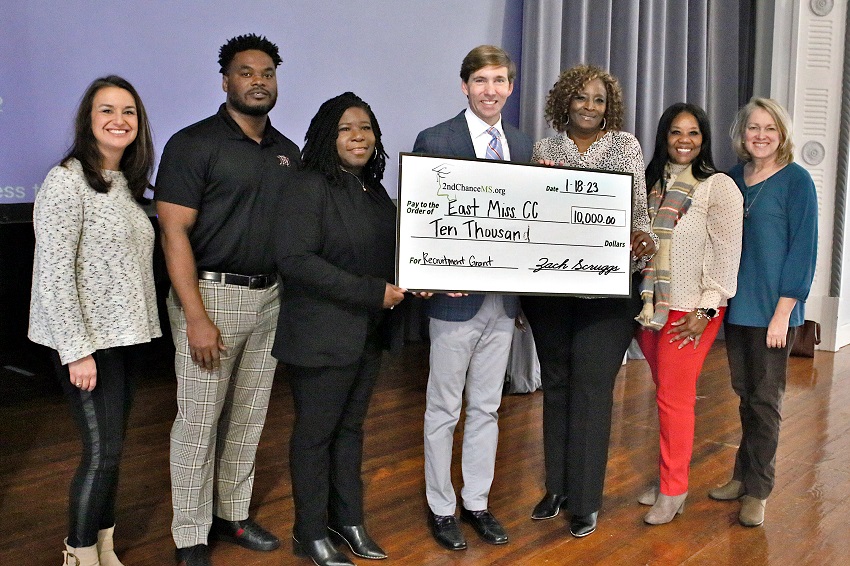 January 19, 2023
East Mississippi Community College's Adult Education department staff will soon begin hosting informational events in communities with elevated high school dropout rates thanks to a grant by 2nd Chance MS, a nonprofit organization devoted to promoting and funding initiatives related to adult education and workforce training.
EMCC's Adult Education Launch Pad was presented a ceremonial check Wednesday, Jan. 18, in the amount of $10,000 by 2nd Chance MS Executive Director Zach Scruggs following a meeting of the Starkville Poverty Coalition where he was the guest speaker.
"We are very grateful for the support we have received from 2nd Chance MS," EMCC Director of Adult Education Tshurah Dismuke said. "These funds will allow us to go into our local communities and share with residents there the opportunities offered through EMCC and our Adult Education and workforce programs. Our goal is to target those communities where there are high numbers of under-educated, underemployed and unemployed residents."
The funds will be used to implement the "Launching our Services to You" program patterned after a September 2022 event hosted by EMCC's Adult Education Launch Pad on a Saturday at the Shield Sims Center in Columbus. Attendees at the event that featured music, food and games were provided information about the many free programs offered through the Launch Pad.
"We had a great turnout and were able to reach a lot of residents who were not familiar with the services we offer," Dismuke said. "Unfortunately, the people who can most benefit from our programs are often the ones who are least familiar with what we provide. Expanding our outreach efforts can provide much needed assistance to those who reside in these communities."
Residents in the counties of Clay, Kemper, Lowndes, Noxubee and Oktibbeha will be served through the Launching our Services to You program.
Columbus resident Haley Jennings, 17, has been homeschooled since her fourth-grade year. She enrolled in EMCC's Adult Education program last November and is studying to take the GED test. She learned about the program through a cousin who earned a GED at EMCC.
"I wanted to get my high school diploma so I can enroll in college," Jennings said. "I would encourage anyone considering whether to go back to school or not to do it. Everyone deserves a chance and should at least try."
During the Starkville Poverty Coalition meeting at the Greensboro Center in Starkville, Scruggs said an excessive rate of high school dropout rates in Mississippi, coupled with low workforce participation, fuel educational challenges that can be difficult to overcome.
"There is virtually no money for the kind of barriers that a lot of low-income students are invariably going to encounter when they are going back to school, things like transportation, getting to and from class, testing fees, tuition for workforce programs, food and perhaps childcare," Scruggs said.
On the plus side, Scruggs said, Mississippi has some of the best community colleges in the nation.
"One of our best partners happens to be the one that serves this area, East Mississippi Community College," Scruggs said. "Their adult education program has been very successful. Our organization has helped 259 people at EMCC, with 138 of them earning a high school diploma and 200 earning a workforce credential."
2nd Chance MS partners with community colleges across the state to provide funds that support adult education programs. These funds typically provide completion incentives and help offset any financial burden students may experience while in school. In 2019, the organization donated $50,000 to EMCC's Launch Pad to fund the Skills through Opportunities, Access, and Resources (SOAR) program, which helped remove barriers to education such as transportation costs to students pursuing a high school equivalency diploma.
The Adult Education Launch Pad at EMCC has locations at the college's Golden Triangle and Scooba campuses, as well as in Columbus and West Point. To learn more about available services, click on the Adult Basic Education tab on EMCC's website at www.eastms.edu or call 662.243.1985.