EMCC STUDENTS PLACE IN STATEWIDE ART COMPETITION
News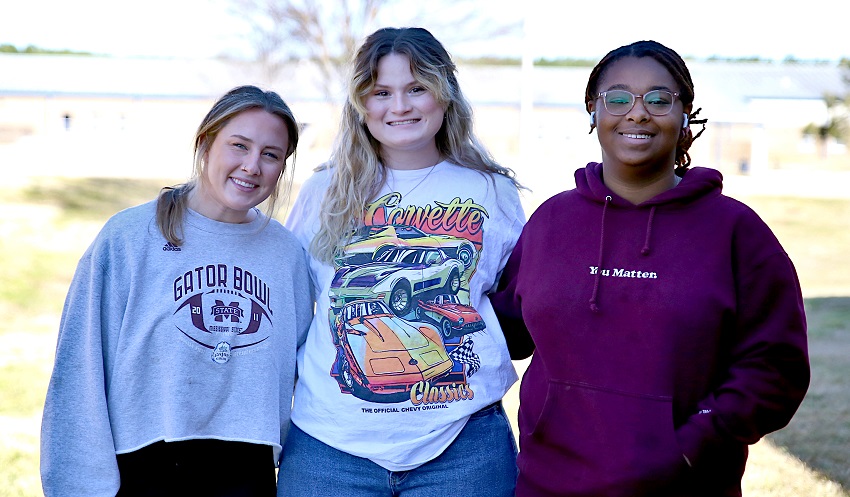 March 13, 2022
Three East Mississippi Community College students placed in the Mississippi Community College Art Instructors Association's Student Art Competition and Art Show.
The students are art majors on EMCC's Golden Triangle campus and each one was recognized in the Printmaking category of the statewide competition.
West Point resident Honor Brown earned second place with a print of her grandmother titled "Grammy." Caledonia resident Ella Bowen came in third for her print of a beehive with bees on it titled "Honey." Sarah Banes, of Starkville, was awarded an honorable mention for a piece called "Butterflies" depicting butterflies and flowers.
Bowen also earned an honorable mention in the Drawing category for a piece titled "Paper Bag." The students said they enjoyed competing.
"We learned a lot," Banes said.
Students from community colleges across Mississippi submitted artwork for the annual competition, which included categories in Drawing, Ceramics, Computer Art, Two-dimensional Design, Painting/Mixed Media, Photography, Printmaking and Three-dimensional Design.
"Four of the six artworks we submitted received recognition," said EMCC art instructor Cynthia Buob, who teaches on the college's Golden Triangle campus. "I feel very good about that as we try to rebuild after the pandemic. These three students are hard workers, passionate about their art and committed to the learning process."
Four students from EMCC's Scooba campus also submitted artwork to the competition but did not place. They are Micah Howard, Trinity Nash, Glenn Draper III, and Courtney Coulter.
Each year, a different community college in the state hosts the annual competition. Jones College is the host this year. There were 170 pieces of artwork submitted to the competition, which are on display through March in the Eula Bass Lewis Gallery at Jones College. A reception and awards ceremony for the winners will take place April 1 at Jones College.