EIGHT EMCC STUDENTS WIN STATE CHAMPIONSHIP TITLES AT SKILLS-USA
News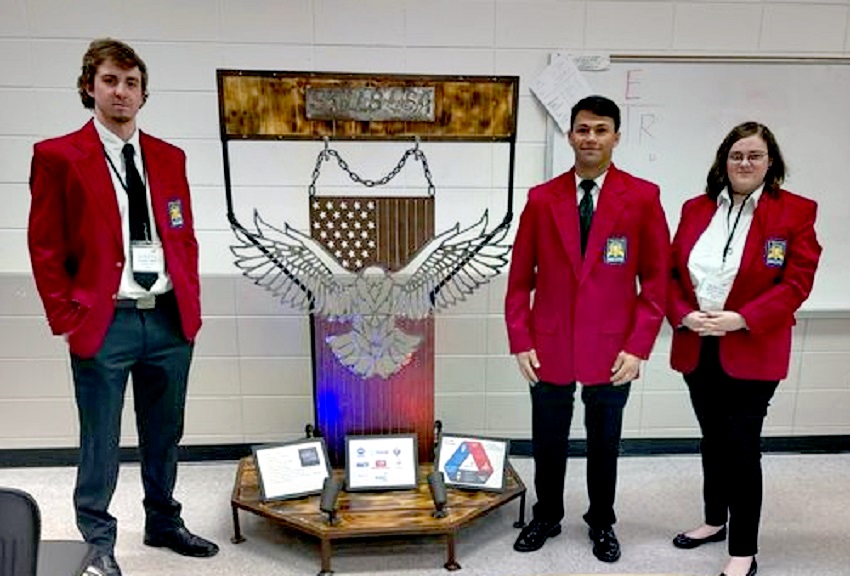 May 3, 2022
Eight East Mississippi Community College students enrolled in the Welding & Fabrication Technology programs on the college's Golden Triangle and Scooba campuses earned first place finishes during the Mississippi SkillsUSA State Championships in Jackson.
The competition took place in March at the Mississippi Coliseum, home of the Jackson Bandits, and the Mississippi Trademart Center. Each of the students earned state championship titles and advance to compete in the SkillsUSA National Leadership & Skills Conference that will take place June 20-24 in Atlanta, Georgia.
Anthony Brooks of Caledonia, Haley Hutchinson of Meridian and Nathan White of DeKalb are students in the Welding & Fabrication Technology program on EMCC's Scooba campus who competed as a three-person team in the Chapter Display category, taking home top honors as state champions.
For the project, they constructed a metal display with a cutout of a bald eagle, wings spread in front of an American flag. The display hangs from a metal sign embossed with the "SkillsUSA" moniker.
"I am really proud of them," Scooba welding instructor Shane McDaniel said of the students. "They put a lot of hard work into their project and I can't be more pleased with the results."
Five students from the Welding & Fabrication Technology program on EMCC's Golden Triangle campus also earned state championship titles.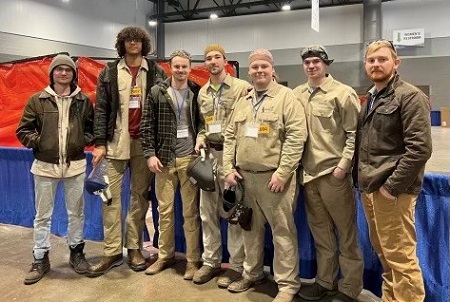 Christopher Goodwin of Macon took first place in the Welding category, while Leander Willis of Starkville earned top honors in the Welding Sculpture category.
Three students competed in the Welding Team Fabrication category and earned state championships. They are Preston Payne of Ackerman, Mason Smith of Starkville and Peyton King of West Point. For the competition, the teams had to complete a timed project according to provided blueprints and materials lists.
"There are some really good welding programs across the state and our students faced stiff competition," EMCC Golden Triangle welding instructor Gary Gammill said. "The fact that they did so well is a testament to the effort they put into their classwork."
At the national SkillsUSA conference, more than 6,500 career-technical students from across the country will compete in 108 trade, technical and leadership fields, with winners in each category walking away with national championship titles.