INSTRUCTOR PROFILE: DON RODNEY VAUGHAN
News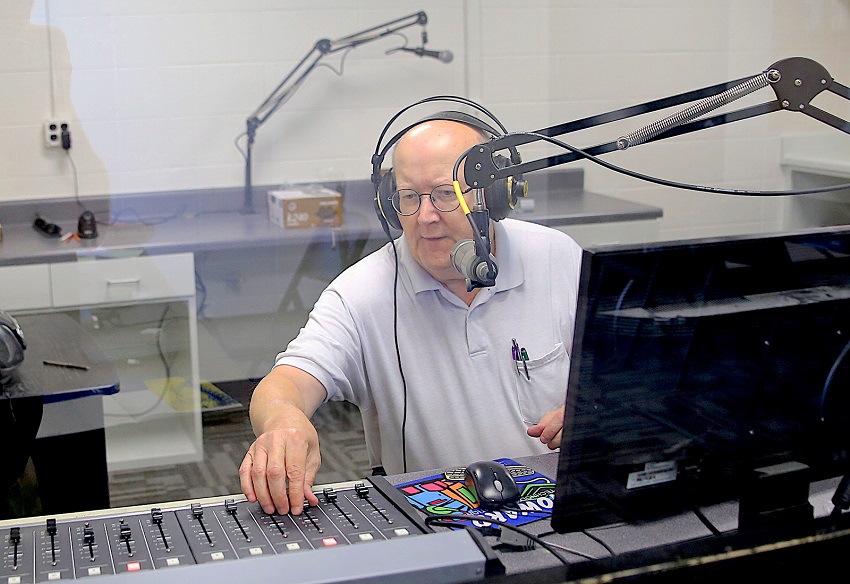 September 19, 2022
East Mississippi Community College instructor Dr. Don Rodney Vaughan teaches Public Speaking, Theatre Appreciation, Journalism and Radio Production on the college's Golden Triangle campus. He is also the station manager for EMCC's radio station, WGTC 92.7 FM.
Vaughan, who has worked at EMCC since 2008, spent much of his career working at radio stations in Mississippi and Alabama. He recalls as a youth listening to broadcast news on the radio at his grandparents' home.
"My grandfather did not want television, but he loved radio," Vaughan said. "Late at night or anytime during the evening after sundown, I would tinker with his radio and I was just fascinated with listening to these faraway voices from WLS Chicago, or WGN Chicago or even New York stations."
"To be able to teach what I love is incredible," Vaughan said. "I love the whole environment at EMCC and the radio station with students coming in to help out."
Vaughan incorporates station broadcasts into his lessons. This term, students in his Public Speaking class are hosting "Beatles for Breakfast" in which the students pick out Beatles songs that they like, and record introductions to the songs that are broadcast during the show. Another class does the same with Rolling Stones songs during a "Stones for Supper" segment. Members of the drama club will read on-air from a play of their choosing later this term.
The station, which is commercial free, features newscasts, school announcements and both Top 10 and Top 40 playlists, with a wide selection of music from differing genres and generations. Vaughan records a lot of the voiceovers himself, but also gets help from students, faculty and staff. The 100-watt station transmits to most areas in the Golden Triangle and can be listened to anywhere through the TuneIn Radio app.
Vaughan said when he went to the Federal Communications Commission website eight years ago to try and assign call letters for the station, he was having a difficult time finding ones not already in use by other radio stations in the nation. On a whim, he decided to try WGTC for "Golden Triangle Campus."
"I thought, 'Surely someone somewhere will have those letters: they are just too beautiful,'" Vaughan said. "But they were available."
Vaughan is a 1975 graduate of Maben High School who attended Wood Junior College and Mississippi State University before transferring to the University of Alabama, where he earned a bachelor's degree in Broadcast and Film, Communications. He earned a graduate degree in Journalism from the University of Mississippi and a doctorate in Mass Communication from the University of Southern Mississippi.
Vaughan and his wife, Sharon, reside in the community of Center Grove, located west of Starkville, in the home that once belonged to Vaughan's parents. The couple has two children and three granddaughters, with another on the way.