EMCC CLASS OF 2022 PRACTICAL NURSING STUDENTS GRADUATE
News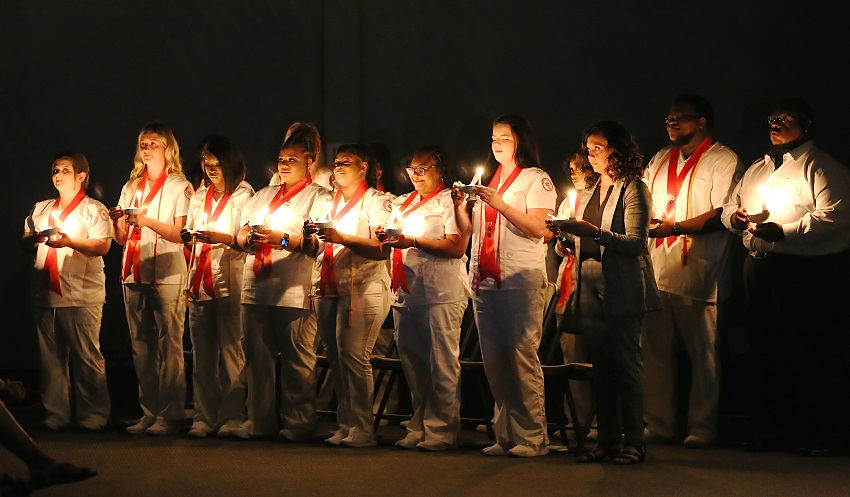 July 29, 2022
Fourteen students graduated from East Mississippi Community College's Practical Nursing program in a pinning ceremony the afternoon of July 29 in the Lyceum Auditorium on the college's Golden Triangle campus.
Several awards were presented with the highest honor going to Columbus resident Destiny Andrews, who garnered the Florence Nightingale Award, which is awarded to the student who most embodies the spirit of nursing.
"This is the highest award that can be received in a program of nursing," Practical Nursing instructor Michelle Melton said prior to presenting the award. "We give the Nightingale Award to one student that has shown excellence in clinicals and has been a student that others look up to for their caring and compassion in all areas of nursing. She exhibits concern and compassion for the class as well as patients."
Andrews also garnered a Leadership and Service Award and a Clinical Excellence Award. She served as the vice president of EMCC's chapter of the Student Nursing Association for Practical Nursing Students (SPNA) and a member of the National Association of Licensed Practical Nurses Honor Society.
Other SPNA officers were Coarie Stephens (president), and SPNA photographers Shania Crook and Taylor Krajewski-Estes. Both Stephens and Krajewski-Estes were recipients of a Clinical Excellence Award and were both also members of the National Association of Licensed Practical Nurses honor Society.
Stephens, who was also presented a Leadership and Service Award, provided the invocation. She thanked the Practical Nursing instructors for believing in the students "even when we didn't believe in ourselves."
"To my fellow classmates, I applaud each and every one of you for your courage, strength and unwavering commitment to finish nursing school," Stephens said. "We believed in each other's abilities and motivated each other when we wanted to give up."
EMCC Vice President of Operations Dr. Paul Miller welcomed the attendees. The guest speaker was Sam Ivy, director of the Baptist Student Union at EMCC and the Mississippi University for Women.
Ivy said friends and family in attendance were aware that the students had encountered roadblocks and difficulties during their educational journey.
"That is all the more reason to celebrate that you are here on your graduation day," Ivy said. "You have run the race well."
Other students recognized as members of the National Association of Licensed Practical Nurses Honor Society were Skylar Roberts and Kingdom McGee. Roberts was presented with the Scholastic Achievement Award, which is awarded to the student with the highest GPA. McGee also garnered a Clinical Excellence Award, which is presented to students who show outstanding clinical skills, excellence in communication and documentation and excellence in patient education. Other Clinical Excellence Award recipients were Cynthia Terrell-Mobley and Desiree Golden.
Crook, McGee and Stephens graduated with Cum Laude honors. A family member of each graduate was allowed to come on stage and assist with the ceremonial pinning.
The Class of 2022 Practical Nursing graduates are Destiny Andrews of Columbus; Ebony Coley of Columbus; Shania Crook of Macon; Desiree Golden of Grenada; Ladacia Hopson of Kemper County; Taylor Krajewski-Estes of Louisville; Samara Martin of Columbus; Kingdom McGee of Crawford; Kayla Powers of Columbus; Kandice Richardson of Columbus; Skylar Roberts of Columbus; Jokeyla Scales of Artesia; Coarie Stephens of Columbus; and Cynthia Terrell-Mobley of Starkville.