MISSISSIPPI CODING ACADEMIES OPENS HUB AT EMCC'S COMMUNIVERSITY
News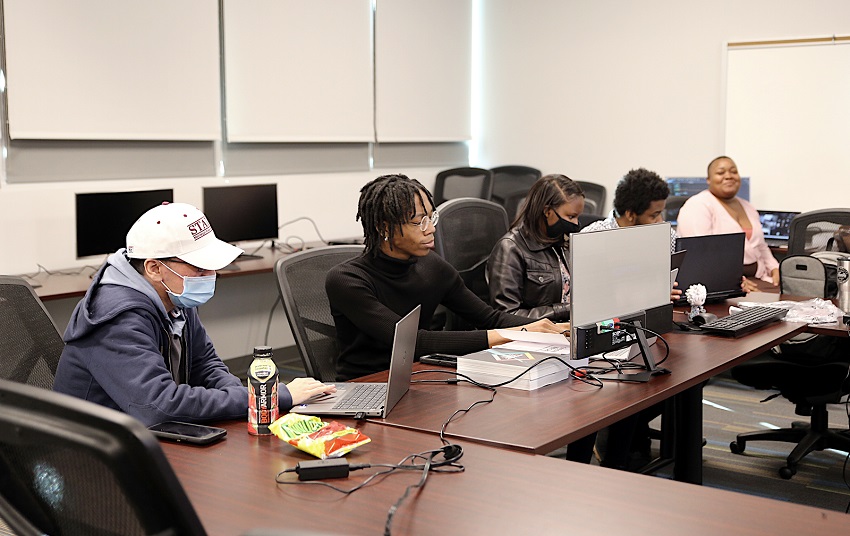 January 28, 2022
Mississippi Coding Academies is providing tuition-free classes to students at The Communiversity at East Mississippi Community College.
Upon completion of the 11-month program, students are certified as full-stack junior coders with skills needed to manage websites on both the front end — comprised of those areas users see and interact with — and the back end, which is the underlying digital structure that keeps websites operating smoothly and efficiently.
"Our certificate has been accepted by the state of Mississippi in lieu of an associate degree for someone hiring into the Mississippi IT field," Mississippi Coding Academies Chairman Mike Forster said. "Our students can migrate directly into a good paying job if they want to or they could complete the requirements at EMCC to earn an associate degree, which is one of the reasons we are so excited to have a location at The Communiversity."
EMCC offers associate degrees in Computer Networking, Computer Programming, Cybersecurity and Database Administration. Students enrolled in technical education programs at EMCC can also transfer credits earned toward a Bachelor of Applied Science at Mississippi State University, thanks to a memorandum of understanding signed between the two institutions of higher learning in 2020.
"We are delighted to host the Mississippi Coding Academies here," EMCC President Dr. Scott Alsobrooks said. "The Communiversity was funded and designed for this very reason — to host programs like this that are training students for the jobs of today and tomorrow that will provide them with the ability to earn a good wage while providing a skilled workforce needed to attract new businesses to Mississippi."
Forster is a founding member of the Mississippi Coding Academies, which also has two locations in Jackson and another in Biloxi. Talks are also underway to open another location at Coahoma Community College.
"One thing that intrigued us was the potential for the partnership with EMCC to be the poster child of how we can work together synergistically and cooperatively to benefit students much better than either of us could do on our own," Forster said.
Mississippi Coding Academies is a nonprofit 501(c)3 agency funded through private donations. Contributors include the W.K. Kellogg Foundation, AT&T, C Spire and Ergon, to name a few. The agency has maintained a presence in the Golden Triangle area since its inception. It was initially located in office space within the Columbus Municipal School District before moving to Mississippi State University.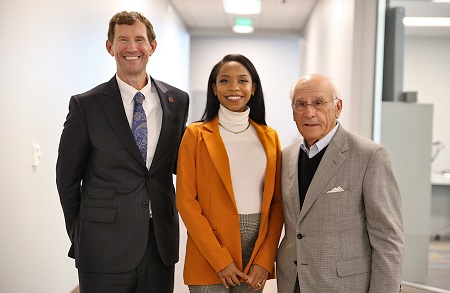 "I always felt a central location in the Golden Triangle would make a lot of sense and every time I would drive by this beautiful building that is The Communiversity, I would think, 'That is the perfect location for our Golden Triangle academy,'" Forster said.
Between 60 percent and 70 percent of students who enroll at the academy are recent high school graduates, Forster said.
"We try to capture those graduating high school students who are recommended to us by their guidance counselors, principals and teachers, so we keep a close relationship with the high schools," Forster said.
The remainder of the students are comprised of those with two or four-year degrees who are seeking new career paths or want to add to their skillsets, he said.
In addition to coding, the students are also taught soft skills, such as developing good work habits and being a team player. Forster said the employment rate for the program's graduates is 90 percent, with about a third to half of each graduating class landing jobs as coders and developers, with the remainder hired in IT support roles, such as working on a help desk.
Officials with area industries help develop curriculum needs and evaluate students' coding skills to ensure skillsets taught match workforce demands.
"We start our kids off on front end stuff," Forster said. "There is still a good demand for website development and maintenance and things of that nature, so they have a marketable skill after about three months. As we get deeper into the curriculum, it's databases and programming and systems work."
More information about the Mississippi Coding Academies is available online here: https://bit.ly/35o4agC
Information about EMCC's career technical programs, including the college's four information technology tracks, is available here: http://bit.ly/2qgOhUR