1977 GRADUATE FIRST FEMALE TO COMPLETE EMCC MORTUARY SCIENCE PROGRAM
News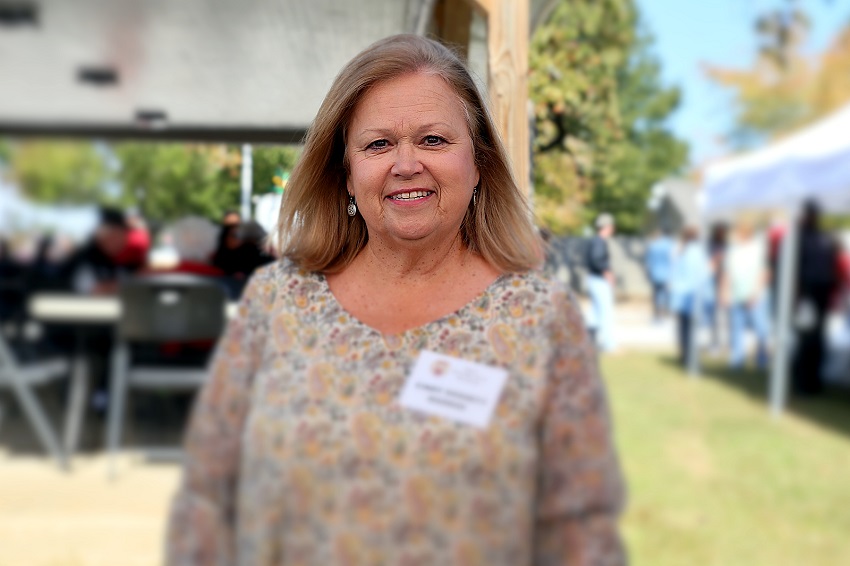 October 28, 2022
Mortuary Science was a male-dominated field when Cindy Mattox enrolled in the program 46 years ago at then East Mississippi Junior College.
"Nobody believed me when I told them I was enrolled in Mortuary Science," she said. "There was one other girl in the class and she dropped out. I completed the course and was the first female graduate of the program."
That was in 1977 and Mattox, who was Cindy Gossett at the time, took and passed her state board exam to become licensed in the field. Mattox was among 55 East Mississippi Community College alumni representing the classes of 1972 through 1979 who attended an Oct. 22 reunion on the college's Scooba campus. The reunion coincided with EMCC Homecoming activities and football game that took place that day.
Although she and her husband had driven through the campus three years earlier, it was Mattox's first time attending an event at the college since her graduation.
"It is great to see all of the improvements, how the campus has grown and all the progress being made here," Mattox said while relaxing during an alumni tailgate prior to the start of the football game. "It is amazing. It is nice of the college to honor the alumni and for us to be able to attend homecoming."
Mattox said she believes the Mortuary Science program had just started under the direction of instructor John Wooten when she enrolled at the college. A look back through the Lion yearbooks confirms that Wooten and the Mortuary Science program are first listed in 1975.
The program has grown in both size and popularity since Mattox's time at the college and is now known as the Funeral Service Technology program. Graduates are qualified upon passing the state board to become funeral service practitioners who are dually licensed as embalmers and funeral directors.
"I looked the program up online and saw pictures of a lot of girls enrolled in the program now, which is great," Mattox said.
While in high school at East Lowndes Academy in Columbus, Mattox was interested in a career in medicine. Shortly after graduating, a friend who worked at a Columbus funeral home invited her to observe an embalming.
"It was fascinating," Mattox said. "I looked at the medical aspect of it and learned a lot. I said to myself, 'I'm going to do this.' I looked to see where the nearest mortuary school was and when I learned it was in Scooba I thought, 'You are kidding me. That's right down the road.'"
While at EMJC, Mattox met her husband, Benny Mattox, a Kemper County native who was enrolled in the Forestry Program offered at that time. After graduation, they married and had two children. Cindy Mattox accepted a position as an operating room technician, which she did for a while, and went back to school to continue her education.
Last May, she retired after 18 years as a 5th grade science teacher for the Montgomery, Alabama public school system. She and her husband reside in Prattville, Alabama. They have five grandchildren.
"I had two wonderful years at EMCC and the science I learned stayed with me throughout my career," Cindy Mattox said. "Mortuary Science was not an easy program of study. There were a lot of science and chemistry classes. That kind of led me down the path to where I am today."