JAMONICIA JOHNSON TO LEAD EMCC NURSING, HEALTH SCIENCES PROGRAMS
News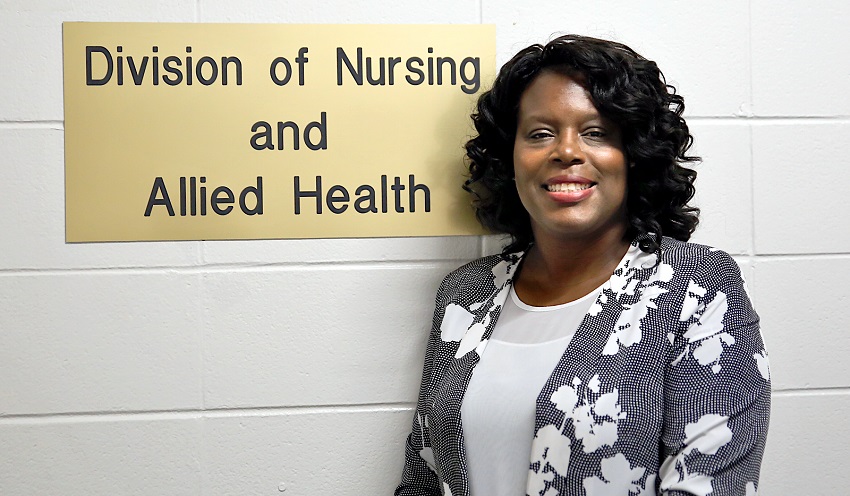 July 26, 2022
Jamonicia Johnson has been named director of Nursing Programs and Associate Dean of Health Sciences at East Mississippi Community College.
She assumed the post June 27. Johnson, a Practical Nursing instructor at EMCC before she was promoted, has worked at the college for 16 years. Johnson will oversee the college's Associate Degree Nursing and Practical Nursing programs. She will also serve as dean of the college's Surgical Technology and Emergency Medical Technician programs.
All the programs are offered at EMCC's Golden Triangle campus where Johnson's office is located. In January, EMCC reinstated the LPN program at the college's Scooba campus after a 19-year-hiatus. That program also falls under Johnson's umbrella.
"One of the things we would like to do is grow our Nursing and Health Sciences programs and I am excited to be a part of that," Johnson said. "I am a former student at EMCC and to be able to impact our department's growth and provide more services to our students is something I am really looking forward to doing."
Johnson replaces Dr. Tonsha Emerson, who served in the position prior to retiring earlier this summer.
"Our Nursing and Health Sciences division offers top-tier programs taught by exceptional faculty and we wanted someone equally talented to fill this key position," EMCC Vice President of Instruction Dr. James Rush said. "We are fortunate in that we had just such a person in-house. We are looking forward to working with Jamonicia in her new role."
Johnson earned a certificate in Practical Nursing from EMCC in 2002. She was later awarded an Associate of Science Degree in Nursing and a Bachelor of Science Degree in Nursing from Mississippi University for Women. This year, she completed a Master of Science Degree in Nursing from the University of South Alabama, with a concentration in Clinical Nurse Leader.
Her first job in the field was as an LPN with Lowndes Family Medical Clinic, which is now Allegro Family Clinic. After completing her studies as an RN, Johnson began working at Baptist Memorial Hospital-Golden Triangle, where she worked in the Progressive Care Stepdown Unit. She transferred to the Intensive Care Unit and later worked for seven years in the Clinical Documentation department.
In 2006, she accepted a position as an adjunct Practical Nursing clinical instructor at EMCC, a position she held in addition to her fulltime work. In 2017, Johnson was hired as a fulltime Practical Nursing instructor at EMCC and continued her work as an adjunct RN clinical associate for Bevill State Community College.
"I have always been one who wanted to give back," Johnson said of her decision to enter the nursing field. "I love providing care to people. I also wanted to give back to the community. The ability to stay in the nursing field and become an educator as well was a perfect fit for me."
Johnson is a native of Mobile, Alabama, but considers Columbus home, having moved to "The Friendly City" when she was 7 years old. She resides in Columbus with her husband, Larry Johnson. Jamonicia Johnson has two daughters. Her eldest daughter, Tierney Richard, is married to Javarian Richard and the couple has a 4-year-old son, Jaxson Richard. Jamonicia Johnson's youngest daughter is Kamryn Harris.
Jamonicia Johnson is a member of Kingdom Vision International Church. One of her most inspiring bible verses is Jeremiah 29:11: "For I know the plans I have for you," declares the LORD, "plans to prosper you and not to harm you, plans to give you hope and a future."