REGISTRATION UNDER WAY FOR FALL INTENSIVE II TERM
News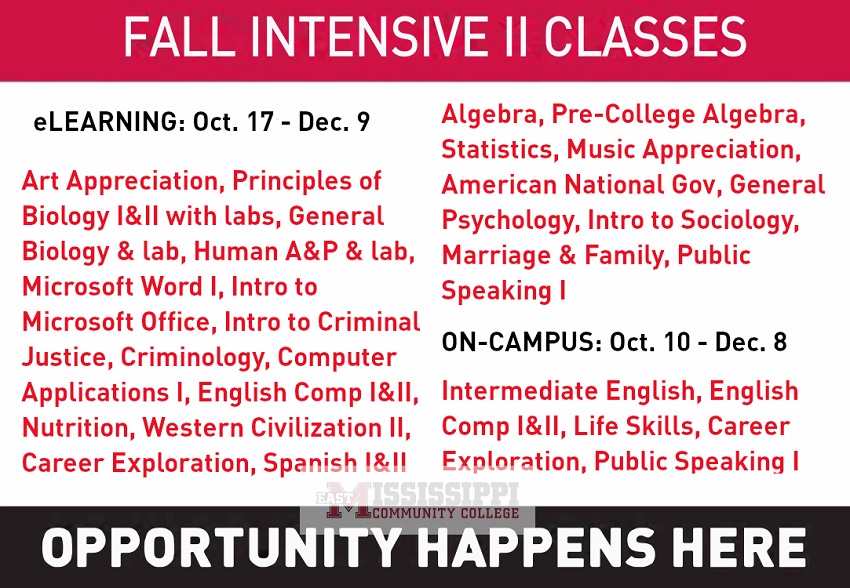 August 30, 2022
eLearning
Looking to pick up additional courses online? Registration is under way at East Mississippi Community College for the Fall eLearning Intensive II term, with classes beginning Oct. 17 and running through Dec. 9.
eLearning classes will also be available during the September Four-Week Term, with classes beginning Sept. 19 and running through Oct. 14.
Current students can register online or find out who their advisor is through their LEO account. New students can apply online at www.eastms.edu. Click on the "Future Students" tab and "Apply Now." New and returning students can also register in person, call 662.243.1925, or email advising@eastms.edu. Schedule an advising appointment here: https://bit.ly/EMCCAdvising
To view course offerings for the eLearning Intensive II classes, click on the following link and select "View Class Schedules" and "2022 Fall Intensive II/ONLINE" under the "Term" tab: https://bit.ly/3AQ89Qg
Using the same link above, check the "2022 Fall September 4-WK/OL" under the Term tab periodically for available September Four-Week Term eLearning classes. To request assistance with a class that is not listed, please contact advising@eastms.edu.
For information about specific online courses, email elearning@eastms.edu or call Coranette Square at 662.476.5347.
On-Campus
In-person classes on EMCC's Scooba and Golden Triangle campuses will also be available during the Fall Intensive II term. Classes begin Oct. 10 and run through Dec. 8. Click on "View Class Schedules" and "2022 Fall Int 2/CAMPUS" term for available classes using this link: https://bit.ly/3AQ89Qg