RONNIE CARTER, MIKE LUKE HONORED AT EMCC HOMECOMING
News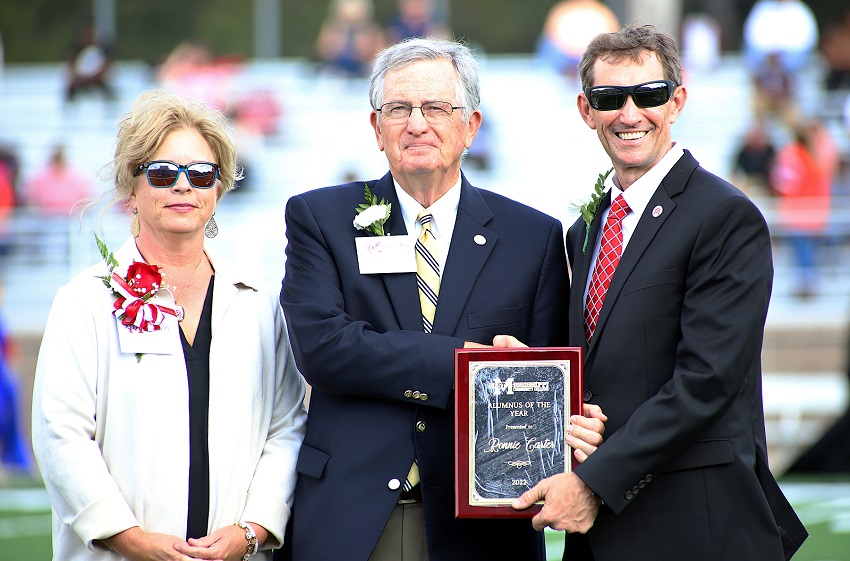 October 25, 2022
Two East Mississippi Community College alumni were honored during the college's 2022 Homecoming activities.
Columbus native Ronnie Carter was named the 2022 Alumnus of the Year. Mike Luke, Class of 1972, passed away Oct. 12 and was posthumously honored with the 2022 Distinguished Service Award.
Carter and Luke were recognized Oct. 22 at an alumni reception and again later that day on Sullivan-Windham Field during halftime of EMCC's Homecoming football game, in which the college defeated Itawamba Community College 38 to 10.
Alumnus of the Year
Carter was a defensive back on legendary football coach Bob "Bull" Sullivan's 1963-64 team whose career in education spanned more than four decades as a teacher, multi-sport coach and administrator in Nashville.
"Obviously, being around Coach Sullivan was great but I was also around a number of outstanding teachers," Carter said. "They had an unbelievable impact on me."
A football and basketball standout at Lee High School in Columbus, Carter enrolled at EMJC in 1963, serving as freshman class president. On Nov. 22 of that year he walked into social science instructor Helen Price's history class to find the room empty and the following note written on the blackboard, "No class today. Go back to your dorms immediately and watch history in the making."
President John F. Kennedy had been assassinated as he rode in a motorcade through Dealey Plaza in downtown Dallas. "What Mrs. Price wrote on the board that day has stuck with me all these years," Carter said. "I had never thought about watching history in the making. You never know what you are witnessing and what you are part of when it is happening."
When his father accepted a job at a church in Birmingham, Alabama, Carter transferred from EMCC to Bethel College in McKenzie, Tennessee. After graduating in 1967, he embarked on a career in education in Nashville, teaching mathematics while coaching football, basketball, wrestling and track and field at various points in his career. In 1978 he landed his first administrative position as assistant director of the Tennessee Secondary School Athletic Association (TSSAA) and was promoted to executive director of that organization in 1986 before retiring in 2009.
In the early 1990s, looking to drum up publicity for spring sports that were not getting the attention garnered by football and basketball, Carter and a friend came up with the idea of hosting a tournament for spring sports all at one site held within the same week.
"It was unbelievably successful and has grown every year since," Carter said.
Spring Fling XXIX took place this year and included thousands of athletes competing in baseball, softball, soccer, boys and girls tennis, boys and girls track and field, and unified track and field, which includes students with and without disabilities on the same team.
Carter also served on rules committees in football, basketball and wrestling for the National Federation of State High School Associations and was a consultant for the Universal Cheerleaders Association. He has been inducted into six sports hall of fame classes, including those for EMCC (2014), TSSAA and NFHS National High School. Carter also garnered numerous awards, including the Fred Russell Lifetime Achievement Award presented by the Nashville Sports Council, the Roy Kramer Award for contributions to football by the National Football Foundation and the Middle Tennessee Chapter, Distinguished American Award presented by the National Football Foundation.
Educational roots run deep in Carter's family. His wife Caroline is a retired first grade teacher. His son, Jim (Heather), is an athletic director and baseball coach at Goodpasture Christian School in Nashville. His daughter, Amy Whitfield, works in communications for several Baptist churches in Wake Forest, North Carolina, and is married to Keith Whitfield, who is a provost there at Southeastern Baptist Theological Seminary.
"Education is a major part of our family," said Carter, who has four grandchildren: Cole, Rylee, Mary and Drew.
Distinguished Service Award
Luke was a lifelong resident of Kemper County who grew up in the community of Preston. A two-time team MVP in basketball at DeKalb High School, Luke graduated from Noxubee County High School. He earned a basketball scholarship to attend EMCC, where he played for Coach Keyes T. Currie. A team co-captain during his sophomore year, Luke garnered best defensive player honors for the 1971-72 season.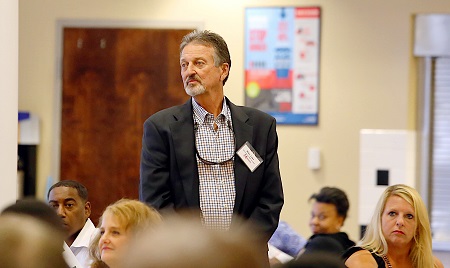 Off the court, he was named vice president of the sophomore class. Luke later earned a bachelor's degree in physical education and history from Mississippi State University and accepted a position at Carthage High School where he served as a teacher and girls basketball and track coach.
When his father, who was the District 4 representative on the Kemper County Board of Supervisors, died in a 1977 accident, Luke was appointed interim supervisor to fill his father's term and won every subsequent election for the post. Luke was in his 45th year in the position and, according to the Mississippi Association of Supervisors, he was the longest serving supervisor in the state of Mississippi.
Among his many accomplishments, he coordinated with other supervisors to bring the John C. Stennis Hospital to DeKalb, lobbied to get Lynville School listed on the National Register of Historic Places, assisted with the creation of Kemper County Lake, and worked diligently to get roads cleared in the aftermath of a 2010 tornado that damaged structures and downed trees.
Luke continued to coach when he wasn't busy inspecting roads, attending supervisor meetings and connecting with the residents he represented. He coached softball at Neshoba Central, Philadelphia, Choctaw Central and Noxubee County high schools, and boys basketball at Kemper County.
He coached Kemper Academy to three straight third-place finishes in slow-pitch softball and guided the girls' basketball team to the state semifinals. He started Neshoba Central High School's fast-pitch program and led the Lady Rockets to four consecutive Top 10 state rankings. Luke's four-year stint as boys basketball coach at Kemper County High School included a No. 1 state ranking in 2005 and a 93-17 composite finish. In 2018, Luke was inducted into the EMCC Sports Hall of Fame.
His stint at Kemper Academy provided him the opportunity to coach his daughters, Emily Lee and Amy Ivy, who played basketball and softball there.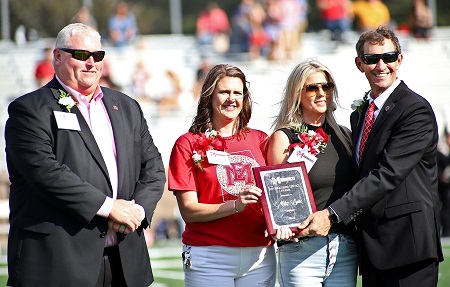 "Coaching my girls in basketball was one of the highlights of my life," Luke told a Kemper County Messenger reporter for an August 2022 article.
Ivy later attended Clarkdale High School. During her senior year she transferred from Clarkdale to Neshoba Central so she could play for her dad one last time.
"It was awesome," Ivy said. "It felt as if things went right back into place with him. I wouldn't trade that last year of being able to play for my dad for anything in the world."
In August of 2020, Ivy was hired as EMCC's school nurse.
In 2008, Luke retired from coaching, but continued to serve as supervisor while staying busy as a hobby farmer, raising cattle. He also enjoyed spending time with his five grandchildren: Braxton Lee (an EMCC alumnus), Kayde Lee (a fulltime EMCC student), Jake Lee, Payton Ivy and Laykin Ivy.
Throughout the years, Luke was a regular attendee of EMCC events.
Luke and other Kemper County supervisors also worked closely with EMCC, providing input into educational programs that would benefit area residents. When EMCC was looking to build a locker room for the baseball team, the Kemper County Board of Supervisors provided about $15,000 worth of dirt work needed before the foundation could be poured.
Ivy and Lee attended EMCC's Homecoming game and at halftime EMCC President Dr. Scott Alsobrooks presented them with the Distinguished Service Award plaque in honor of their father.
"Mike has been a true friend to East Mississippi Community College both professionally and personally," Alsobrooks said. "He will be sorely missed. It is our great honor to recognize him as our 2022 Distinguished Service Award recipient."