PUBLIC INVITED TO HEALTH FAIR AT THE COMMUNIVERSITY
News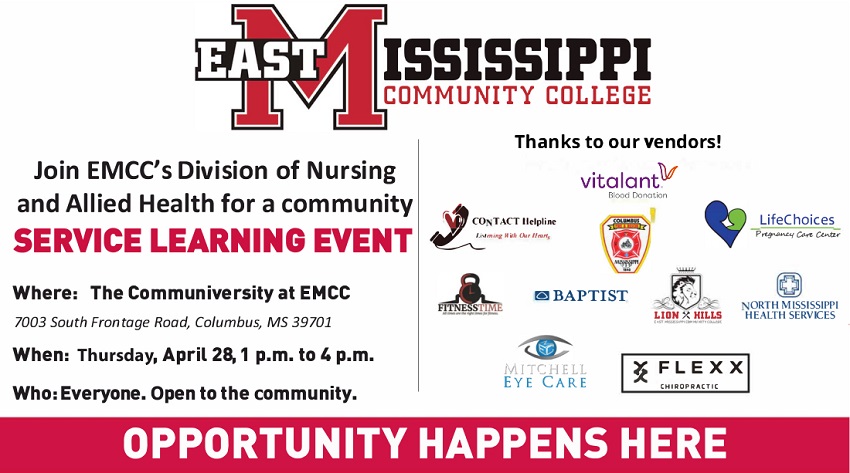 April 13, 2022
East Mississippi Community College's Division of Nursing and Allied Health will host a health fair April 28 from 1 p.m. to 4 p.m. at The Communiversity.
Area health care providers will have booths set up at the Service Learning Event that is free and open to the public.
"The purpose of the event is primarily to educate the public on services in the community related to health and wellness," EMCC Associate Degree Nursing instructor Brittany Shurden said.
Free health care screenings will be available to all ages and will include services such as blood pressure checks, body mass index calculations and bone density scans, among other things. Vitalant will have one of its mobile blood centers parked outside The Communiversity and will be accepting blood donations.
Participating businesses and agencies that have reserved a spot so far at the health fair are Baptist Memorial Hospital – Golden Triangle, Contact Helpline, North Mississippi Health Services, FitnessTime Gym, Flexx Chiropractic, Life Choices Pregnancy Care Center, Warner Family Dentistry, Columbus Fire and Rescue and the Lion Hills Center. Other health care providers are expected to attend.
This is the inaugural Service Learning Event, which will also include an educational component. An invitation-only event for high school students in grades 9-10 will take place in the morning prior to the start of the health fair. Those activities are being coordinated with staff representatives from allied health programs at the high schools.
"We will gear our education to the teenage population for that event," Shurden said. "This is a great way to expose them to the health care industry and illustrate the many potential career fields they may want to consider."
The Communiversity is located at 7003 South Frontage Road, east of EMCC's Golden Triangle campus in Mayhew.