GTECHS CLASS OF 2022 HONORED DURING SENIORS NIGHT
News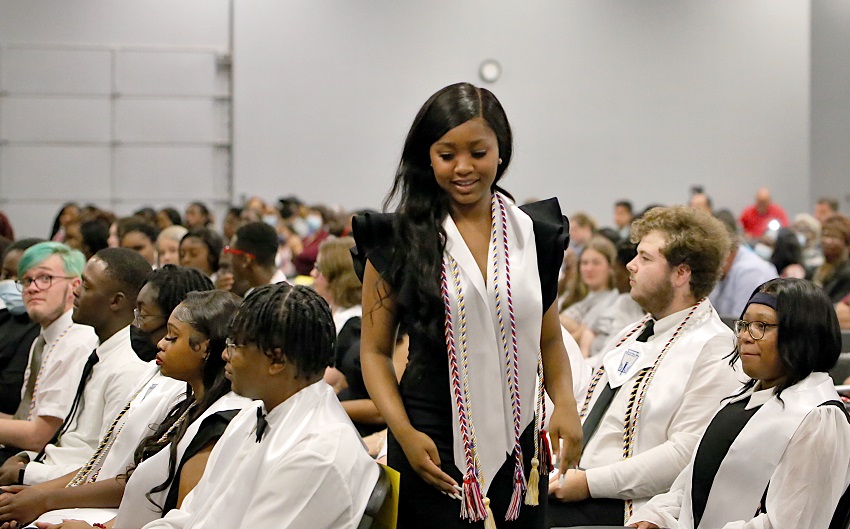 May 13, 2022
Golden Triangle Early College High School seniors were honored the night of Thursday, May 12, during Senior Night in the Lyceum Auditorium on East Mississippi Community College's Golden Triangle campus.
The students were recognized for their academic achievements and outstanding attributes and contributions to the high school. The seniors received certificates, honor cords and stoles they will wear during the GTECHS Class of 2022 graduation ceremony that will take place Saturday, May 14, in the Lyceum Auditorium.
Numerous students were awarded scholarships to continue their education from local businesses, agencies and institutions of higher learning.
Senior Samya Brooks provided the student address.
"I am so blessed to be a part of an amazing class of strong, bold, and unique individuals," Brooks said to her classmates. "When we first came together at Freshman Fusion in July of 2018 who would've thought we would end up with such wonderful, great, and funny memories."
Here are the recipients of the Class of 2022 awards:
STAR Student: Abby Romig
WorkKeys
Silver: Shakyus Brewer, Brianna Burrage, Roslyn Butler, Jonena Cane, Antjuann Davis, Mylor Hammond, Joshua Helton, Jerry Hill, Layla Johnson, Paulina Leyva, Jada Mason, Aseania Moten, Dixie Mullen, Rob Pierson, Mary Redman, Jordan Rowan, Makayla Shepherd, Aymelia Stevenson, Aaliyah Young
Gold: Ashref Abdulla, Samya Brooks, Sarah Clark, Shalyla Fletcher, Saterra Nicholson, Kenya Peoples, Kylen Savors, Sarah Sonnier-Sudduth, Kelsey Stanford, Katelyn Stevenson
Platinum: Honor Brown, Jalaya Evans, Mason Gerberg, Frederica Hargrove, Destiny Jones, Gabriel Phillips, Abby Romig
Beta Club: Samya Brooks, Brianna Burrage, Jalaya Evans, Frederica Hargrove, Destiny Jones, Gabriel Phillips, Larry Pierson, Mary Redman, Abby Romig, Kylen Savors
National Honor Society: Jalaya Evans, Frederica Hargrove, Destiny Kayla Jones, Gabriel Phillips, Abby Romig, Mary Redman, Kylen Savors
Mu Alpha Theta Mathematics Honor Society: Ashref Abdulla, Samya Brooks, Honor Brown, Brianna Burrage, Roslyn Butler, Sarah Clark, Jonathan Conner, Jalaya Evans, Mason Gerberg, Jordan Gillespie, Mylor Hammond, Frederica Hargrove, Layla Johnson, Destiny Kayla Jones, Paulina Leyva, Makalynn Martin, Jada Mason, Saterra Nicholson, Gabriel Phillips, Rob Pierson, Mary Redman, Abby Romig, Kylen Savors, Makayla Shepherd, Sarah Sonnier-Sudduth, Aymelia Stevenson, Katelyn Stevenson, Aaliyah Young
EMCC Graduates: Ashref Abdulla, Kyndall Barnett, Samya Brooks, Honor Brown, Brianna Burrage, Roslyn Butler, Jonena Cane, Jonathan Conner, Jalaya Evans, Mason Gerberg, Jordan Gillespie, Mylor Hammond, Frederica Hargrove, Jerry Hill, Jaelyn Johnson, Layla Johnson, Destiny Jones, Paulina Leyva, Jada Mason, Gabriel Phillips, Mary Redman, Jordan Rowan, Kylen Savors, Hannah Self, Sarah Sonnier-Sudduth, Aymelia Stevenson, Katelyn Stevenson, Aaliyah Young
Honor Graduates: Ashref Abdulla, Samya Brooks, Honor Brown, Brianna Burrage, Roslyn Butler, Sarah Clark, Jonathan Conner, Jalaya Evans, Mason Gerberg, Jordan Gillespie, Mylor Hammond, Fredericka Hargrove, Jerry Hill, Jaelyn Johnson, Destiny Jones, Paulina Leyva, Rob Pierson, Kenya Peoples, Gabriel Phillips, Mary Redman, Abby Romig, Kylen Savors, Hannah Self, Sarah Sonnier-Sudduth, Aymelia Stevenson, Aaliyah Young
Creative Writing: Makayla Shepherd
World History: Makayla Shepherd
Physical Science: Sarah Clark
Mayor's Youth Counsel (City of Columbus): Samya Brooks, Aaliyah Young
Legacy Award: Jordan Gillespie, Frederica Hargrove, Rob Pierson, Mary Redman, Abby Romig