GTECHS HOSTS INDUCTION CEREMONY FOR STUDENTS ACCEPTED INTO HONOR SOCIETIES
News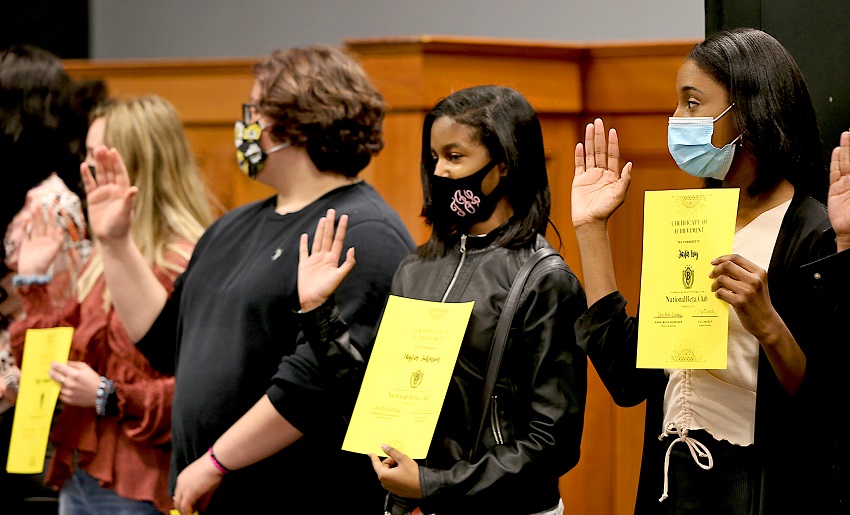 February 25, 2022
Golden Triangle Early College High School students were inducted into three honor societies Friday, Feb. 25, during a ceremony that took place in the Lyceum Auditorium on East Mississippi Community College's Golden Triangle campus.
The GTECHS 2021-22 Honor's Day recognized students who earned acceptance into the National Honor Society, National Beta Club, or the Mu Alpha Theta Honor Society. A reception hosted by the GTECHS Parent Teacher Organization followed.
Mu Alpha Theta
Mu Alpha Theta is a mathematics honor society for students in grades 10-12 who completed the equivalent of two years of college preparatory mathematics, including algebra and/or geometry, and have completed or are enrolled in a third year of college preparatory mathematics. The inductees must have at least a 3.0 grade point average in math classes taken.
The Mu Alpha Theta inductees are:
SENIORS: Ashref Abdulla, Samya Brooks, Honor Brown, Brianna Burrage, Roslyn Butler, Sarah Clark, Jonathan Conner, Jalaya Evans, Mason Gerberg, Jordan Gillespie, Mylor Hammond, Frederica Hargrove, Layla Johnson, Destiny Kayla Jones, Paulina Leyva, Makalynn Martin, Jada Mason, Saterra Nicholson, Gabriel Phillips, Rob Pierson, Mary Redman, Abby Romig, Kylen Savors, Makayla Shepherd, Sarah Sonnier-Sudduth, Aymelia Stevenson, Katelyn Stevenson, Aaliyah Young
JUNIORS: Kaylee Bauer, Gracie Belyeu, Victoria Cooper, Shalarria Crook, Lillian Dejean, Sean Driskill, Todd Ellis, Macie Enas, Michael Evans, Nakerricka Ewing, Faith Franklin, Lydia Frisby, Becca Fulgham, Paola Garcia, Noah Garrett, McKari Hall, Madison Harris, Alayna Ivy, Jada Ivy, Taylor Johnson, Micah Ming, Abigail Petty, Conner Price, Chloe Richardson, Trinity Robertson, Kamri Robinson, Kevon Scales, Leah Shaw, Ethan Stone, Ruth Tate, Andrew Woody, Smith Wooten
SOPHOMORES: Sydnee Johnson, Averianna Young, Gabreil McWilliams
NATIONAL BETA CLUB
Juniors and seniors with a cumulative unweighted grade point average of 3.5 or higher for coursework completed at GTECHS were honored. The inductees are:
SENIORS: Samya Brooks, Brianna Burrage, Jalaya Evans, Fredericka Hargrove, Destiny Jones, Gabriel Phillips, Larry Pierson, Mary Redman, Abby Romig, Kylen Savors
JUNIORS: Kaylee Bauer, Lillian Dejean, Macie Enas, Faith Franklin, Lydia Frisby, Paola Garcia, McKari Hall, Madison Harris, Alayna Ivy, Jada Ivy, Taylor Johnson, Abigail Petty, Chloe Richardson, Trinity Robertson, Kamri Robinson, Kevon Scales, Ethan Stone, Ruth Tate, Andrew Woody, Smith Wooten
NATIONAL HONOR SOCIETY
Juniors and seniors with an unweighted GPA of 3.7 or better were inducted into the National Honor Society. The inductees are:
SENIORS: Frederica Hargrove, Abby Romig, Jalaya Evans, Mary Redman, Kylen Savors, Gabriel Phillips, Destiny Kayla Jones
JUNIORS: Lillian Dejean, Kevon Scales, Jada Ivy, Faith Franklin, McKari Hall, Macie Enas, Ruth Tate, Abigail Petty, Ethan Stone, Kamri Robinson, Paola Garcia