STUDENTS IN GTECHS CLASS OF 2022 GRADUATE
News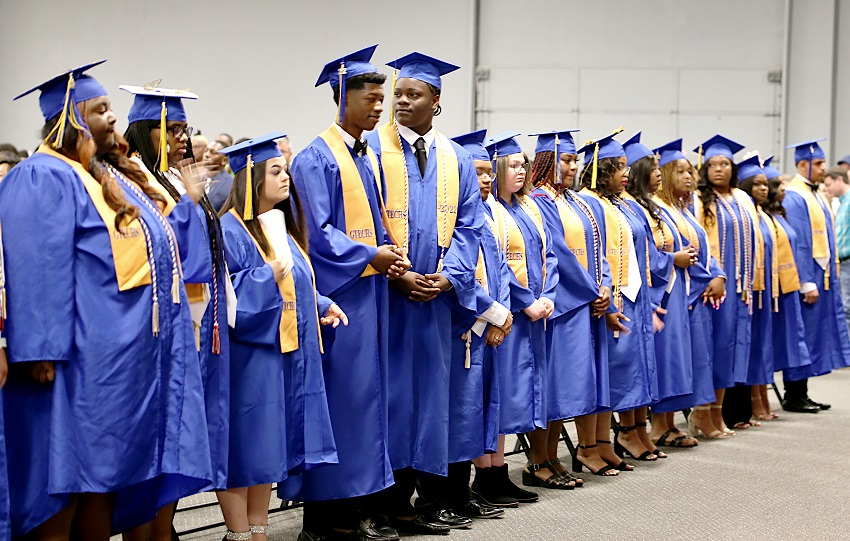 May 14, 2022
A commencement ceremony for graduates of the Golden Triangle Early College High School took place May 14 in the Lyceum Auditorium on East Mississippi Community College's Golden Triangle campus.
EMCC President Dr. Scott Alsobrooks and EMCC Vice President of Operations Dr. Paul Miller were among the dignitaries who participated in the ceremony. GTECHS Principal Jill Savely bestowed the graduates' diplomas. The guest speaker was Dr. Kendrick Savage.
Miller said he was celebrating the occasion along with the graduates and their friends and families who were in attendance.
"I celebrate because GTECHS is a special program made up of special people and it will always have a special place in my heart and mind," Miller said.
Savage, a native of Oxford and a first-generation college student, is an assistant professor of mathematics and mathematics education at Georgia Gwinnett College in Lawrenceville, Georgia. He spoke to the students about the lifelong goal of becoming the version of themselves they wish to be.
He encouraged the students to believe in themselves regardless of what others may think or say.
"As you set out to become whatever it is you set your eyes on, you are going to have people who may not always understand your dreams," Savage said. "They may not understand your goals and your aspirations and they may not even understand you… Don't let the limitations of others become the limitations of your own."
Here is a list of the GTECHS Class of 2022 broken down by the home school districts they transferred from:
Columbus Municipal School District
Shakyus Brewer, Jonathan Conner, Mason Gerberg, Jerry Hill, Destiny Jones, Paulina Leyva, Mary Redman, Jordan Rowan, Kylen Savors, Aaliyah Young
Lowndes County School District
Samya Brooks, Roslyn Butler, Sarah Clark, Jada DelGatto, Frederica Hargrove, Joshua Helton, Aseania Moten, Dixie Mullen, Kenya Peoples, Gabriel Phillips, Larry Pierson, Abby Romig, Makayla Shepherd, Kelsey Stanford
Noxubee County School District
Kyndall Barnett, Brianna Burrage, Shalyla Fletcher, Zion Harris, Jaelyn Johnson, Layla Johnson, Jada Mason, Saterra Nicholson, Aymelia Stevenson
Starkville Oktibbeha Consolidated School District
Jonena Cane, Jordan Gillespie, Hannah Self, Sarah Sonnier-Sudduth
West Point Consolidated School District
Ashref Abdulla, Honor Brown, Antjuann Davis, Jalaya Evans, Mylor Hammond, Lashundra Henley, Kaland Mobley, Jazzman Rice, Katelyn Stevenson