EMCC CONDUCTS GRADUATION CEREMONIES FOR CLASS OF 2022
News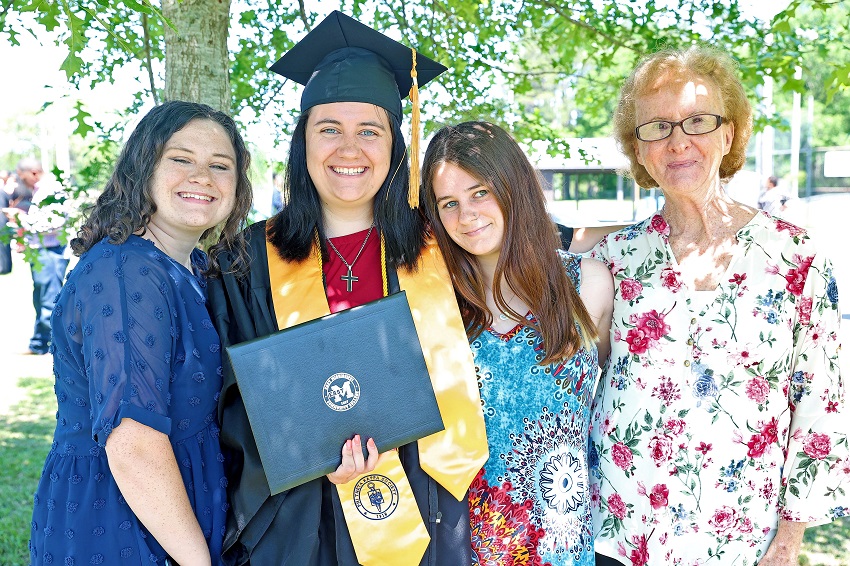 May 22, 2022
East Mississippi Community College held spring 2022 commencement ceremonies Friday, May 6, and Saturday, May 7, at the college's Golden Triangle and Scooba campuses.
Two commencement ceremonies took place in the Lyceum Auditorium on the Golden Triangle campus May 6, with a 10 a.m. ceremony for students graduating from academic programs and a 2 p.m. ceremony for those who completed career technical programs. The Scooba ceremony included graduates from both academic and career technical programs and took place May 7 in the Keyes T. Currie Coliseum.
About 500 students participated in the graduation ceremonies.
EMCC President Dr. Alsobrooks encouraged the students to chart their futures with confidence knowing they are well prepared for the next phase in their lives.
"What I want you to know is that the decision you made to attend EMCC was a good one that will open new doors of opportunity as you go forward," Alsobrooks said. "One of the truly remarkable things in Mississippi can be found in the state's community college system, which is as good as any in the nation. EMCC ranks high as a quality institution, both in Mississippi and across the country."
He also spoke about bonds the students formed during their time at EMCC.
"Those connections to EMCC will never go away," Alsobrooks said. "You will always be a member of the EMCC family."
Here is a list of the Class of 2022 students who applied for graduation broken down by the counties and cities in which they reside:
MISSISSIPPI
Alcorn County
Corinth: Zachary Patterson
Rienzi: Dakota Wilhite
Attala County
Kosciusko: Sherron Dodson, Jackson Gilmore
Calhoun County
Calhoun City: Payton Chandler, Rileigh England, Jaston Lucius
Vardaman: Anna Lucius
Carroll County
Carrollton: Samuel Clark, Colby Holly
Coila: James Daves
McCarley: Austin Smith
Chickasaw County
Houlka: John Belcher
Houston: Theresa Pumphrey
Mantee: Annie Gibson
Okolona: Samantha Davis, Eric Guyton, Candace Seals, Latrenda Stanfield, Tasha Taylor
Woodland: Taneshia Culberson, Kimberly Perry
Choctaw County
Ackerman: Clayton Baxter, Curtlyn Blake, Sarah Bowles, Margie Boyd, Wes Cagle, Ariana Davis, Garrett Hunt, Shantia McGee, Trenton McGee, Anna Paine, Preston Payne, Kristen Roland, Nicholas Studdie
Weir: Zakkariyya Gladney, Quatez Jackson, Latravius Jobe, Dillon Jones, Brittany Wade
Clarke County
Stonewall: Chloe Goodwin, Christian Moore
Clay County
Cedar Bluff: Amber Angelo, Taylor Avant, Sara Dexter, Christian Gray, Debra Keenum, Lily Todd
Montpelier: Adrian Borst
Pheba: Jacqueline Childs, Zye'teria Cooper, LaKeena Doss, Shumata Evans
Prairie: Larry Conn, Matthew Haynes, Jasmine Nance, Miquisha Rogers
West Point: Ashref Abdulla, Dequadrick Amos, Arliann Barkley, Unisa Bell, Johneisha Bland, Jaylen Boothe, Jacobi Bowen, Jenna Boykin, Parker Brand, Honor Brown, Jeremy Burton, Clarissa Cade, Jonah Caskey, Kaleb Cook, Daliyah Cooperwood, Quentin Cummings, Ashley Deanes, Justice Dixon, Georgenna Edwards, Mattie Edwards, Jalaya Evans, Thomas Gable, Margaret Gall, Kametra Gandy, Mikiyla Gardner, Wesley Gaskin, Joseph Golson, Za Narrious Graham, Joseph Hamblin, Elizabeth Hammond, Mylor Hammond, William Harpole, Deaundra Harris, Garrett Hendricks, Austin Jennings, Ta'mariah Johnson, Bradley Jones, Destinee Jones, Ismenia Juarez, Peyton King, Jackson Knowles, Christopher Lee, Amy Lenoir, Tamyia Logan, William Loyed, Sharon McCarter, Ashanti McCoy, Molly Mitchener, Alliajah Neal, Joachim Nolden, John Gordon Pettit, Kendrick Poole, Peyton Price, Jamesha Randle, Ashley Robertson, Austin Robertson, Lachassity Robinson, X'zayvia Scott, Julia Smith, Summer Smith, Tiekka Smith, Cheyenne Spires, Katelyn Stevenson, Blaine Stockdale, Devin Strong, Marica Vance, Bailey Vandenbranden, Kimberly Walls, McKinsey Wedel, Kimberly Weedon, Iesha Young
Copiah County
Crystal Springs: Tori Lafhameyer
Desoto County
Hernando: Michael Johnson, Kylan Stepter
Olive Branch: Kenyon McCou, Gaven Oliver, Daniel Raybon, Johnny Setchfield, Shemaar Stapleton
Forrest County
Hattiesburg: Kevin Barnett, Nathanael Hudson, Kade Shannon, Russell Shelton, Nickalos Walker
George County
Grenada County
Grenada: Caleb Estes
Holcomb: Andrew Edwards
Harrison County
Gulfport: Alexis Hawthorne
Hinds County
Bolton: Tamara Alexander
Clinton: Katie Gehris, Casey Partridge
Jackson: Gregonnia Donaldson, Tyler Lewis
Holmes County
Humphrey County
Belzoni: Shae Long, Maury McClellan
Itawamba County
Jackson County
Ocean Springs: Wesley Elliott, Brianna Lopez, Cade Westbrook
Jasper County
Jones County
Laurel: Jontaurius Henderson, Autumn McClendon, Hunter McLaurin, Zias Perryman, Keno Shelby
Sandersville: Rebecca Valdez
Kemper County
Collinsville: Belinda Bates
Dekalb: Jaliyah Bennamon, Janile Bennamon, Alannah Bozeman, Jeremy Buie, Garron Dickson, Jordan Hancock, Amanda Harris, Kaylah Hearn, Tyra Hopson, Alfred Love, Chloe Matthews, Breanna Odom, Antranika Ruffin, Tremya Rush, Gabriel Sciple, Jovonte Steele, Jasmine White, Analynn Wright
Porterville: Jaquandria Adams, Avery Clayton, Kaylan Clayton, Takajya Clayton, Sha'dardenique Darden, Sha'daria Darden, Jamiah Gibbs, Sanchez Lee, Qavion McClendon, Adrain Moore
Preston: Thermon Johnson, River Keaton, Tatum Luke, Adriana McGraw, Kelvin Parks, Kamri Tate
Scooba: Pretressa Bester, Amber Brown, Quhleahka Ivy, Dawn Jenkins, Deronica Mosley, Labreesha Powe, Garrett Thomas, Matthew Watt, Michael Wood
Lafayette County
Lamar County
Purvis: Jared Clinton
Sumrall: Hunter Douglas
Lauderdale County
Collinsville: Darby Kinney, Montgomery Perkins, Daniel Winstead
Enterprise: Eli Sanders, Kaitlynn Stroud
Lauderdale: William Averett, Jayla Breshers, Kelcee Fitzgerald, Ladonna Hull, Chris Partridge, Laraleigh Roberts
Marion: Jamarius Barnes, Desirae Hopson, Bianca Rush
Meridian: Tyler Anderson, Kaylee Grandon, Lindsey Higginbotham, Haley Hutchinson, Maggie Meadows, Morgan Moody, Antavia Mosley, Lauren Pickett, Traemond Pittman, Jada Price, Tonisha Sanders, Jada Scarbrough, Kristyn Scarbrough, Juleon Selvie, Matthew Shows, Kendarius Smith, Dixie Wiggins, Kade Brand, Amaury Brewster, Apryl Butler, Haley Coody, Melissa Davis, Riley Edwards, Taylor Gordon, Sara Kemp, Annalese Parker, Teresa Radcliffe, Patrick Wall
Toomsuba: Justin Boatner, Dakota Boney, Tradarius Ruttley
Lawrence County
Monticello: Kyunna Thomas
Silver Creek: Dustin Jackson
Leake County
Carthage: Tabitha Atkinson, Anna Gregory, Matthew Kea, Clayton Malone, Raney Manuel, William Manuel, William Swinney, Jarrett Watkins
Walnut Grove: Blair Lathem
Lee County
Mooreville: Billy Rushing
Nettleton: Destini Hodges
Tupelo: Ty'sheirrea Jackson, Ternerious Montgomery, Linda Price
Leflore County
Greenwood: Ethan Clark, Robert Hollis, Zundria Hurt, Powell Scates
Lincoln County
Brookhaven: Maddalynn Boyte
Lowndes County
Artesia: Dyqueshe Bankhead, Latoya Hairston, Kelvin Sanders
Caledonia: Willie Adkins, Wonder Blair, Braden Bowen, Aaron Brock, Victoria Brooks, Ansley Brown, Megan Chandler, Brandi Dempsey, John Dodson, Colin Dunaway, Bryce Eaton, Leon Ellis, Ashlie Gallop, Ashley Gibson, Kala Gibson, William Glasgow, Jonathon Hamilton, Westlee Honeycutt, Logan Hunter, Trevor Johns, Timothy May, Tyler McAdams, Cooper McCleskey, Walker McCullough, Jeffery Plummer, Jordan Ray, Evan Riggs, Fabian Ryan, Mallory Sala, David Smuz, Nina Truelock, Nathan Wade, Sydney Wiggins, Jacob Williams
Columbus: Christopher Alderson, Sadonna Ardoin, Taylor Atkins, Trakeyante Bailey, Skylar Banks, Darius Bardley, Demairr Barry, Ellis Barry, Madison Baucom, Jessalyn Beams, Christopher Beard, Tara Bergen, Skye Berquist, Blayze Berry, Stephanie Bivens, Bernetta Blackwell, Tyra Blevins, Maya Bogan, Roni Boland, Jackson Bostick, Aniya Bouldes, Emerald Bowen, Alex Braddock, Tyler Bridges, Margaret Brock, Niyah Brooks, Andrew Brown, Hunter Brown, Trezelle Brown, Victoria Brown, Shakia Bruce, Mya Buckhalter, Jacari Bush, Roslyn Butler, Jaylon Calmes, Gabriel Carpenter, Cody Carr, Kenya Cistrunk, Malachi Clay, Timothy Clevenger, Deztinee Coble, Douglas Cockrell, Joshua Cockrell, Brayden Cole, Alexandria Coleman, Tressie Collier, Jalyn Collins, Ariel Colvin, Jonathan Conner, Mollie Conn, Amanda Connors, Alise Cooperwood, Allison Corbett, Sylvester Craddieth, Sherrill Culpepper, Mark Davis, Zenobia Davis, Kenedi Deans, James Dejean, Tanner Dolan, Glenn Draper III, Erin Eairheart, Shelaina Eckford, Byronn Edwards, McKenzie Ellis, Dominique Evans, Charles-Eric Ferguson, Mandy Ferguson, Landon Forstner, Anthony Frierson, Stephanie Gardner, Mason Gerberg, Dontaevious Gillespie, William Gordon, Mathew Goulet, Khayla Gray, Mya Guyness, Marquita Hall, Brandon Hardin, Frederica Hargrove, Cayla Harris, Dantevius Harris, Jordan Harris, Pamela Harris, Tyzaviya Harris, Kevin Herman, Naderion Higgins, Courtney Hill, Jerry Hill, Deasia Hodges, Jasmine Hodges, Rodreekas Hogan, Jamad Horn, Aysia Houston-Smith, Melissa Howard, Keayra Hughes, April Humphreys, Taylor Jackson, Tyrece Jackson, Nicholas Jenkins, Zion Johnson, Destiny Jones, Earlondria Jones, Glorial Jones, Renota Jones, Taylor Jourdan, Ashlee Kainz, Bryar Kemp, Treyveon King, Breanna Kislow, John Koenig, Emilee Latham, Shondolyn Latham, Allen Lewis, Paulina Leyva, Henry Lloyd, Erin Lybrand, Laura MacLellan, Joshua Manning, Rubi Marquez, Emily Marsiglia ,Kenneth Mason, Shawntel Mathews, Arlishia Mattox, Savannah McCarter, Mark McCoy, Katherine McCraw, Isaiah McNeal, Robert Michael, Imani Mickens, Erin Miller, Andrew Montalto, Rachel Moody, Lonnie Morgan, Zackary Morrow, Michael Mucha, Diamond Mundy, Brittany Murphy, MacKenzie Musselman, Dwana Nash, Stacey Perkins, Herman Peters, Alonzo Petty, Alexis Phillips, Gabriel Phillips, Taylor Pierson, Avani Poindexter, Kayla Poole, Alex Powell, Bethany Price, Mary Redman, Mary Reed, Austin Rickert, Joseph Riley, Amanda Robinson, Damesia Roland, Shemarica Roland, Dorothy Ross, Jordan Rowan, Tori Rush, Angelia Sanders, Jessica Sanders, Temeko Sanders, Kylen Savors, Jasmine Selvie, Jumarcus Selvie, Philanshia Shambley, Jessi Sherrill, Amber Sherrod ,Joshua Sherrod ,Gregory Smart, Cortez Smith, Daniel Smith, Alexis Spencer, Kayla Spraggins, Jeffery Stanford, Sean Steinport, Kayley Stephens, Jaleah Stewart, Nola Stewart, Mary Stokes, Jabari Talley, Jada Tate, Jordan Taylor, William Teague, Jade Thomas, Samara Thompson, Madisyn Turner, Heston Vaughan, Oren Vaughn, David Via, Lakidra Wallace, Spencer Wallingford, Bethany Washington, Sam Watford, Montiga Watt, Chelsea Williams, Mechelanie Williams, Shakirah Williams, Kailyn Willis, Juanita Wilson, T'kira Wilson, Courtney Winstead, Tyler Wise, Mercedes Woods, Jordann Yeatman, Aaliyah Young, Abigail Youngblood,
Crawford: Samya Brooks, Clayton Buchanan, Justice Harris, Shardashia Jackson, Kingdom McGee, Mya Pigott, Zackery White
Steens: Jared Adams, Anthony Brooks, Lukas Bryant, Laine Chappell, Donnie Crews, Hannah Crews, Elizabeth Fretz, Michael Glenn, Emory Hill, Lucas Hudgens, Tyler Johnson, Nyssa King, Daria Latham, Tiffany Latham, Coleton Montgomery, Lauren Morrow, Julia Younger
Madison County
Canton: Aislynn Cochran, Hunter Pigott, Emme Walker
Madison: Leah Graham, Gavin McIntire, Savannah Murphy, Leija Ray, Layne Smith, Logan Turner, James Welch
Ridgeland: Anna Deaman, John Ellis
Marion County
Foxworth: Autumn Beal, Joshua Ham
Marshall County
Byhalia: Kevin Henry
Lamar: Cooper Cowan
Monroe County
Aberdeen: Byron Butler, Travontae Hogan, Tyrese Lewis, Brandon Ware, Jada White, Francis Whitt
Amory: Parker Easter, Mitchell Finn, Isaac Shurden, Tobias Williams, Laura Yang
Greenwood Springs: Shawn Renfro
Hamilton: Amber Hogan, Camille Nettles, Madeline Nettles
Neshoba County
Choctaw: Braydon Bell-Ben
Philadelphia: Cade Ainsworth, Joshua Allen, Katelynn Burnham, Jamie Gray, Millie Holley, Briana Huddleston, Marques Hunt, Dixie Jackson, Meg Martin, Mason McCann, Marlee-Keeton Pierce, Justin Pilgrim, Katelyn Simmons, Tamekia Sutton, Kendall Triplett, Kelsey Tubby, James White
Union: Joseph Byrd
Newton County
Conehatta: Taylor Watkins
Decatur: Jonathan Boudreaux
Lawrence: Angela Thornton
Noxubee County
Brooksville: Jalen Brooks, L.C. Clemons, D'Antonio Deloach, Dy'rekia Dooley, Chelsey Franklin, Je'von Franklin, Latreasure Grant, Alexis Harris, Tatyana Holmes, Keeli Lockett, Travis Lockett, Rayshanda Madison, Kimberly Mallard, Shakuria Manning, Jada Mason, Tydriques Mattix, Sawyer Robert, Samiyktrion Sledge, James Stapleton, Jakayla Tate, Quantarra Tate, Tieranee Watt
Macon: Jackson Adcock, Kyndall Barnett, Timothy Bland, Quintavious Brown, Isaac Carroll, David Chandler, Latreka Christian, Tyrecus Dale, Nicole Disbrow, Colby Dixon, Zaria Edwards, Marsha Friesen, Raheem Gillespie, Savannah Gillespie, Christopher Goodwin, Kaitlyn Hairston, Khelsey Hunter, Timothy Ivy, Tydranique Jefferson, Jaelyn Johnson, Layla Johnson, Rayon Johnson, Dylan Jones, Jequarion King, Awystn McCloud, Isaac Miller, Kayla Nelson, Johnny Prince, Shebreka Reed, Erin Rigdon, Islandia Russell, Jaqualyn Smith, Verderius Smith, Aymelia Stevenson, Delilah Stevenson, Nicole Verdell, Dewittney White
Shuqualak: Brianna Burrage, Rickie Hunt, Cedric Jones
Oktibbeha County
Maben: Sarah Jackson, Joseph Noll, Anna Phelps, Kaitlin Ray, Parker Reed
Starkville: Justin Addison, Joshua Aka, Mario Alvarez, Corey Bailey, Brett Barksdale, Jasmine Barnett, Brandon Beavers, Hassie Berch, Latham Blake, Nadia Borazjani, Mary Brewer, Blake Brooks, Maxwell Brooks, Yasmine Brooks, Danita Brown, William Buckner, Triston Burden, Jonena Cane, Braden Carlisle, Bailey Carper, Montez Carr, Cameron Carroll, Caleb Chancellor, Alexius Chandler, Anthony Chandler, Annabeth Clark, Brayden Coleman, Andrea Collins, Lanny Collum, Dejuan Conley, James Cook, Vernitta Crawford, Jacob Crittenden, Alexandra Cross, Gabriel Dodd, Jacob Doler, Quanisha Doss, Christopher Duclos, Destiny Edison, Joshua Edmonds, Hannah Flake, Marlee Freely, Malik Gaines, Keiondra Gandy, Gray Gaude, Quaveyon Gibson, Jordan Gillespie, Meghan Gill, Meredith Gill, Christopher Glaskox, Tyler Goliday, Darius Gunn, Mya Halbert, Clinai Hamilton, Dennis Harris, Trevor Head, Normea Henderson, Robin Henington, Cameron Hines, Quintal Jackson, Morgan Jenkins, Quanetta Jenkins, Ayshana Johnson, Briana Johnson, Thomas Johnson, Andrew Johnston, Atavius Jones, Autumn Jones, Marlena Jones, Tykerria Jones, Tonnie Jordan, Pauline Kelly, Prashish Lamsal, Jordan Lancaster, Brenda Langley, Abigail Leonard, Brianna Leonard, Mary Ainzlee Lindner, Jackson Lipe, Robert Lockhart, Jadrian Lofing, Aubrey Long, Joann Long, Joni Lucious, Lenora Lucious, Caden Luke, Nicole Mamiaro, Marcus McGee, Nicholas McKinney, Kyle McLin, Joshua McMullen, Nur Aini Memili, Gabriel Middleton, Nykearia Miller, Jacob Mitchell, Adler Morgan, Jayvon Morgan, Grant Nash, Emma Nelson, Michael Newman, Allison Nichols, Dominique Orr, Kristen Pecanty, Charles Peeples, Maxine Peterson, Tanika Plummer, Christopher Polley, Tyler Pritchett, Reocca Rice, Justin Rickels, Camden Robertson, Peyton Rodgers, Alexis Rogers, Joseph Ross, Abby Rutherford, Erin Ruth, Claudia Rybolt, Hannah Self, Christine Sharp, Eleah Shields, Barzinia Smith, Courtnay Smith, Justin Smith, Mason Smith, Warren Smith, Sarah Sonnier-Sudduth, Sheyenne Spruell, Lakeshia Stafford, Ken-Yetta Stallings, Leander Stelioes-Wills, Gregory Stephens, Alexis Stephenson, Skylar Stephens, Myra Thompson, Michael Tollison, Kasey Trainer, Jordan Tribble, Brandon Tucker, Dash Turman, Trey Tyler, Jessie Virgil, Tkeya Ware, Deja Warren, Michael Weirauch, Tucker Wells, Tony White, Megan Williams, Nokeisha Williams, Qin John Williamson, Derica Wilson, Jakob Wilson, John Woodward, Linda Yeates, Gage Yeatman, Alexis Young, Destiny Young, Jeremiah Young
Sturgis: Marsha Butler, Carson Collier, Madison Dodd, Aimee Foster, Daniel Foster, Waya Hartfield, Hailey McCool, Joshua McGinnis, Zachary Nason, Bryson Plunkett, Jack Wiggins
Pearl River County
Carriere: Noah Burks, Brittin Owen
Perry County
Petal: Korbon Yawn
Picayune: Justin Bynum
Pike County
Prentiss County
Booneville: Rachel Jumper
Quitman County
Lambert: Tre'darious Griffin
Rankin County
Brandon: Aaron Abbott, Brady Black, Caylie Boyd, Benjamin Brock, Matthew Byrd, Stockton Giachelli, Brennan Hallman, Gage Henderson, Tyler Hodges, Zachary Jones, Garrett Pittman, Charles Prince, Layton Roberts, Joshua Short, Zachary Stephenson
Florence: Tanner Brown, Aaron Conley, Miranda Collier
Pearl: Jaylon Young
Pelahatchie: Hannah Lawrence, Jessica Ries
Scott County
Lake: Reonta Evans-Williams
Sharkey County
Rolling Fork: Cameron Hatcher, Josephine Tydlacka
Simpson County
Smith County
Utica: Jakorie Smith
Vaiden: Margaret King
Stone County
Sunflower County
Tippah County
Blue Mountain: Erique Wilson
Ripley: Joshua Davis, Siarra Jackson
Union County
Plantersville: Ciara Jackson
Southaven: Hunter French, Jonah Posey, Wesley Sides, Jackson Siler
Warren County
Vicksburg: Cameron Ghrigsby, McKenzie Hedrick
Glen Allan: Carrington Ross
Greenville: Shelby Bridges, Cameron McCullum, Danny Washington
Webster County
Eupora: Lauren Langford, Kayla Oats, Peyton Orr, Thomas Shaw, Billie Swindle
Maben: Christopher Barrow, Jamison Bigham, Charlsey Buchanan, Dillon Carrell, Dana Chamblee, Summer Douglas, Trevan Eaddy, Amber Gates, MacKenzie Hodges, Ethan Roberts, Nicholas Shurden
Mathiston: Caleb Burdine, Riley Carrithers, Kimberly Curtis, Benjamin Daniel, Hartley Files, Ashley Helms, Ashley Hodges, Kenneth Hunt, Deidre Lott, Clyde Perrigin, James Smith, Chance Stephens, Hayden Woods
Stewart: Richard Ricardo
Winston County
Louisville: Cody Warren, Macy Chiles, Nyasia Coleman, Noah Dempsey, Dawson Eaves, Jacey Garrard, Stephen Howell, Alexandria Hunt, Collin Mills, Nastaaja Roberts, Desirae Robinson, William Rogers, Deshanta Shannon, Nicholas Stewart, William Toliver, Madelynn Warner, Evan Willis, Colby Wright, William Young
Noxapater: Diana M Richardson, Taylor Higginbotham, Lane Bailey, Taylor Buchanan, Cassaundra Dunaway, Cardale Eichelberger, James Keen
Yazoo County
Benton: Octavian Hollins
Vaughan: Hannah Waldrup
OUT OF STATE
Alabama
Alphonso Henderson, Skaeria Williams, Abby Agerton, Lilnesia Barron, Codi Parker, Andeon White, Gwanna Almond, Bryce Mason, Andrea Eatman, Caitlyn Stephens, Aylayjah Gee, Jacob Youngblood, Amontae Faison, Travis Dean, Grayson Phillips, Joseph Rafield, Haigan Black, Kia Jones, Christopher Brasseal
Arkansas
Brent Berkemeyer, William Rose, Nicholas Newcome, Jaylie Matthews, Taycie Matthew
California
Florida
Jonah Benjamin, Trey Laing, Paulina Alvarado
Georgia
Felice Shields, Keelin Lee, Markiema Lancaster, Brandon Deravine
Louisiana
Kentucky
Blake Butler, Josie Luttrell
Michigan
New York
North Carolina
Mikayla Almond, Andrew Tuazama, Lee Kpogba
South Carolina
Tennessee
Kyle Matthews, Jack Porter, Chad Stetson
Texas
OUT OF COUNTRY
Honduras