EMCC TO LAUNCH FUNDRAISER FOR SCHOOL MUSEUM
News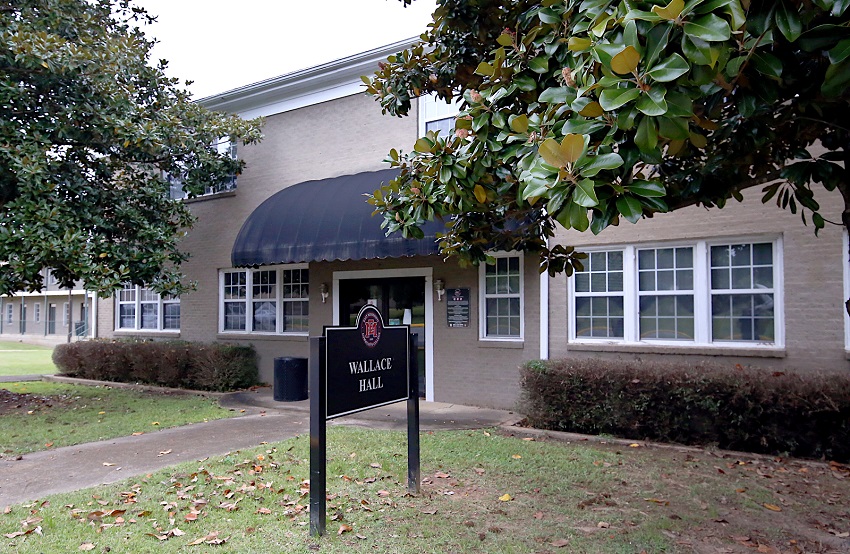 January 18, 2022
The East Mississippi Community College Development Foundation is gearing up to launch a fundraiser to create a museum on the college's Scooba campus to display sports memorabilia and other artifacts dating back to the college's inception in 1927.
Plans are to renovate Wallace Hall, one of the earliest buildings on the campus that is being used by the school nurse and has housed various departments over the years, including most recently the business and financial aid offices.
"We are really excited about it," EMCC President Dr. Scott Alsobrooks said. "We have a great existing structure to work with and it is one of the college's original buildings."
The first floor of Wallace Hall will house the museum, while tentative plans call for the second floor to be dedicated to storage space.
The college already has some sports memorabilia to display. The scoreboard from the original Sullivan-Windham Field is in storage, as are some game balls, helmets and letter jackets donated to EMCC over the years. The EMCC library has a collection of newspaper clippings and other artifacts, including original copies of the April 30, 1984 issue of Sports Illustrated titled "The Toughest Coach There Ever Was," by Frank Deford about former EMCC football coach Bob "Bull" (Cyclone) Sullivan.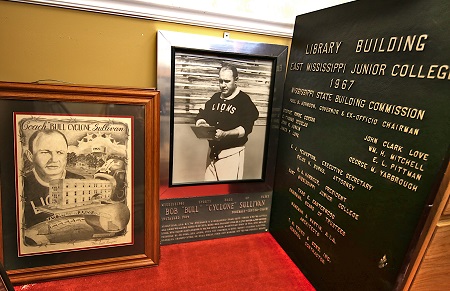 Donations of items for the museum from EMCC alumni and their families will also be welcome. The first priority will be a total renovation of Wallace Hall. Equipping the building will be costly, EMCC Director of Alumni Affairs and Foundation Operations Gina Cotton said.
"You need a really good HVAC unit and temperature-controlled cabinets that are expensive," Cotton said. "The items that will be on display can't be reproduced and you don't want them destroyed by mold."
While researching the project, former EMCC Executive Director of College Advancement and Athletics Marcus Wood, Alsobrooks, Cotton and EMCC Athletic Director Sharon Thompson toured the Mississippi Armed Forces Museum at Camp Shelby in Hattiesburg.
The tour was conducted by Maj. Gen. Richard Poole (retired), an EMCC alumnus and 2019 Sports Hall of Fame inductee who played on the Lions' baseball and basketball teams from 1956 to 1958.
Poole served three-and-a-half years active duty and the remainder of his 42 years in the military with the Mississippi National Guard. He was among a group who lobbied for a museum at Camp Shelby dedicated to those who trained there prior to being deployed for combat duty in World War I, World War II and all other conflicts up until the current time.
"It was mainly going to be a museum for the National Guard, but there were people from the Navy, the Marines and other branches who wanted to be a part of it and it just kept expanding," Poole said. "Now there are displays from all the branches of service."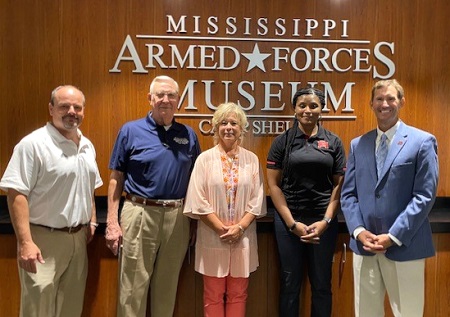 Poole served on the Mississippi Armed Forces Museum board of directors on and off for 40 years, with 17 of those years as president. He is an unofficial advisor for the museum project at EMCC, although he stressed that he is not a museum expert.
"I just think having a museum at EMCC where kids can come through and see where we have come from would be a really good thing," Poole said. "A lot of great athletes have come through EMCC and played later for Division 1 national championship teams. Some baseball, basketball and football players from the college went on to play in the professional ranks."
Poole encouraged those who have not yet done so to visit the Mississippi Armed Forces Museum, which is open to the public at no charge. Visit www.armedforcesmuseum.us at Camp Shelby online for more information or call 601.558.2757.
For more information about EMCC's museum fundraiser, contact Cotton at 662.476.5063 or gcotton@eastms.edu.