EMCC GRADUATE NAMED 2022 COCA-COLA ACADEMIC SCHOLAR
News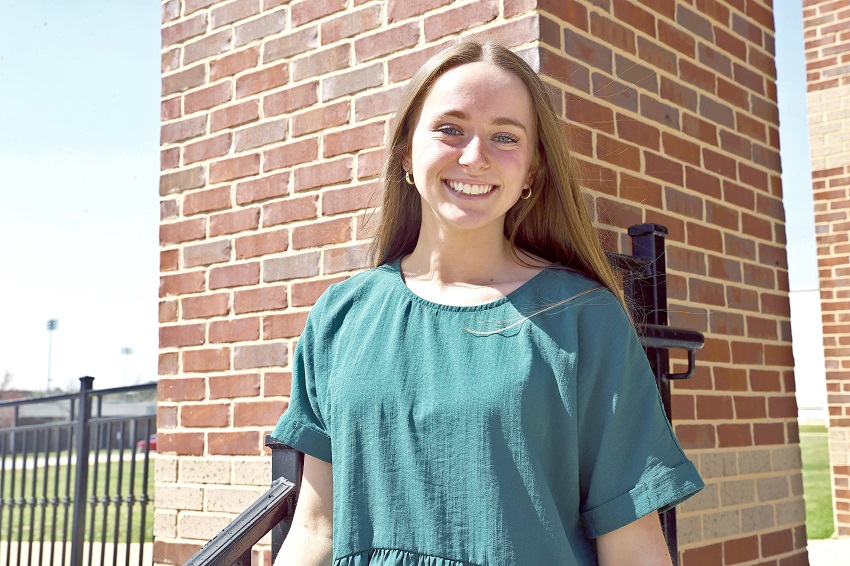 March 31, 2022
East Mississippi Community College graduate Kayla Nelson has been named a 2022 Coca-Cola Academic Team Bronze Scholar and will receive a $1,000 scholarship.
The Coca-Cola Scholars Foundation sponsors the Coca-Cola Academic Team program by recognizing 50 Gold, 50 Silver, and 50 Bronze Scholars nationwide with nearly $200,000 in scholarships annually. Each scholar also receives a commemorative medallion.
Students who are members of Phi Theta Kappa Honor Society, a partner in the annual scholarship program, are nominated for the academic team by their college administrators. Selection is based on academic achievement, leadership, and engagement in college and community service.
"I can't imagine anyone more deserving of the recognition than Kayla," said EMCC Fine Arts/Humanities Division Chairperson Janet Briggs, who is a Phi Theta Kappa advisor for the college's Scooba campus. "She was a gifted student and a pleasure to teach."
Nelson said she found out she had been selected for the honor via an email from the Coca-Cola Scholars Foundation.
"I was really surprised," Nelson said. "Right after I received the email, Mrs. Briggs called and said, 'Do you know how important this is? I am so proud of you.' I did not realize it was a national award until she told me."
Nelson is a Macon native who graduated high school from Pickens Academy in Carrollton, Alabama. She attended school on EMCC's Scooba campus where she resided in the Women's Honors Hall and was a member of the Mighty Lion Band Color Guard. Last December she graduated from EMCC, earning an associate degree with a concentration in psychology.
"I loved my time at EMCC," Nelson said. "The campus is small but everyone is close. The faculty know you by name and it feels like you are part of a family."
Nelson plans to attend either the Mississippi University for Women or Mississippi State University – Meridian this fall to major in English. She credits EMCC Humanities instructor Shannon Pendergrass with instilling in her a love of English.
"I enjoyed English so much I decided to change my major," Nelson said. "I just didn't have the same feelings about psychology as I did English."
After earning a master's degree in English, she plans to become an instructor and would like to teach on EMCC's Scooba campus. She already has a feel for the job. Nelson is a part-time English tutor in the Writing Center on the Scooba campus, helping students who need assistance with their Intermediary Comp I and Comp II coursework.
She works at the Writing Center Mondays and Wednesdays and assists students after hours and on weekends through the Writing Center's Microsoft Teams account. She has a second job as a pro shop attendant at Elm Lake Golf Course in Lowndes County.
"I feel like I have the best of both worlds," she said. "I love the outdoors and I love teaching English."
Nelson is the youngest of three children born to Henry and Carol Nelson, who reside in Macon. Kayla Nelson's older sisters, Sarah (Nelson) Higginbotham, and Lauren (Nelson) Scott, also graduated from EMCC.
Coca-Cola Academic Team members will be recognized internationally during Phi Theta Kappa's annual convention, PTK Catalyst, to be held in Denver, Colorado, April 7-9.
"We thank the Coca-Cola Scholars Foundation for recognizing these student leaders and for investing in their futures," said Dr. Lynn Tincher-Ladner, president and CEO of Phi Theta Kappa. "Scholarships like these are integral to the success of these students in reaching their educational and career goals."