EMCC BUSINESS AND MARKETING MANAGEMENT PROGRAM AVAILABLE ONLINE
News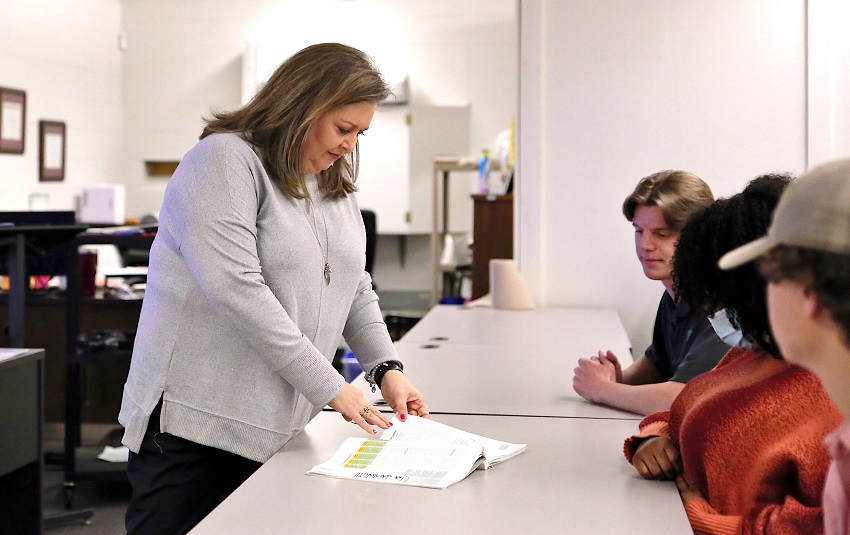 March 3, 2022
Columbus-based Brewer Insurance Solutions owner Chimerel Brewer knew training in modern marketing techniques would help with her business. She was interested in taking marketing courses, but the independent insurance broker said she is too busy managing her business for in-person classes.
After learning that East Mississippi Community College's Business and Marketing Management Technology program could be completed online, she enrolled.
"The program has been a real asset to me, my business and my team," said Brewer, who is in her freshman year. "I use the information I have learned to train my team. I am doing it all online, which is the only way I can do it and still have time for my business during the day."
Classes in the Business and Marketing Management program can be taken wholly online or in-person at EMCC's Golden Triangle or Scooba campuses. Shannon Miller, the program's instructor on the Golden Triangle campus, said most of her students who opt for on-campus classes range in age from 18 to 25.
"There is a wide range of ages for students who choose to take the classes online. Typically, those students will be a little older," Miller said. "Some have been working for a while and feel like they need that degree to move up to another position in their company. A number of students come into the program with dreams of owning their own business."
The program prepares students for careers in areas such as marketing, professional sales, advertising, retail management, business ownership and human resources, to name a few.
The program includes both business and marketing components. Business classes include Principles of Management, Merchandising Math, Legal Environment of Business and Human Resource Management, to name a few. On the marketing side, students take Principles of Marketing, Personal Selling, Marketing Management, Internet Marketing and Advertising classes, among others.
Student housing is located on EMCC's Scooba campus where Business and Marketing Management is taught by Dr. Joshua Carroll, who said the program's on-campus classes there are popular with student athletes in the baseball, softball and cheerleading programs.
"For the online component, I have students who are right out of high school and adults wanting to go back to school," Carroll said. "The online classes are really helpful to those who want to learn virtually, but also for those who want to work virtually because our program trains them in that area."
Students at both campuses are required to put what they have learned to practice. For the entrepreneurship class, they create a business plan for a new business idea that includes financing, business statements and a feasibility study of where they would locate the business. For the marketing management class, they create a marketing plan that details the marketing strategy for a small business.
There is a social media marketing component and instruction on television advertising and direct mail marketing. A retail management class includes information on strategies for retail operations, retail pricing and performance measures.
Students with a job can also earn three credits for work-based learning.
"The course requires a student to work at least 135 hours during the semester to obtain three credit units," Miller said. "The course can be taken twice for six credit units."
There are three exit points to the program. Students can earn a Career Certificate after their freshman year, a Technical Certificate after three semesters or complete the program and earn an Associate of Applied Science degree, which can be transferred to a four-year university.
Some students who complete the Business and Marketing Management program opt to take additional courses to earn a degree in E-Commerce Technology as well, which prepares them to operate an internet-based business.
Carroll's course includes a digital media class that teaches students how to incorporate photography and videography in a business marketing plan.
"They can learn how to build popularity through a vlog (video blog) and turn that into a revenue generating instrument," Carroll said.
In the fall, students enrolled in the program at the Scooba campus take a field trip to learn about a business or industry. This past fall, students in the program visited Trustmark Park in Pearl, home of the Mississippi Braves, to learn about sports marketing, as well as Renaissance at Colony Park, an upscale shopping plaza in Ridgeland, to complement what they learned in retail management.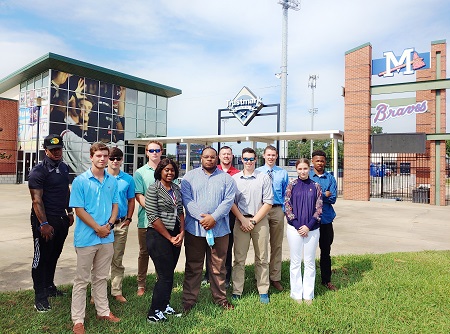 "The trips are a great way for students to gain real-world experience in what they learned from their textbooks," Carroll said.
Republic of Honduras resident Gissela Perdomo graduated with a Technical Certificate from the Business and Marketing Management program in May 2018. She attended school at EMCC's Golden Triangle campus while staying with New Horizons Christian Fellowship Church missionaries in Starkville.
After graduating, she returned to her hometown of San Pedro Sula, the second largest city in Honduras, with a dream of starting a company that produces handmade-leather crafts in which she would hire women from destitute rural communities to provide them with a job and the means to earn a living. The pandemic put that dream on hiatus and she is reassessing her future.
Perdomo said regardless of what the future may hold, finishing her coursework so she could earn an associate degree was a priority for her.
"I would not have had the chance to continue my education if it were not for this online opportunity," Perdomo stated in an email correspondence. "For that I am wholeheartedly grateful. I have had great support from EMCC."
More information about the program is available online here: https://bit.ly/3vdPOKu
The contacts for the program on the Golden Triangle campus are Miller (smiller@eastms.edu) and Advisor Elizabeth Regl (eregl@eastms.edu). The Scooba campus contacts are Carroll (jcarroll@eastms.edu) and Advisor Dr. Renyetta Johnson (rjohnson@eastms.edu).