COMMENCEMENT CEREMONY HELD FOR BARBERING, COSMETOLOGY GRADUATES
News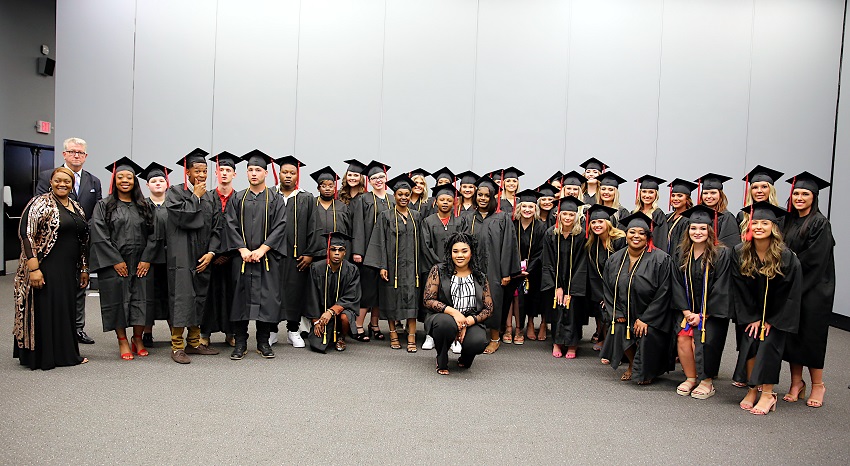 June 17, 2022
A commencement exercise for graduates of East Mississippi Community College's Cosmetology and Barbering/Stylist programs took place June 16 in the Lyceum Auditorium on the college's Golden Triangle campus.
Forty-one students completed the two programs, with 29 of those from Cosmetology and the remaining 12 from the Barbering/Stylist program. EMCC Vice President of Operations Dr. Paul Miller provided the welcome to the graduates.
Miller told the attendees seated in the Lyceum, which was packed with family and friends of the graduates, that they can be confident that the training the students were provided is second to none.
"These students will do very well," Miller said. "They will be entrepreneurs and business leaders in our community. We are so very proud of them already for what they have accomplished and for what is ahead of them."
Barbering graduate Jahil Baber complimented his classmates for their dedication to their studies and encouraged them took forward to the future with optimism.
"Let's now put what we have learned to the test and not forget the impact we can make in this world," Baber said. "Although it hasn't been easy, we are now walking into entrepreneurial shoes. It is time we open our minds to creativity, construct our own brand and be a blessing to our current and future clients."
Cosmetology student Alaina Carrington Woods spoke about the bond she and her classmates formed.
"The girls in my class have made a huge impact on me and we all pushed each other to do our best," Woods said. "I am so thankful for the friendships I've made and I know they won't end after this ceremony. They will last a lifetime."
There were two Cosmetology classes this year, one led by Barbering/Stylist and Cosmetology Division Chair David Long and another by Cosmetology instructor Teresa Rogers. They spoke to the students, as did Barbering/Stylist instructor Erica Turner. EMCC Vice President of Instruction Dr. James Rush presented the graduates.
During his closing remarks, Dean of Instruction Dr. Michael Busby encouraged the graduates be lifelong learners and to approach their work with a serving heart. He finished with this thought: "Always believe in yourself. This world has thrown us a lot of curve balls in the last couple of years, with the pandemic, lockdowns, closures, vaccinations, masks and now the economy . What did all of you do? You came to school and you persevered. You got your degree and succeeded. If someone tells you that you can't do something look them in the eye and say, 'I have and I will.'"
State law requires students enrolled in both the Cosmetology and Barbering/Stylist programs complete 1,500 hours of training prior to sitting for the state exams. Both are nine-month programs and students are in class 40 hours a week. Students earn a certificate upon completion, but also have the option of taking additional classes needed for an associate's degree, which some did.
More information about the Cosmetology program is available here: https://bit.ly/3QtXO2b Learn more about the Barbering/Stylist program here: https://bit.ly/3z52lj5
Graduates of Erica Turner's Barbering/Stylist class are: Quintrell Lyons of Columbus; Kade Peaster of Brooksville; Jo'Neighja Dora of Brooksville; James Walker of West Point; Toriana Savors of Columbus; Summer Griggs of Starkville; Shelaina Eckford of Columbus; Jahlil Baber of Pheba; Lawson McReynolds of Starkville; John Alexander of West Point; Jaqualon Sherrod of Macon; Jeremy Young of Starkville
Graduates of David Long's Cosmetology class are: Kailey Burdine of Ackerman; Kathleen Carson of Greenville; Armelia Clark of Brooksville; Carrigan Cox of Olive Branch; Judith Cravens of Louisville; Hannah Earley of Caledonia; Stephanie Hamburg of Columbus; Haley Hatcher of Eupora; Haylee McCrory of Eupora; Casey Ray of Weir; Callie Roach of Louisville; Riley Slattery of Richardson, Texas; Jenna Sullivan of Starkville; Quatarra Tate of Brooksville; Tenihja Vaughn of Starkville; Joy Vaughn of Columbus; Anna Ware of Winona; Ryleigh Weeks of Ackerman.
Graduates of Teresa Roger's Cosmetology class are: Meghan Anthony of Byhalia; Christina Bradshaw of West Point; I'Onnya Coleman of Louisville; Madelyn Crowley of Maben; Olivia Halverson of Columbus; LaToya Steele of Louisville; Audrey Swortzel of Starkville; Jatoya Tutton of Starkville; Dyamond Wells of Macon; Alaina Carrington Woods of Olive Branch; Judy Wright of Amory